Highlights

TuSimple has completed testing of its autonomous semi-truck on public roads.


The test drive was completed without any human intervention.


The test took place on Dec 22.
TuSimple Holdings Inc. (NASDAQ: TSP) stock plunged over 10% on Wednesday after it announced the successful test drive of its fully autonomous semi-truck on public roads.
The California-based company said that it has successfully completed the test-run of its fully autonomous semi-truck on public roads without any human intervention last week, making it the world's first automated semi-truck to achieve the feat.
TuSimple specializes in autonomous technology for semi-trucks, mainly helping build the Autonomous Freight Network (AFN).
Also Read: NRX Pharmaceuticals (NRXP) stock rise on BTD designation request
The test run took place in Tucson, Arizona, on Dec 22. The vehicle traveled more than 80 miles on surface streets and highways before arriving at the Phoenix metro area.
Its Autonomous Driving System (ADS) has successfully navigated the surface streets, traffic signals, on- and off-ramps, lane changes in highways, and other traffic activities in the open traffic, the company said. It added that the vehicle interacted naturally with other motorists.
Also Read: How to buy BarnBridge (BOND) token?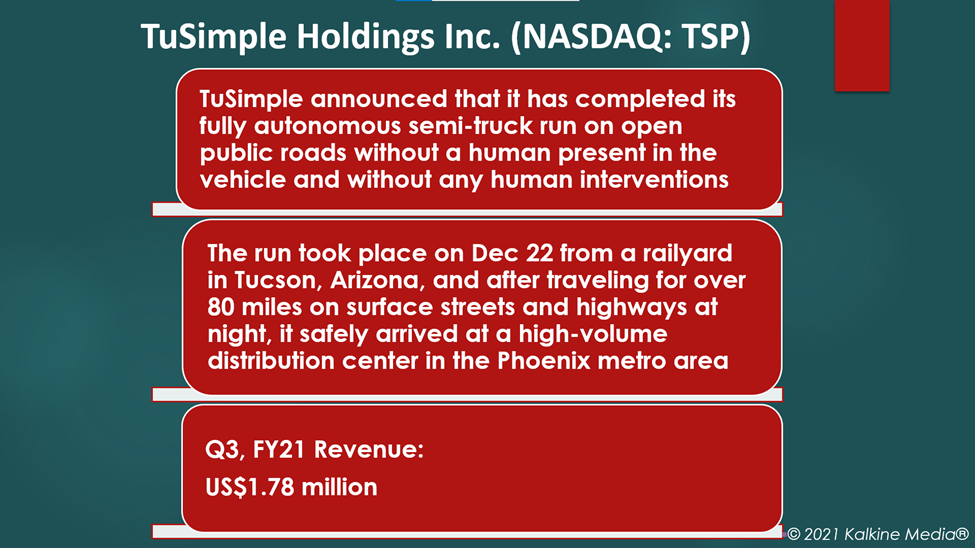 Also Read: How to buy Harvest Finance (FARM) crypto?
TuSimple Holdings Inc's (NASDAQ: TSP) stock price, financials
The TSP shares traded at US$31.65 at 12:46 pm ET on Dec 29, down 10.47% from their previous close. The company has a market cap of US$6.74 billion, with a forward one-year P/E ratio of -10.25. The stock value shrunk 11.62% YTD.
The stock saw the highest price of US$79.84 and the lowest price of US$27.24 in the last 52 weeks. Its trading volume was 875,728 on Dec 29.
The revenue was US$1.78 million in Q3, FY21, an increase of over 205% from the same quarter a year ago. It reported a net loss of US$115.49 million, or US$0.54 per share, compared to a loss of US$89.45 million, or US$1.73 in Q3, FY20.
Also Read: When is the Reddit IPO coming?
Bottomline
Only a few US states have enacted laws for driving autonomous vehicles. Concerns over the vehicles' safety have been a major obstacle towards getting a country-wide mandate. Meanwhile, TuSimple's test run of its autonomous vehicle will continue in the new year.