Source:Rawpixel.com, Shutterstock
Summary

Value investors seek to invest in companies that are fairly undervalued at current prices and have strong enterprise.
Dividends are also an important driver of long-term returns from a company. Value investors often prefer investing in income-distributing firms.
Value stocks are often described as low-multiple stocks. But that does not mean every low-multiple stock could be of attractive value. For investors, value is not static, and it evolves as environment, risks, and fundamentals evolve.
In this article, we discuss the two top companies in the USA. These companies generate billions in sales and profits. They are also among companies that pay consistent dividends.
The Coca-Cola Company
The Coca-Cola Company is one of the leading brands in the world. Its flagship beverages, formulations, and products are bottled across the world.
Earlier this month, The Coca-Cola Company released full-year and fourth-quarter results for the period ended 31 December 2020. Its global unit case volume fell 6% for the full year and 3% for the quarter.
Net revenue fell 11% to $33 billion for the year, and non-GAAP organic revenue declined 9%. It was driven by a fall in concentrate sales and price/mix. Operating margin for the year was 27.3% while non-GAAP operating margin was 29.6%.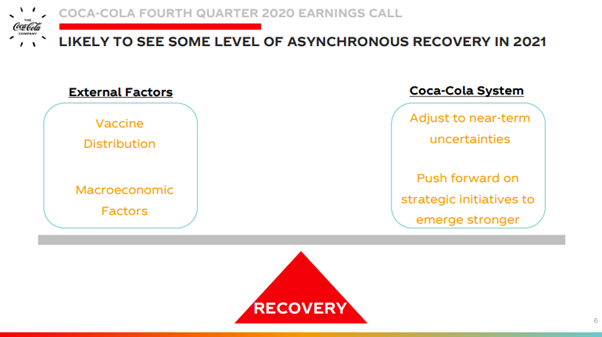 Source: The Coca-Cola Company, 10 February 2021
Earnings per share fell 13% to $1.79, which include 9 points of currency impact. During the year, the beverage giant lost value share of total non-alcoholic ready-to-drink (NARTD) beverages, driven by pressure in away-from-home channels.
The Coca-Cola Company has a strong presence in away-from-home channels, which have been impacted by remote working, low spending in entertainment, lockdowns, and restrictions. It clocked $9.8 billion in cash flow operations, which was down 6% due to the coronavirus pandemic and its currency impact.
Free cash flow for the year was $8.7 billion, which was up 3%, largely because of lower capital expenditure. The company said volumes fell to mid-single digits through to early February. The environment remains uncertain since the decline in volumes was largely driven by lockdowns, but volumes are closely linked to away-from-home channels and consumer mobility.
The Beverage company estimates high single-digits growth in non-GAAP organic revenue. It expects free cash flow of $8.5 billion, which means cash flow from operations of a minimum of $10 billion and $1.5 in capital expenditure.
The Kroger Co.
The Korger Co. is an American grocery company. It operates over 2,700 stores in various banners names, including warehouses, supermarkets, and multi-department stores.
In December last year, the company reported third-quarter results for the period ended on 7 November 2020. Identical sales for the quarter grew 10.9%. Total sales for the quarter were $29.7 billion in 3Q compared to $28 billion in the same period last year.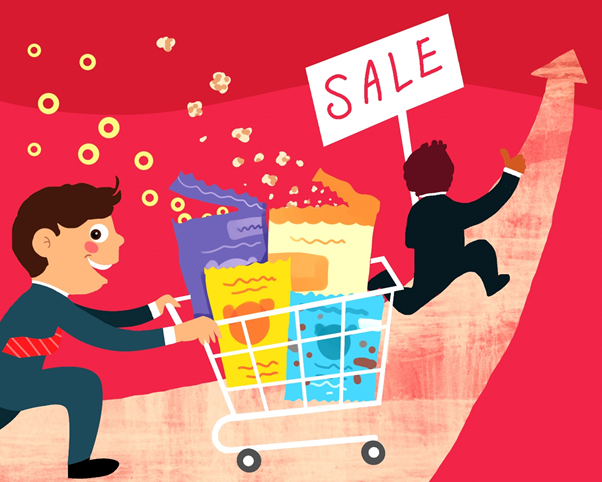 Copyright © 2021 Kalkine Media Pty Ltd
In the nine-months to 3Q, it recorded total sales of $101.7 billion compared to $93.4 billion in the same period last year. During the quarter, its operating, general, and administrative rate decreased by 30 bps, excluding fuel and adjustments.
The Kroger Co. has provided $1.3 billion in rewards to associates and customers since March 2020. In December, its average hourly rate for associates was over $20, including comprehensive benefits. The management seeks to invest free cash flow to deliver profitable growth.
They also emphasise maintaining investment grade rating and shareholder returns. At the end of the quarter, the grocery supermarket had temporary cash investments of $1.8 billion, and it also repurchased shares under $1-billion plan.