Highlights

RH (NYSE: RH) Q2 ended July 31, revenue was US$988.9 million, a 39% increase Year over Year.
Genius Sports Limited's revenue increased 108% YoY, to be US$55.8 million in the quarter ended June 30.
RH gained 50.31% YTD and GENI stock increased 26.61% YTD.
Stocks of American home furnishing company RH (NYSE: RH) and sports data and video streaming firm Genius Sports Limited (NYSE: GENI) were up nearly 2% and around 4%, respectively, on Thursday, a day after reporting solid Q2 earnings.
The RH stock traded at US$685.65, up 1.93% at 8:17 am ET, and GENI stock was priced at US$23.23, up 4.31% at 8:17 am ET.
RH (NYSE: RH)
RH is a home furnishing retailer in the US. Its merchandise categories include furniture, textiles, décor, garden, and children furnishing.
The company declared its second-quarter results on Wednesday evening. For the Q2 ended July 31, 2021, the revenue was US$988.9 million, a 39% increase year-over-year. It was US$709.2 million in the corresponding quarter of 2020.
The net income was US$226.7 million or US$7.09 per share diluted, reflecting a 130% growth YoY, compared to US$98.4 million or US$3.71 per share diluted in the July quarter the previous year.
Also Read: Top five biotechnology stocks to explore that are under US$100
The cash and cash equivalent were US$291.5 million as of July 31 and free cash flow was US$95 million. RH earned nearly 70% of its revenue from furniture and the rest 30% from the non-furniture segment.
The Corte Madera, California-based company's current market capitalization is US$14 billion, with a P/E of 39.04 and a forward P/E of 29.22 for one year.
The stock soared 50.31% YTD. It closed at US$672.65 on Sep 8, 2021.
Also Read: Why is SEC threatening to sue Coinbase (COIN)?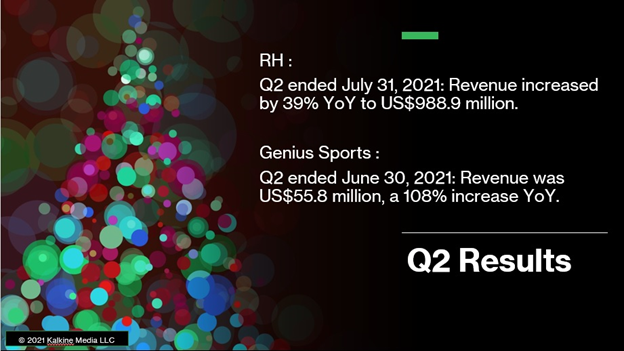 Also Read: Five battery stocks to watch as the EV market gets all charged up
Genius Sports Limited (NYSE: GENI)
The company provides data and technology products and services for sports, betting, and media industries. The London-based Genius Sports has a market capitalization of US$4.26 billion and a forward P/E for one year of -123.72.
The company released the second quarter ended June 30 results on Wednesday. Its revenue increased by 108% YoY to US$55.8 million against the previous year's Q2 revenue of US$26.8 million.
The net loss was US$(464) million or US$(3.08) per diluted share compared to the net loss of US$(7.49) million or US$(0.11) per diluted share in the June quarter of 2020.
Also Read: 7 mid-cap consumer service stocks to keep an eye on
Its cash and cash-equivalent position stood at US$275.3 million as of June 30, 2021.
Genius also announced the partnerships with Draftking, WynnBET, 888 Si Sportsbook, and Caesers to provide data and engagement solutions.
The stock achieved 26.61% growth year-to-date. It closed at US$22.27 on Sep 8, 2021.
Also Read: Five Chinese stocks to watch amid regulatory crackdown
Bottomline
Be it retail or sports data company, all sectors of the economy have been hit by the coronavirus epidemic. The Q2 results of these companies show growth in revenue, helping attract investors' attention. However, one needs to check their prospects and financials before investing.