Benchmark US indices drifted on Wednesday, September 21, after the Federal Reserve announced a much-anticipated bigger hike in the interest rate in the afternoon. This marks the latest effort of the central bank to fight the elevated inflation.
The S&P 500 fell 1.71 per cent to 3,789.93. The Dow Jones was down 1.70 per cent to 30,183.78. The NASDAQ Composite lost 1.79 per cent to 11,220.19, and the small-cap Russell 2000 fell 1.42 per cent to 1,762.16.
The Federal Reserve had announced a much anticipated 75 basis point surge in the interest rate for the third time, to a range of three per cent to 3.25 per cent. The market participants were expecting the surge at this level after a flurry of recent economic data.
Meanwhile, the Fed officials also indicated that more aggressive hikes may come in the near future while signaling the interest rate surge to be about 4.40 per cent by the end of 2022, and about 4.60 per cent in the next year. Fed Chair Jerome Powell said that the shelter inflation would remain at a higher level "for some time" and it cannot be predicted now when it may come down.
Following the rate-hike announcement, ten of the 11 segments of the S&P 500 index retreated on Wednesday, with information technology and consumer discretionary sectors declining the most. Only the consumer staples sector stayed near the flatline.
In corporate news, shares of General Mills, Inc. (GIS) added nearly six per cent in the intraday session, after the food company reported its first quarter fiscal 2023 earnings results while updating its annual guidance.
Coty Inc. (COTY) increased by about four per cent in the intraday trading, after the beauty company said that it has a "comprehensive strategy" to double its skincare sales by fiscal 2025. Subsequently, it raised its fiscal 2023 first-quarter revenue guidance while reiterating its fiscal 2023 and mid-term growth guidance.
In the technology sector, Apple Inc. (AAPL) decreased by 2.03 per cent, Microsoft Corporation (MSFT) fell by 1.44 per cent, and Broadcom Inc. (AVGO) plummeted by 1.39 per cent. Oracle Corporation (ORCL) and ASML Holding N.V. (ASML) slumped 1.98 per cent and 1.52 per cent, respectively.
In consumer discretionary stocks, Amazon.com, Inc. (AMZN) drifted 2.99 per cent, Tesla, Inc. (TSLA) slipped 2.57 per cent, and Toyota Motor Corporation (TM) declined 2.24 per cent. Starbucks Corporation (SBUX) and JD.com, Inc. (JD) retreated 2.41 per cent and 5.05 per cent, respectively.
In the healthcare sector, UnitedHealth Group Incorporated (UNH) plunged by 2.05 per cent, Johnson & Johnson (JNJ) dropped by 1.02 per cent, and Eli Lilly and Company (LLY) lost 1.79 per cent. Pfizer Inc. (PFE) and Merck & Co., Inc. (MRK) were down 1.94 per cent and 1.72 per cent, respectively.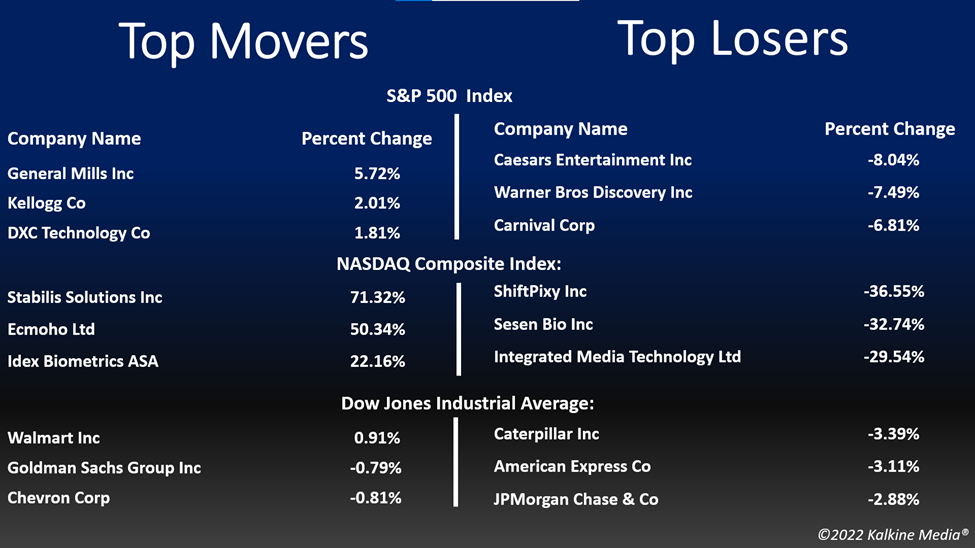 Futures & Commodities
Gold futures were up 0.67 per cent to US$1,682.25 per ounce. Silver increased by 2.12 per cent to US$19.590 per ounce, while copper fell 1.88 per cent to US$3.4370.
Brent oil futures decreased by 0.81 per cent to US$89.89 per barrel and WTI crude was down 1.14 per cent to US$82.98.
Bond Market
The 30-year Treasury bond yields were down 2.55 per cent to 3.490, while the 10-year bond yields fell 1.65 per cent to 3.514.
US Dollar Futures Index increased by 0.97 per cent to US$111.013.