Benchmark US indices continued their decline on Thursday, October 6, as investors walked cautiously ahead of the much-awaited nonfarm payrolls data, while the hawkish remarks from the policymakers have weighed on sentiments.
The S&P 500 fell 1.02 per cent to 3,744.52. The Dow Jones was down 1.15 per cent to 29,926.94. The NASDAQ Composite lost 0.68 per cent to 11,073.31, and the small-cap Russell 2000 fell 0.58 per cent to 1,752.51.
Meanwhile, the S&P 500 index notched its best two-day percentage gain since April 2020 on October 3 and 4, before reversing course on Wednesday. Notably, all the indices retreated on Wednesday, again indicating that the rallies in 2022 are often momentary.
Chicago Fed President Charles Evans was the latest policymaker to provide a hawkish remark regarding their monetary plans on Thursday. Mr. Evans said that the policymakers anticipate announcing a 1.25 bps hike in the interest rates before 2022 ends, as the inflation remained higher.
The market participants are now waiting for the nonfarm payroll data for September, which is scheduled to release on Friday, October 7. The data is expected to set the path for Fed's future move.
On Thursday, October 6, 10 of the 11 segments of the S&P 500 index stayed in the negative territory, with utilities and real estate sectors as the biggest percentage losers. Only the energy sector stayed in the green.
Shares of Peloton Interactive, Inc. (NASDAQ: PTON) increased by more than four per cent in the intraday trading, after the interactive fitness platform provider reportedly announced to cut off 500 jobs, or 12 per cent of its workforce, in an effort to restructure its business.
Constellation Brands, Inc. (NYSE: STZ) ticked down 1.17 per cent after the beverage company announced its second quarter fiscal 2023 financial results on Thursday. The company's net sales rose 12 per cent YoY in the latest quarter.
In the utilities sector, NextEra Energy, Inc. (NEE) decreased by 3.35 per cent, The Southern Company (SO) fell by 4.12 per cent, and Duke Energy Corporation (DUK) slumped by 3.42 per cent. Dominion Energy, Inc. (D) and Sempra (SRE) plunged 4.41 per cent and 2.87 per cent, respectively.
In real estate stocks, American Tower Corporation (AMT) lost 5.01 per cent, Prologis, Inc. (PLD) slipped 3.46 per cent, and Crown Castle Inc. (CCI) declined 5.63 per cent. Equinix, Inc. (EQIX) and Public Storage (PSA) dropped by 3.60 per cent and 2.16 per cent, respectively.
In the energy sector, Exxon Mobil Corporation (XOM) increased by 2.89 per cent, Chevron Corporation (CVX) gained 1.80 per cent, and ConocoPhillips (COP) added 1.54 per cent. EOG Resources, Inc. (EOG) and Occidental Petroleum Corporation (OXY) jumped 1.22 per cent and 3.92 per cent, respectively.
Futures & Commodities
Gold futures were up 0.08 per cent to US$1,722.20 per ounce. Silver increased by 0.77 per cent to US$20.703 per ounce, while copper fell 1.95 per cent to US$3.4322.
Brent oil futures increased by 1.70 per cent to US$94.96 per barrel and WTI crude was up 1.41 per cent to US$89.00.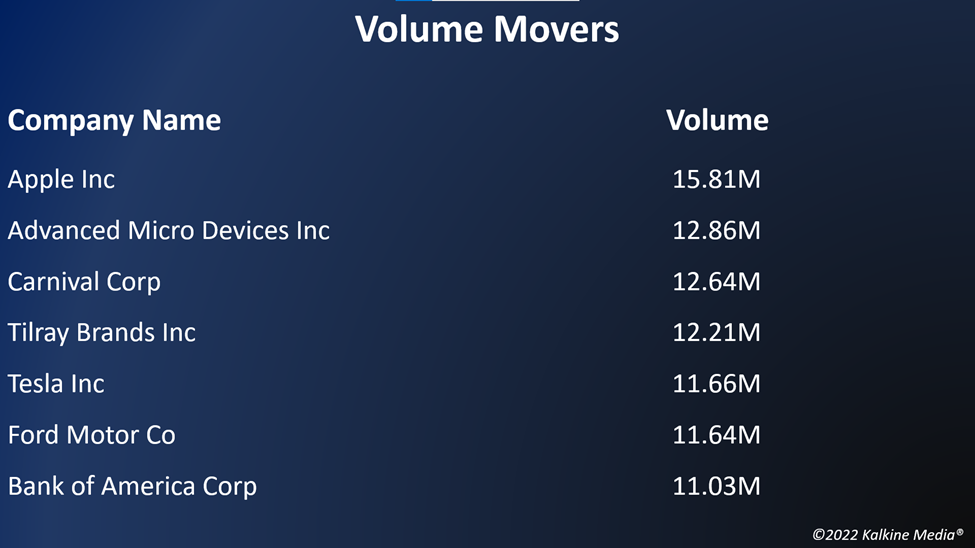 Bond Market
The 30-year Treasury bond yields were up 0.63 per cent to 3.789, while the 10-year bond yields rose 1.77 per cent to 3.826.
US Dollar Futures Index increased by 1.05 per cent to US$112.172.