US stocks witnessed a sharp decline on Tuesday, September 13, ending their recent winning streak, as stronger-than-anticipated inflation data dampened investors' hopes that the Fed may moderately raise the interest rate while scaling back its aggressive monetary plans in the coming days.
The S&P 500 fell 4.32 per cent to 3,932.69. The Dow Jones was down 3.94 per cent to 31,104.97. The NASDAQ Composite lost 5.16 per cent to 11,633.57, and the small-cap Russell 2000 fell 3.91 per cent to 1,831.57.
The US consumer price index (CPI) data by the Labor Department showed that the inflation advanced 0.1 per cent last month on monthly basis, after remaining unchanged in July.
On a year-over-year (YoY) basis, the CPI surged 8.3 per cent in August, a lower pace than 8.5 per cent in July and 9.1 per cent in June. June's reading was at the highest pace in over four decades.
According to the report, the core CPI, excluding food and energy prices, ticked up 0.6 per cent last month, double the surge in July. The sharp decline in energy prices was offset by the jump in other areas.
All the 11 segments of the S&P 500 index drifted on Tuesday, September 13, amid a massive sell-off in the market. The information technology, consumer discretionary, and healthcare sectors were the top laggards.
Shares of Twitter, Inc. (TWTR) increased by 0.71 per cent in the intraday trading, after the shareholders of the social media voted in favor of the US$ 44 billion acquisition deal by Elon Musk.
Cheniere Energy, Inc. (LNG) gained more than two per cent in the intraday session after the natural gas company lifted its annual earnings guidance while saying that it would raise its dividend.
In the technology sector, Apple Inc. (AAPL) decreased by 5.87 per cent, Microsoft Corporation (MSFT) lost 5.50 per cent, and Nvidia Corporation (NVDA) fell by 4.07 per cent. Broadcom Inc. (AVGO) and Oracle Corporation (ORCL) tumbled 4.80 per cent and 1.33 per cent, respectively.
In consumer discretionary stocks, Amazon.com, Inc. (AMZN) plunged 7.06 per cent, Tesla, Inc. (TSLA) declined 4.04 per cent, and Alibaba Group Holding Limited (BABA) was down 5.51 per cent. Nike, Inc. (NKE) and The Home Depot, Inc. (HD) plummeted 5.93 per cent and 6.59 per cent, respectively.
In the healthcare sector, UnitedHealth Group Incorporated (UNH) dropped by 3.25 per cent, Johnson & Johnson (JNJ) slumped by 2.60 per cent, and Eli Lilly and Company (LLY) slipped by 2.77 per cent. Pfizer Inc. (PFE) and Novo Nordisk A/S (NVO) ticked down 3.29 per cent and 3.01 per cent, respectively.
Futures & Commodities
Gold futures were down 1.61 per cent to US$1,712.65 per ounce. Silver decreased by 2.77 per cent to US$19.310 per ounce, while copper fell 2.26 per cent to US$3.5293.
Brent oil futures decreased by 0.64 per cent to US$93.40 per barrel and WTI crude was down 0.19 per cent to US$87.61.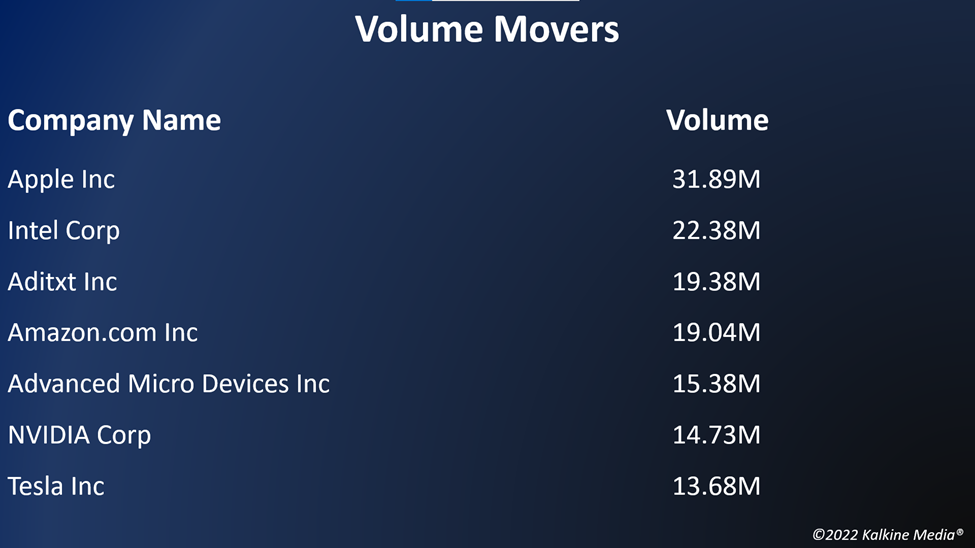 Bond Market
The 30-year Treasury bond yields were down by 0.62 per cent to 3.491, while the 10-year bond yields rose 1.65 per cent to 3.418.
US Dollar Futures Index increased by 1.38 per cent to US$109.588.