Benchmark US indices closed lower on Thursday, March 31, dragged down by losses across stock segments as investors held back from risky bets amid supply uncertainties and higher inflation.
The S&P 500 fell 1.57% to 4530.41. The Dow Jones declined 1.56% to 34678.35. The NASDAQ Composite retreated 1.54% to 14220.52, and the small-cap Russell 2000 shed 1.00% to 2070.13.
Traders grew concerned after Russian President Vladimir Putin threatened again to cancel the gas contracts to Europe unless paid in rouble. Western sanctions have dealt a devastating blow to the Russian economy, reducing the rouble's value to its lowest level in decades.
The continued Russian aggression in Ukraine has deepened global supply concerns. Prices of essential commodities like food, oil and metals have skyrocketed since the conflict started. The Biden administration said it would release oil from its strategic reserve to calm the prices.
International oil benchmark Brent crude and the US standard WTI crude declined over 5% on Thursday after the announcement.
Ten out of the 11 sectors of the S&P 500 stayed in the red. The utility segment was the top gainer, while real estate, consumer non-cyclicals, healthcare, and technology were the laggards.
In the utility sector, NextEra Energy, Inc (NEE) declined 0.92%, Duke Energy Corporation (DUK) rose 0.16%, and The Southern Company (SO) gained 0.01%.
In energy stocks, Exxon Mobil Corporation (XOM) fell 1.42%, Chevron Corporation (CVX) declined 1.60%, and Shell plc (SHEL) fell 1.22%.
In technology stocks, Apple Inc. (AAPL) fell 1.78%, and Microsoft Corporation (MSFT) declined 1.77%. NVIDIA Corporation (NVDA) and TSMC Limited (TSM) nosedived 1.46% and 2.31%, respectively.
In the real estate sector, Prologis, Inc. (PLD) fell 1.62%, and American Tower Corporation (AMT) gained 0.14%. In consumer cyclical, Amazon.com, Inc. (AMZN) retreated 1.99%, Tesla, Inc. (TSLA) fell 1.50%, and The Home Depot, Inc (HD) declined 2.96%.
The cryptocurrency market was down 2.67% to US$2.09 trillion at around 4:30 pm ET on Thursday. Bitcoin (BTC) declined 2.97% to US$45.801.97 in the last 24 hours.
Also read: Walgreens (WBA) shares fall after vaccination slump hit Q2 earnings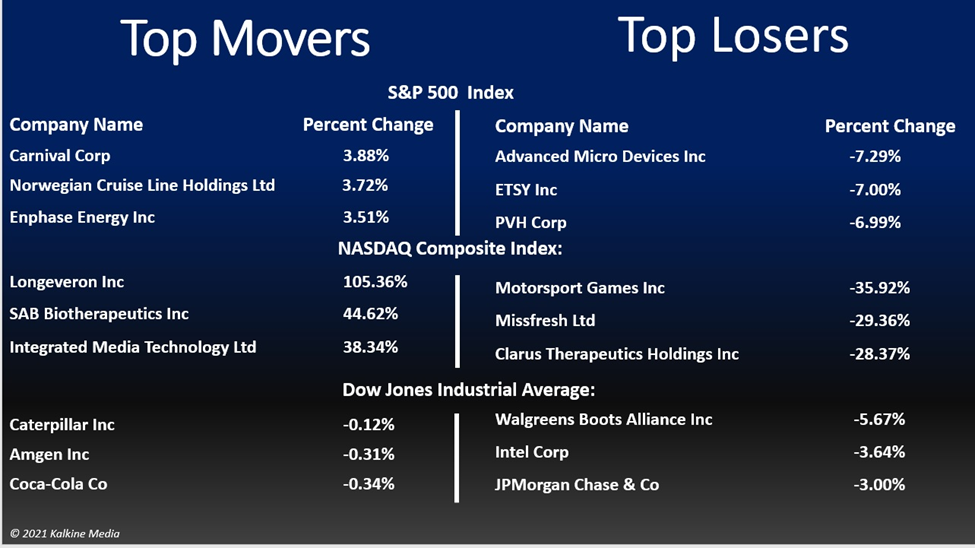 Also Read: Five ESG stocks to watch in Q2: AA, TECK, CVX, HAL & CVX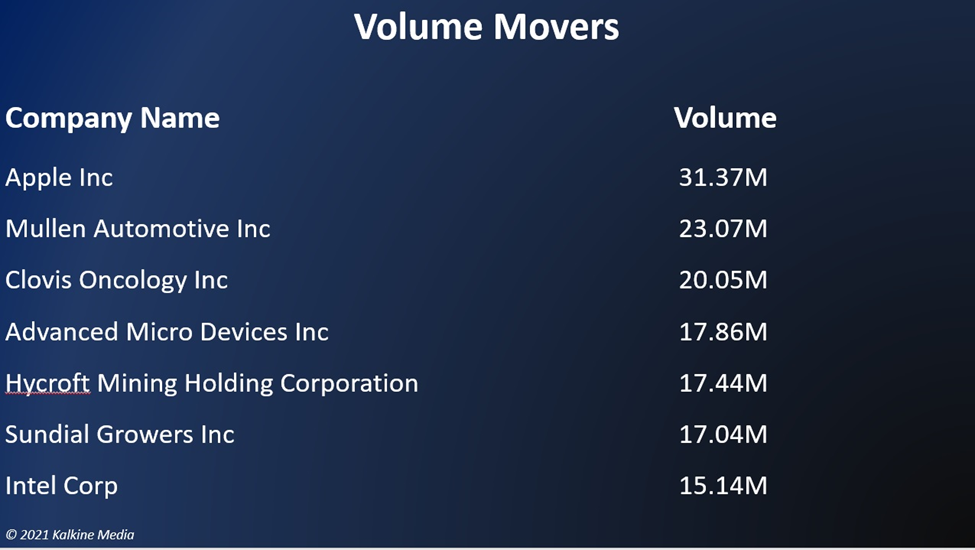 Also Read: NEE to SRE: Top S&P 500 utility stocks to explore in April
Futures & Commodities
Gold futures were up 0.16% to US$1,936.70 per ounce. Silver declined 0.53% to US$24.977 per ounce, while copper fell 0.49% to US$4.7270.
Brent oil futures fell 5.64% to US$105.15 per barrel and WTI crude declined 6.54% to US$100.81 a barrel.
Also Read: Why did Stargate Finance (STG) rose over 98% in a week?
Bond Market
The 30-year Treasury bond yields fell 1.52% to 2.442, while the 10-year bond yields declined 0.85% to 2.358.
US Dollar Index Futures fell 0.55% to US$2.338.