Benchmark US indices closed the first day of the week on a positive note on Monday, April 26, after Twitter board agreed to Elon Musk's US$44 billion buyout offer, marking a watershed moment for the social media company.
The S&P 500 was down 2.77% to 4,271.78. The Dow Jones fell 2.82% to 33,811.40. The NASDAQ Composite decreased by 2.55% to 12,839.29, and the small-cap Russell 2000 was down 2.55% to 1,940.66.
After the news, Twitter (TWTR) shares jumped more than 6% in intraday trading. Elon Musk has been in the headlines since he announced buying a 9% stake in Twitter on April 5. Soon after, a flurry of speculations followed, from joining the Twitter board to his denial. The latest decision comes after a marathon meeting between the Tesla board and the billionaire Tesla CEO Elon Musk over the weekend.
The market had been choppy last week on concerns over Fed's aggressive rate hikes to curb the high inflation. In addition, fresh China restrictions due to new Covid-19 cases led to a sharp retreat in stocks. The Covid-19 cases in China triggered speculations of an economic slowdown in the Asian country.
Meanwhile, prices of global benchmark Brent oil and US standard WTI crude fell on Monday.
Information technology and communication services sector led gains in the S&P 500 index. Six of the 11 sectors of the index stayed in the red. The energy and utility sectors were the bottom movers.
Shares of Coca-Cola Company (KO) rose 1.19% after reporting better-than-expected first-quarter earnings. Its sales increased by 16% YoY, driven by robust demand in the quarter.
Investors now eagerly wait for the quarterly results of Alphabet Inc. (GOOGL) and Microsoft Corporation (MSFT) on Tuesday.
Shares of video gaming company Activision Blizzard Inc. (ATVI) declined 0.59% after missing sales estimates in the first quarter. It said on Monday that its profits were hurt due to the low demand.
In the technology sector, Microsoft Corporation (MSFT) increased by 2.44%, NVIDIA Corporation (NVDA) gained 1.98%, and Cisco Systems, Inc. (CSCO) surged by 1.13%. Oracle Corporation (ORCL) and Accenture plc (ACN) advanced 1.02% and 1.94%, respectively.
In communication stocks, Alphabet Inc. (GOOGL) rose 2.87%, Meta Platforms, Inc. (FB) soared 1.56%, and The Walt Disney Company (DIS) added 1.42%. NetEase, Inc. (NTES) and Warner Bros. Discovery, Inc. (WBD) ticked up 2.92% and 4.52%, respectively.
In the energy sector, Exxon Mobil Corporation (XOM) decreased by 3.37%, Chevron Corporation (CVX) fell 2.15%, and Shell plc (SHEL) declined by 3.08%. PetroChina Company Limited (PTR) and TotalEnergies SE (TTE) plummeted by 3.67% and 1.69%, respectively.
In the crypto space, Bitcoin (BTC) and Ethereum (ETH) surged by 1.48% and 2.00%, respectively. The global crypto market cap ticked up 1.19% to US$1.86 trillion at 4:23 pm ET on April 25.
Also Read: Is Polygon (MATIC) crypto gaining attention on Stripe news?
Also Read: What is Decred (DCR) crypto and why it is rising?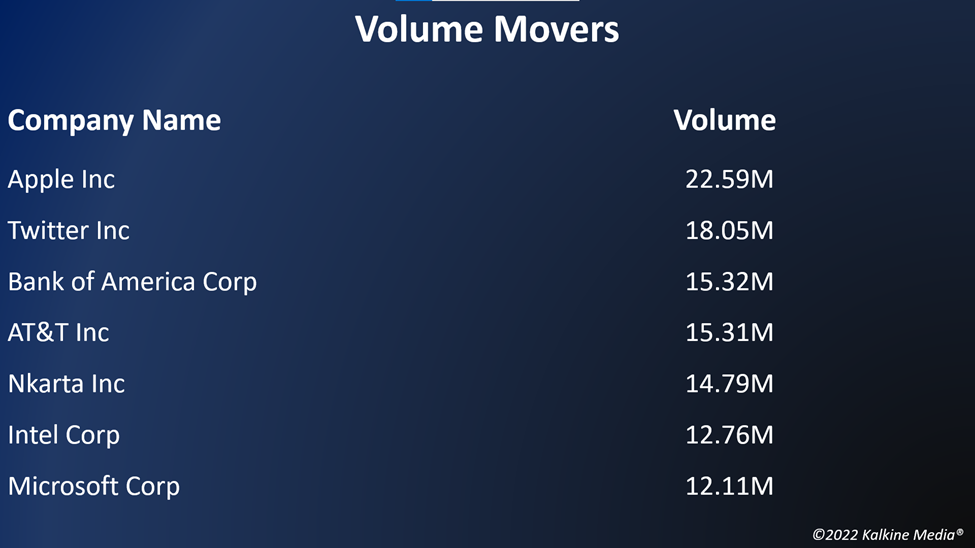 Also Read: Blockchain security firm CertiK bags additional US$60 mn from top VCs
Futures & Commodities
Gold futures were down 1.85% to US$1,898.60 per ounce. Silver decreased by 2.41% to US$23.675 per ounce, while copper fell 2.22% to US$4.5000.
Brent oil futures decreased by 3.76% to US$102.16 per barrel and WTI crude was down 3.50% to US$98.50.
Also Read: Why Hawksight (HAWK) crypto surged 100%?
Bond Market
The 30-year Treasury bond yields were down 2.00% to 2.885, while the 10-year bond yields fell 3.03% to 2.818.
US Dollar Futures Index increased by 0.54% to US$101.757.