All benchmark US indices closed in the green on Wednesday, September 15, after a flurry of deals, acquisitions, buybacks, and product launches of top companies lifted investors' spirits.
The S&P 500 was up 0.85% to 4,480.70. The Dow Jones rose 0.68% to 34,814.39. The NASDAQ Composite gained 0.82% to 15,161.53, and the small-cap Russell 2000 was up 1.11% to 2,234.45.
After a recent dip in trading, stocks rebounded, registering broad gains across segments. Investors' sentiments were lifted by a positive economic outlook amid a spurt of market activities, from IPOs, deals to acquisitions. In addition, a spike in oil prices fuelled gains in the energy sector.
Goldman Sachs Group (GS) said it will acquire specialty lender GreenSky Inc. (GSKY) for US$2.2 billion. GreenSky has clients like Home Depot among thousands of others. Goldman CEO David Solomon said the company plans to build a new banking platform of the future.
However, the GS stock fell 0.19%, while shares of GSKY jumped 53.54%.
The New York and Tel Aviv-based Pagaya Technologies Ltd. said it clinched a US$9 billion deal with SPAC EJF Acquisition Corp., a special-purpose acquisition company, for US stock listing. Pagaya is an AI-driven financial technology startup. Several big banks and financial firms use its payments platform.
Accounting firm Intuit Inc (INTU) plans to acquire online marketing company Mailchimp for about US$12 billion as it looks to ramp up its activities with small businesses. INTU was up 0.44%.
All that happened in the Global markets today
On Tuesday, Microsoft Corp (MSFT) said it will buy back US$60 billion worth of stocks over a period. It hasn't set an expiration date for the buyback program. It also announced to raise the quarterly dividend by 11 percent. The MSFT stock rose 1.69% on Wednesday.
Meanwhile, Fed's factory data showed industrial production surged 0.4% in August after increasing 0.8 percent in July. The decline was mainly due to Hurricane Ida-linked disruptions last month.
Energy, technology, and industrial segments were the top gainers on S&P 500 Wednesday. Ten of the 11 index segments stayed in the positive territory. Utility stocks were the bottom movers.
Apple Inc (APPL) unveiled its new iPhone 13, iPads, and Watch Series 7 on Tuesday. The stock was marginally down at 0.18% in intraday trading. In other technology stocks, Adobe Inc. (ADBE) jumped 2.62%, Oracle Corporation (ORCL) surged 1.74%, and Intel Corporation (INTC) rose 1.05%. Broadcom Inc. (AVGO) and Shopify Inc. (SHOP) ticked up 1.48% and 1.73%, respectively.
In the energy sector, Exxon Mobil Corp (XOM) rose 3.23%, Chevron Corp (CVX) rose 2.03%, and Royal Dutch Shell plc (RDS-A) surged 3.27%. Suncor Energy Inc. (SU) and BP plc (BP) advanced 5.39% and 4.34%, respectively.
In the industrial sector, United Parcel Service, Inc. (UPS) rose 1.42%, Raytheon Technologies Corporation (RTX) surged 2.51%, and Caterpillar Inc. (CAT) rose 1.80%. The Boeing Company (BA) and General Electric Company (GE) advanced 1.29% and 1.79%.
Also Read: Dutch Bros & On Holding IPOs: Check price, lot size, other details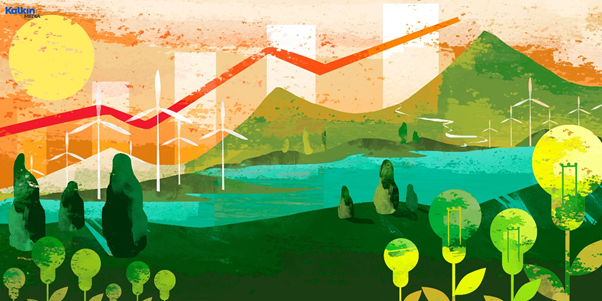 Copyright ©Kalkine Media 2021
Also Read: Five online education stocks to watch as Delta cloud hangs thick
Top Gainers
Top performers on S&P 500 included EOG Resources Inc (8.33%), Diamondback Energy Inc (7.80%), Marathon Oil Corp (7.67%), Devon Energy Corp (7.29%). On NASDAQ, top performers were GreenSky Inc (53.15%), Indaptus Therapeutics Inc (52.05%), Sphere 3D Corp (26.07%), Uranium Royalty Corp (25.35%). On Dow Jones, Walgreens Boots Alliance Inc (3.94%), Chevron Corp (2.12%), Caterpillar Inc (1.68%), Microsoft Corp (1.68%) were the leaders.
Top Losers
Top laggards on S&P 500 included Wynn Resorts Ltd (-6.30%), Electronic Arts Inc (-5.73%), Starbucks Corp (-3.55%), MGM Resorts International (-2.49%). On NASDAQ, Kaival Brands Innovations Group Inc (-42.13%), Sonim Technologies Inc (-29.08%), Nuwellis Inc (-27.64%), Molecular Data Inc (-20.47%). On Dow Jones, Cisco Systems Inc (-0.54%), Nike Inc (-0.54%), Goldman Sachs Group Inc (-0.43%), Procter & Gamble Co (-0.21%) were the laggards.
Volume Movers
Top volume movers were Apple Inc (18.53M), Comcast Corp (14.68M), Bank of America Corp (14.23M), Cisco Systems Inc (11.15M), Ford Motor Co (11.12M), Wells Fargo & Co (7.66M), Indaptus Therapeutics Inc (27.62M), Farmmi Inc (18.32M), SoFi Technologies Inc (12.78M), Sphere 3D Corp (11.65M).
Also Read: Five gold stocks to watch as Fed mulls stimulus tapering
Futures & Commodities
Gold futures were down 0.67% to US$1,795.00 per ounce. Silver decreased by 0.14% to US$23.852 per ounce, while copper rose 1.89% to US$4.4028.
Brent oil futures increased by 2.46% to US$75.41 per barrel and WTI crude was up 3.02% to US$72.58.
Bond Market
The 30-year Treasury bond yields was up 0.68% to 1.865, while the 10-year bond yields rose 2.08% to 1.306.
US Dollar Futures Index decreased by 0.16% to US$92.468.