Benchmark US indices closed higher on Wednesday, January 12, despite the consumer prices data showing that inflation is at its highest level in nearly four decades. However, the gains in the technology stocks helped the market to maintain a steady momentum.
The S&P 500 was up 0.28% to 4,726.36. The Dow Jones Industrial Average increased by 0.11% to 36,290.32. The NASDAQ Composite Index rose 0.23% to 15,188.39, and the small-cap Russell 2000 was down 0.55% to 2,182.05.
The consumer price index, an important gauge used by the Federal Reserve for inflation, surged 0.5% in December, after rising 0.8% in the prior month, the Labor Department reported on Wednesday. Meanwhile, in the 12 months through December, the CPI rose 7%, up from 6.8% in the prior month and marking its highest level since 1982.
However, the technology stocks gained even after the gloomy data, as investors seemed to cheer the comments from the Fed Chair, Jerome Powell on Tuesday. The comments have eased concerns of the market participants that were caused by the minutes from the central bank's December meeting.
The technology and material sector were the top movers in the S&P 500 index on Wednesday. Nine of the 11 critical sectors of the S&P 500 index stayed in green, with healthcare and financial sectors as the laggards.
The shares of Biogen Inc. (BIIB) fell 6.91% in the intraday trading session on Wednesday after the US Medicare said that it would limit the coverage of Alzheimer's treatments, that also includes Biogen's Aduhelm, on the condition that the patients were in clinical trials and have shown early-stage symptoms.
The stocks of Infosys Limited were up 3.18% on Wednesday, after reporting strong quarterly earnings results on January 12, before the opening bell. The company's revenue was US$4.25 billion for the quarter ended on December 31, as compared to US$3.51 billion in the same period of the previous year.
The shares of Koninklijke Philips N.V. (PHG) tumbled 15.24% after it had lowered its financial guidance for the fourth quarter of fiscal 2021 and full-year 2021. The firm now expects its group sales to be around €4.9 (US$5.61) billion, representing a decrease of about €350 million from its prior guidance. It also projected its group sales for fiscal 2021 to be around €17.2 (US$19.68) billion, a decline of about 1% from its previous expectation.
In the technology sector, Microsoft Corporation (MSFT) increased by 1.16%, Taiwan Semiconductor Manufacturing Company Limited (TSM) rose 2.13%, and ASML Holdings N.V. (ASML) gained 1.20%. Salesforce.com, Inc. (CRM) and Applied Materials, Inc. (AMAT) advanced 1.66% and 3.61%, respectively.
In material stocks, Linde plc (LIN) surged 1.08%, BHP Group (BHP) jumped 3.16%, and Rio Tinto Group (RIO) soared 1.91%. Vale SA (VALE) and Freeport-McMoRan Inc. (FCX) ticked up 1.48% and 4.14%, respectively.
In the healthcare stocks, Johnson & Johnson (JNJ) decreased by 1.31%, Eli Lilly and Company (LLY) fell 3.53%, and Abbott Laboratories (ABT) declined by 1.99%. Bristol-Myers Squibb Company (BMY) and Intuitive Surgical, Inc. (ISRG) plunged 1.52% and 1.70%, respectively.
Also Read: Hillstream BioPharma IPO: How much is HILS stock & when can you buy it?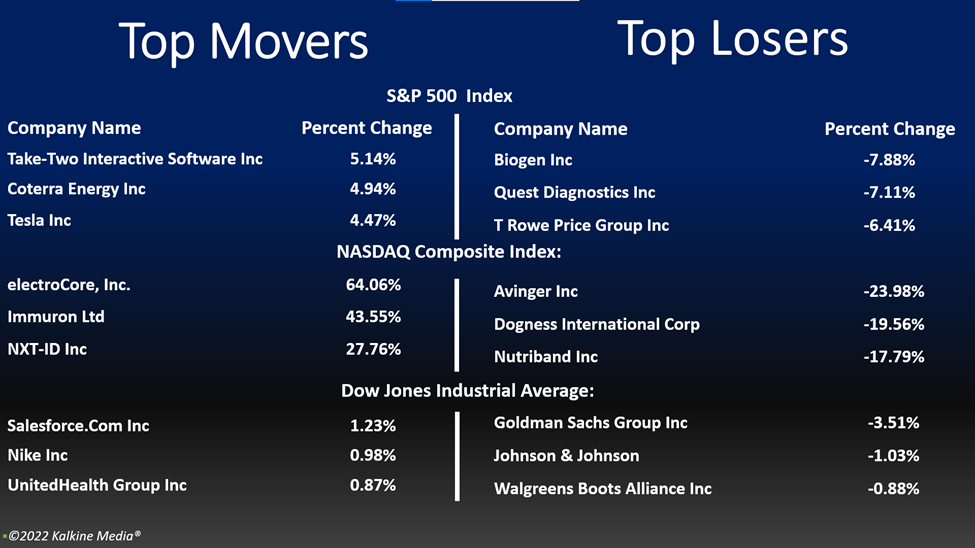 Also Read: Why is EPIK Prime crypto rallying? NFT token jumps 21%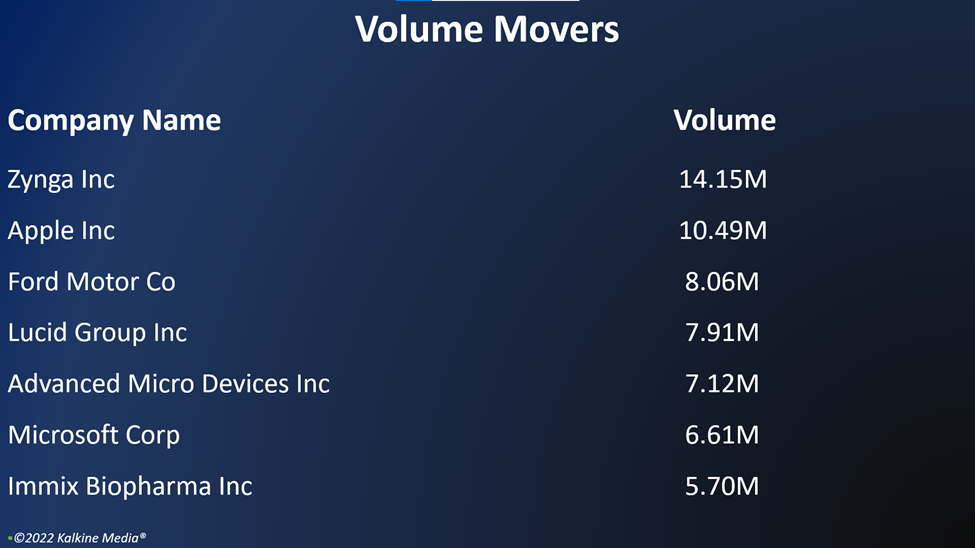 Also Read: Industrial Tech Acquisitions II IPO: SPAC set for $150M Nasdaq debut
Futures & Commodities
Gold futures were up 0.48% to US$1,827.15 per ounce. Silver increased by 1.85% to US$23.233 per ounce, while copper rose 3.05% to US$4.5640.
Brent oil futures increased by 1.16% to US$84.69 per barrel and WTI crude was up 1.86% to US$82.73.
Bond Market
The 30-year Treasury bond yields were up 0.75% to 2.088, while the 10-year bond yields fell 0.59% to 1.736.
US Dollar Futures Index decreased by 0.74% to US$94.915.