Benchmark US indices closed lower on Monday, October 11, dragged down by losses in utility, healthcare, and technology stocks amid rising global oil prices that renewed inflation concerns.
The S&P 500 was down 0.69% to 4,361.19. The Dow Jones fell 0.72% to 34,496.06. The NASDAQ Composite fell 0.64% to 14,486.20, and the small-cap Russell 2000 was down 0.56% to 2,220.64.
Brent oil futures jumped to a nearly three-year high at US$83.62 a barrel, while US crude saw a closing high of US$80.50 per barrel for the first time since 2014, sparking fresh inflation concerns.
US markets have been volatile in recent days. Last week's mixed jobs data and the Fed's tapering fears dissuaded traders from betting on risky instruments. Besides, inflation and labor and raw material shortages painted a gloomy picture of the pace of the economic recovery.
Can the US market bounce back?
Meanwhile, several big companies like Delta Airlines, JPMorgan & Chase, Bank of America Corporation, etc., are expected to report their quarterly earnings this week. In the third quarter, some analysts expect around 29% YoY growth in profit for the S&P 500 companies, while others predicted weak earnings due to factors like labor and raw material shortage dogging the economy.
On Monday, basic materials and consumer staple stocks led gains on the S&P 500 index, but utilities and communication stocks trailed. Seven of the 11 index segments stayed in the red.
SoFi Technologies, Inc. (SOFI) stock surged 14% in intraday trading after Morgan Stanley analysts gave it an "overweight" rating over its "powerful revenue growth story".
Shares of Southwest Airlines Co. (LUV) fell 3.08% after the company canceled thousands of flights since Saturday due to staff shortages and bad weather.
The Protagonist Therapeutics, Inc. (PTGX) stock jumped 97.72% after the US Food and Drug Administration (FDA) lifted a clinical hold on its clinical studies.
In the material sector, Air Products and Chemicals, Inc. (APD) rose 1.38%, Freeport-McMoran, Inc. (FCX) gained 3.91%, and PPG Industries, Inc. (PPG) rose 1.00%. Nucor Corporation (NUE) and International Paper Company (IP) gained 1.53% and 2.74%, respectively.
In financial stocks, Berkshire Hathaway Inc. (BRK-B) fell 1.04%, JP Morgan Chase & Co. (JPM) declined 1.84%, and Wells Fargo & Company (WFC) fell 1.31%. Morgan Stanley (MS) and Goldman Sachs Group, Inc. (GS) declined 2.20% and 1.44%, respectively.
In the communication sector, The Walt Disney Company (DIS) plunged 1.35%, Comcast Corporation (CMCSA) plummeted 3.66%, and Verizon Communications Inc. (VZ) sank 1.92%. AT&T Inc. (T) and T-Mobile US, Inc. (TMUS) fell 2.56% and 2.78%, respectively.
Also Read: Top stocks, quarterly earnings to watch this week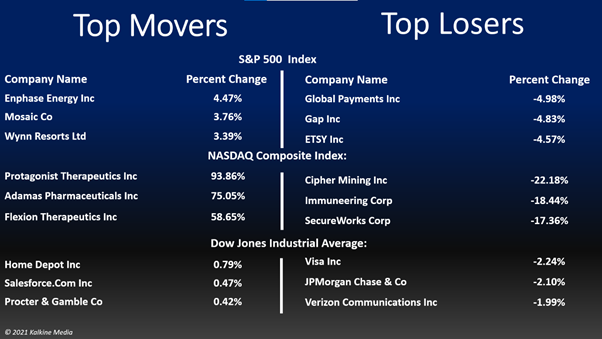 Also Read: IPOs to watch in October as race for stock listings continues
Also Read: CLOV, ADMS stocks up on rating upgrade, purchase deal
Futures & Commodities
Gold futures were down 0.18% to US$1,754.15 per ounce. Silver decreased by 0.52% to US$22.587 per ounce, while copper rose 1.48% to US$4.3388.
Brent oil futures increased by 1.49% to US$83.62 per barrel and WTI crude was up 1.45% to US$80.50.
Bond Market
The US bond market was closed today for a federal holiday.
US Dollar Futures Index increased by 0.32% to US$94.377.