Benchmark US indices closed higher on Monday, January 24, as investors appeared more confident about the economy ahead of the Fed's two-day monthly meeting starting tomorrow.
The S&P 500 surged 0.28% to 4,410.13. The Dow Jones increased 0.29% to 34,364.50. The NASDAQ Composite was up 0.63% to 13,855.13, and the small-cap Russell 2000 was up 2.32% to 2,033.98.
Investors will eagerly wait for the central bank's next move on inflation, expected to be high on the agenda. Markets had retreated in the last few sessions amid concerns over interest rate increase.
The rising tensions on the Ukrainian border weighed on the markets. On Sunday, the State Department asked the US diplomats to leave Ukraine amid reports of White House mulling sending troops to Europe.
Traders also took cues from the increasing cases of Omicron which has disrupted business activities.
Eight of all the eleven sectors of the S&P 500 plunged on Monday. Utilities, Healthcare, and Consumer Staples Sector were the hardest hit sectors among all. Consumer Discretionary, Energy, and Industrial remained in green.
Technology stocks took the brunt and fell sharply. The Microsoft Corporation (MSFT) declined more than 25 intraday and Apple Inc. (AAPL) stock plunged over 2.7% in the intraday trading session.
Unilever PLC (UL) stock jumped more than 8% intraday after the reports that activist investor Nelson Peltz had bought stake in the company. The investor's strategy is although under scrutiny with failed bid for healthcare company Glexosmithkline Plc.
The departmental store chain, Kohl's Corporation (KSS) stock jumped more than 32% intraday after receiving expression of interest for acquisition from private equity firm Sycamore Partners. The offer valued at US$9 billion.
In the Utilities sector, NextEra Energy Inc. (NEE) stock lost 3.39%, Duke Energy Corporation (DUK) plunged 2.40%, and Southern Company (SO) fell 3.09%. Dominion Energy (D) plummeted 2.69% and Exelon Corporation (EXC) was down by 3.26%.
In the Healthcare sector, UnitedHealth Group Incorporated (UNH) stock fell 1.77%, Johnson & Johnson (JNJ) plunged 3.46%, and Pfizer Inc. (PFE) declined 5.01%. Abbvie Inc. (ABBV) and Eli Lilly and Company (LLY) were down by 2.17% and 3.49%, respectively.
In the Consumer Discretionary, Amazon.com Inc. (AMZN) rose 0.98%, Home Depot Inc. (HD) increased by 4.06%, and Nike Inc. (NKE) jumped 2.05%. Lowe's Companies Inc. (LOW) and Starbucks Corporation (SBUX) surged 2.90% and 1.91%, respectively.
The global cryptocurrency market was up 0.64%, at a market capitalization of US$1.62 trillion, as per coinmarketcap.com at 3:20 pm ET, Monday. Bitcoin (BTC) price jumped to US$36,181.81 with a 2.80% increase in the last 24 hours.
Also Read: Coinbase stock slips 10% - Will the dip stop dipping?
Also Read: Chime aims for US$40-billion valuation in IPO: Report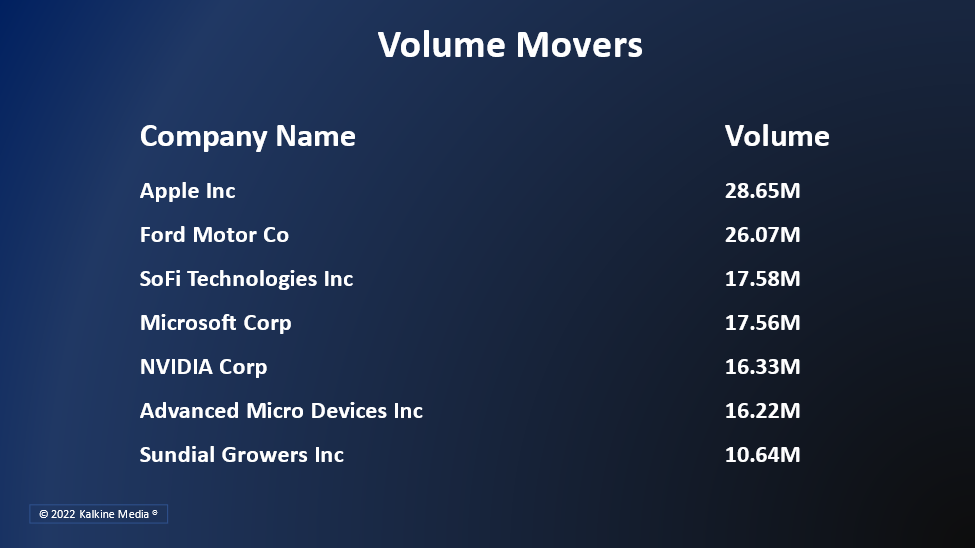 Also Read: Crypto market loses US$130 bn in 24 hours as Bitcoin, Ethereum slip
Futures & Commodities
Gold futures surged 0.49% to US$1,840.75 per ounce. Silver futures decreased by 1.42% to US$23.970 per ounce, while copper fell 1.45% to US$4.4577.
Brent oil futures decreased by 1.27% to US$85.97 per barrel and WTI crude futures were down by 1.60% to US$83.78.
Bond Market
The 30-year Treasury bond yields increased 1.81% to 2.099, while the 10-year bond yields were up 0.54% to 1.756.
US Dollar Futures Index surged 0.26% at US$95.880.