US stock indexes closed higher on Friday as markets saw a bullish trend across all sectors through the day after the latest labor data showed that the employment rate has marginally dropped in April.
The Dow Jones rose 0.66 percent to 34,777.76, the S&P 500 was up 0.74% to 4,232.60, the NASDAQ Composite Index jumped 0.88% to 13,752.24, while the small-cap Russell 2000 gained 1.35% to 2,271.63.
Investors appeared optimistic about the US economic outlook, although the jobs data brought little cheers. The Labor Department said on Friday that the unemployment rate rose from 6% in March to 6.1% in April. The report also showed that employers added 266,000 jobs during the period.
Despite a subdued labor report, markets looked confident in the overall progress of the US economy. Rapid vaccinations, massive government outlays, and the easing of virus restrictions have fuelled demand for various goods and services, raising hopes that the momentum will continue.
Consumer spending also has increased recently, indicating that Americans have more cash to spend on goods that will help drive growth. As Americans emerge from the worst crisis, a broad recovery of the economy looked certain in the coming months, a key factor for the optimism in the markets.
Stocks of all major segments saw gains in Friday's session. Tech giants such as Microsoft, Apple, and Facebook also registered modest gains in intraday trade. Shares of Peloton Interactive Inc. and Expedia Group Inc. advanced while Monster Beverage saw a sharp fall in intraday trade.
The top performers sector-wise on the blue-chip S&P 500 index were real estate, academic & educational services, basic materials, energy, and healthcare. Consumer cyclicals, financials, and utility stocks also saw modest gains across all indices.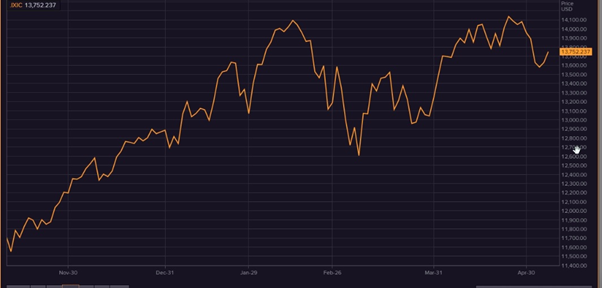 Image Source: Refinitiv, NASDAQ 6-Month price chart, May 7, 2021.
Futures & Commodities
Gold futures were up 0.89% to US$1,831.95 per ounce. Silver grew 0.29% to US$27.558 per ounce, while copper was up 3.18% to US$4.7488.
Brent oil futures increased by 0.21% to US$68.23 per barrel and WTI crude was up 0.20% to US$ 64.84.
Bond Market
The 30-year Treasury bond yields were up 2.00% to 2.281 while the 10-year bond yields increased 1.14% to 1.579.
US Dollar Futures Index was down 0.81% to US$90.203 on May 7.