Benchmark US indices closed higher on the first trading day of the new year on Monday, January 3, lifted by energy and consumer discretionary stocks.
The S&P 500 rose 0.64% to 4,796.56. The Dow Jones gained 0.68% to 36,585.06. The NASDAQ Composite was up 1.20% to 15,832.80, and the small-cap Russell 2000 rose 1.06% to 2,269.17.
Traders shrugged off the Omicron-related concerns after upbeat economic data. The Commerce Department on Monday said the US construction spending increased by 0.4% to US$1,625.9 billion in November, up from its revised estimate of US$1,618.8 billion in October.
The November reading marked an increase of 9.3% YoY from US$1.487.2 billion in the same period a year ago. The robust gains in single-family homebuilding lifted the figures, it said.
However, spending on public projects weakened in the month. Overall, traders remained positive after big investors like pension funds infused large sums of money in the market.
Five of the 11 stock segments of the S&P 500 stayed in the positive territory. Energy, consumer discretionary, and financials stocks were the top gainers. Real estate, healthcare, and basic materials stocks were the laggards.
Apple Inc's (AAPL) market capitalization briefly crossed the US$3-trillion-mark after the stock jumped nearly 3% to an intraday high of US$182.88. However, it fell back later in the day. The feted milestone was proving elusive for Apple although it edged closer in recent days.
Tesla, Inc. (TSLA) stock rose more than 13% in intraday trading after reporting a record delivery of 308,600 vehicles in the fourth quarter against an expectation of 263,026 deliveries.
Shares of Immix Biopharma, Inc. (IMMX) rose more than 110% in intraday trading on receiving a Rare Pediatric Disease (RPD) designation from FDA for its cancer drug.
In the energy sector, Exxon Mobile Corporation (XOM) jumped 3.79%, ConocoPhillips (COP) rose 1.94%, and Chevron Corporation (CVX) surged 1.53%. EOG Resources Inc. (EOG) was up 2.25%, and Pioneer Natural Resources Company (PXD) increased by 1.42%.
In the consumer discretionary segment, the Amazon.com Inc. (AMZN) stock grew 2.09%, Target Corporation (TGT) rose 0.26%, and Booking Holdings Inc. (BKNG) increased by 2.31%. General Motors Company (GM) stock climbed 4.62%, and Ford Motor Co (F) was up 4.91%.
In the real estate sector, American Tower Corporation (REIT) (AMT) stock plunged 2.31%, Prologis Inc. (PLD) declined 2.66%, and Crown Castle International Corp. (CCI) fell 0.73%. Equinix Inc. (EQIX) and Public Storage (PSA) stocks were down 1.44% and 2.88%, respectively.
Meanwhile, the global cryptocurrency market was down 1.91% to US$2.20 trillion, according to coinmarketcap.com on Monday.
Also Read: Apple's new products in 2022 – from Mac Pros, iPhone 14 to VR headset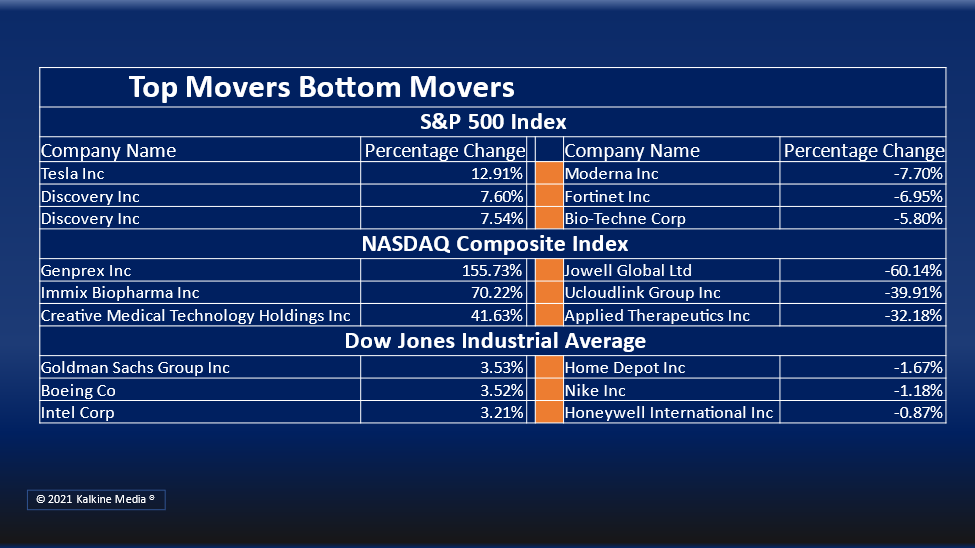 Also Read: Top technology and gaming stocks to explore in 2022
Also Read: Top EV stocks to explore after robust vehicle deliveries
Futures & Commodities
Gold futures declined 1.46% to US$1,801.85 per ounce. Silver futures decreased by 1.84% to US$22.922 per ounce, while copper declined 0.82% to US$4.4270.
Brent oil futures increased by 1.54% to US$78.99 per barrel and WTI crude futures were up 1.13% to US$76.06.
Bond Market
The 30-year Treasury bond yields increased 8.09% to 2.042, while the 10-year bond yields were up 9.49% to 1.640.
US Dollar Futures Index surged 0.66% at US$96.225.