US stocks closed the week in the red on Friday, April 29, after quarterly results of big tech companies like Amazon.com Inc and Apple failed to motivate the traders.
The S&P 500 fell 3.63% to 4,131.93. The Dow Jones fell 2.77% to 32,977.21. The NASDAQ Composite declined 4.17% to 12,334.64, and the small-cap Russell 2000 fell 2.81% to 1,864.10.
Shares of Amazon.com Inc. (AMZN) plunged more than 14% in intraday trading after the company provided weak guidance for the year in the aftermarket hours on Thursday. It cited higher warehouse and delivery expenses for the poor show in the reporting quarter.
Likewise, the Apple Inc. (AAPL) stock declined nearly 3% after the company's downbeat guidance. It reported record quarterly sales and profits. The company said the rising Covid-19 cases might affect its sales by as much as US$8 billion in the current quarter.
In economic news, the Commerce Department on Friday said that its personal consumption expenditures price index, a key gauge for inflation, surged 0.9% in March, after an increase of 0.5% in the previous month. The Fed is expected to announce another rate hike in May.
All 11 sectors of the S&P 500 index stayed in the red on Friday. Consumer discretionary, real-estate, and information technology sectors were the bottom movers. The Nasdaq Composite lost around 13% in April, its worst monthly performance since 2008.
Oil giants Exxon Mobil Corp (XOM) and Chevron Corp (CVX) reported robust first-quarter earnings on Friday. However, the XOM and CVX stocks tumbled 2.35% and 3.14%, respectively.
Shares of biopharmaceutical company AbbVie Inc. (ABBV) declined 8.28% in intraday trading after reporting its quarterly earnings, missing Wall Street's revenue estimates.
The US-listed China stocks rallied on Friday after the ruling Communist Party said the government might announce a stimulus package to spur economic growth. Alibaba Group (BABA), Pinduoduo Inc. (PDD), and JD.com, Inc. surged 8.08%, 14.26%, and 7.87%, respectively.
In the technology sector, Microsoft Corporation (MSFT) plunged 4.18%, TSMC Limited (TSM) declined 2.40%, and NVIDIA Corporation (NVDA) fell 6.24%. ASML Holding N.V. (ASML) and Broadcom Inc. (AVGO) ticked down 4.53% and 4.24%, respectively.
In consumer discretionary stocks, The Home Depot, Inc. (HD) declined 3.64%, Toyota Motor Corporation (TM) slumped 1.14%, and Nike, Inc. (NKE) plummeted 1.85%. McDonald's Corporation (MCD) and Lowe's Companies, Inc. (LOW) fell 1.98% and 3.61%, respectively.
In the real-estate sector, Prologis, Inc. (PLD) tumbled 7.35%, American Tower Corporation (AMT) declined 4.43%, and Crown Castle International Corp. (CCI) dropped 3.57%.
In the financial sector, Berkshire Hathaway Inc. (BRK-A) fell 2.94%, Visa Inc. (V) slipped 3.41%, and JPMorgan Chase & Co. (JPM) dropped 3.23%. Mastercard Incorporated (MA) and Bank of America Corporation (BAC) retreated 4.08% and 3.07%, respectively.
In the crypto space, Bitcoin (BTC) and Ethereum (ETH) fell 3.75% and 5.05%, respectively. The global crypto market declined 4.21% to US$1.75 trillion at 4:47 pm ET on April 29.
Also Read: NVDA to AMD: Will these 5 semiconductor stocks ride out supply crunch?



Also Read: Bitgert (BRISE) crypto rally continues, returns 290% gains YTD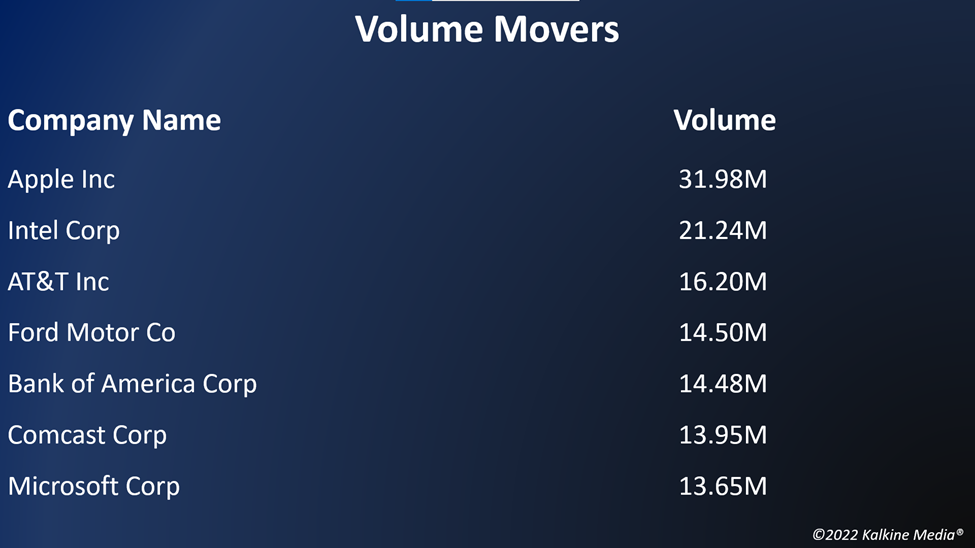 Also Read: Swvl Holdings (SWVL) stock zooms 45% after Zeelo acquisition
Futures & Commodities
Gold futures were up 0.28% to US$1,896.53 per ounce. Silver decreased by 1.59% to US$22.812 per ounce, while copper declined by 1.00% to US$4.3890.
Brent oil futures fell 0.62% to US$106.59 per barrel and WTI crude fell 1.14% to US$104.16.
Also Read: 5 dividend-paying mid-cap stocks to watch: WLL, ZIM, SBLK, GOGL & ARCH
Bond Market
The 30-year Treasury bond yields were up 2.48% to 3.002, while the 10-year bond yields rose 2.53% to 2.935.
The US Dollar Futures Index decreased by 0.41% to US$103.230.