The S&P 500 Index and Dow Jones closed at record highs on Monday, October 25, ahead of quarterly earnings of big technology companies like Apple, Amazon, and Alphabet this week.
The S&P was up 0.47% to 4,566.48. The Dow Jones rose 0.18% to 35,741.15. The NASDAQ Composite rose 0.90% to 15,226.71, and the small-cap Russell 2000 rose 0.93% to 2,312.64.
Market participants are in high spirits as the third-quarter earnings season is in full swing. Several major financial and retail companies have reported robust growth in the quarter.
The earnings come in the backdrop of inflation, supply disruptions, and labor shortages. Hence, some analysts were initially worried over quarterly performance amid these factors.
Traders will now eagerly wait for the earnings of mega-cap technology companies that have around 30% weightage on the S&P 500 index by market capitalization.
According to Refinitiv data, some 165 S&P 500 companies are expected to report this week. Analysts expect the index to grow by 34.8% in the quarter YoY.
In addition, of the 119 companies reported so far, 83.2% beat Wall Street estimates.
Global Markets in a upbeat mood
On Monday, consumer discretionary and energy stocks led gains on S&P. Utilities and financial stocks were the bottom movers. Nine of the 11 stock segments of the index stayed in the green.
Shares of Tesla, Inc. (TSLA) jumped 12.66% at the market close on Monday, taking its market cap to more than US$1 trillion for the first time, as the car rental company Hertz said it placed an order for 100,000 Tesla vehicles. Morgan Stanley also raised its price target to US$1,200 from US$900.
PayPal Holdings, Inc. (PYPL) stock was up 2.70% after it said it had no plan to buy Pinterest Inc. (PINS). Media reports had earlier claimed that it was in talks to acquire the social media firm for US$45 billion in a stock-and-cash deal. The PINS stock fell 12.71% after PayPal's clarification.
Facebook, Inc. (FB) shares jumped 3.78% in after-market trading after missing analysts' expectations in the third quarter. Its revenue surged 35% YoY to US$29.01 billion in Q3, FY21, and its net income rose 17% to US$9.19 billion, or US$3.22 per diluted share. Analysts had predicted diluted EPS of US$3.19 on revenue of US$29.57 billion, Refinitiv data showed.
In the consumer discretionary sector, Home Depot, Inc. (HD) rose 1.44%, LOWE's Companies, Inc. (LOW) rose 1.33%, and Target Corporation (TGT) gained 1.73%. TJX Companies, Inc. (TJX) and Aptiv PLC (APTV) advanced 1.71% and 1.13%, respectively.
In energy stocks, Exxon Mobil Corporation (XOM) increased by 1.95%, ConocoPhillips (COP) rose 1.06%, and EOG Resources, Inc. (EOG) gained 2.22%. Schlumberger N.V. (SLB) and Kinder Morgan, Inc. (KMI) ticked up 1.33% and 1.02%, respectively.
In the utility sector, Duke Energy Corporation (DUK) declined 0.91%, Dominion Energy, Inc. (D) fell 1.02%, and American Electric Power Company, Inc. (AEP) fell 1.06%. Xcel Energy Inc. (XEL) and WEC Energy Group, Inc. (WEC) plummeted 1.36% and 1.40%, respectively.
Also Read: Top companies to watch for quarterly earnings this week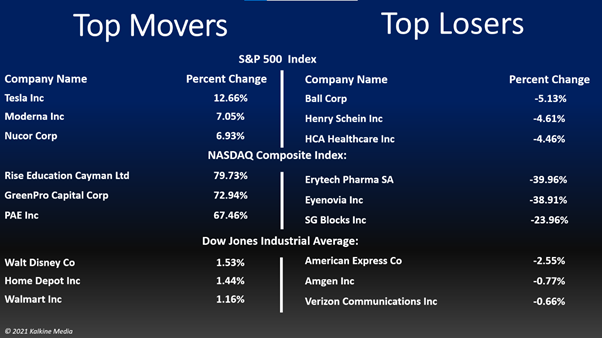 Also Read: Seven most anticipated IPOs this week


Also Read: Kimberly-Clark revenue up 7%, OTIS raises 2021 outlook
Futures & Commodities
Gold futures were up 0.71% to US$1,809.05 per ounce. Silver increased by 0.83% to US$24.652 per ounce, while copper rose 0.70% to US$4.5293.
Brent oil futures increased by 0.58% to US$85.13 per barrel and WTI crude was down 0.08% to US$83.69.
Also Read: Top artificial intelligence stocks to explore amid AI boom
Bond Market
The 30-year Treasury bond yields was down 0.37% to 2.083, while the 10-year bond yields fell 1.36% to 1.633.
US Dollar Futures Index increased by 0.21% to US$93.817.