The U.S. benchmark indexes S&P 500 and NASDAQ Composite declined marginally on April 27, staying close to their records set on the previous day. The Dow Jones Industrial Average closed flat as investors looked for earnings update from big tech companies after Tesla's record Q1 profits.
The S&P 500 decreased by 0.02 percent 4,186.72. The NASDAQ Composite Index declined 0.34 percent to 14,090.22. The Dow Jones was up 0.01 percent to 33,984.93. The small-cap Russell 2000 rose 0.14 percent to 2,301.27.
Tesla's share fell 4.53 percent on Tuesday despite the company's record first quarter earnings. The electric carmaker's first quarter non-GAAP net income totaled US$S41.05 billion, up 363 percent year-over-year. Record vehicle delivery and regulatory credit revenue fueled a 74 percent growth in its total revenue to US$10.39 billion.
General Electric's shares dropped 0.22 percent after the company posted a net loss of US$2.8 billion in the first quarter. Adjusted EPS during the quarter was 3 cents, up from 2 cents in the previous year quarter. Total revenue during the three months period fell 12 percent to US$17.1 billion.
Shares of United Parcel Service rallied to his 52-week high after the package delivery company reported a 27 percent year-over-year growth in its first quarter consolidated revenue to US$22.9 billion. Diluted EPS jumped 393 percent to US$5.47 while adjusted EPS soared 141 percent to US$2.77.
About 30 percent of the companies in the S&P 500 index have reportedly published their latest quarter results and nearly 88 percent of them exceeded the analysts' estimates.
Microsoft and Google's parent company Alphabet will report the results for the March quarter today while Apple, Facebook and Qualcomm are scheduled to publish their results on Wednesday.
Source: Pixabay
Top Gainers
Top performers on S&P 500 were United Parcel Service (10.42%), Caesars Entertainment Inc (4.94%), Pultegroup Inc (4.29%) and FedEx Corp (4.26%).
Urban Tea Inc (38.10%0, Vaxart Inc (37.46%), Tian Ruixiang Holdings Ltd (36.27%) and Aldeyra Therapeutics Inc (33.66%) were top performers on NASDAQ.
On Dow Jones, Chevron Corp (1.16%), Mcdonald's Corp (1.15%), Goldman Sachs Group Inc (0.91% ) and Dow Inc (0.72%) gained the most.
Top Losers
Top laggards on S&P 500 were Cadence Design Systems Inc (7.96%), Centene Corp (7.11%), Tesla Inc (4.53%) and Fiserv Inc (3.86%).
RealNetworks Inc (24.93%), MicroVision Inc (23.75%), Cyclerion Therapeutics Inc (17.95%) and Reviva Pharmaceuticals Holdings, Inc. (16.09%) were among the top losers on NASDAQ.
On Dow Jones, 3M Co (2.59%), Intel Corp (1.34%), Verizon Communications Inc (1.09%) and Johnson & Johnson (0.57%) were laggards.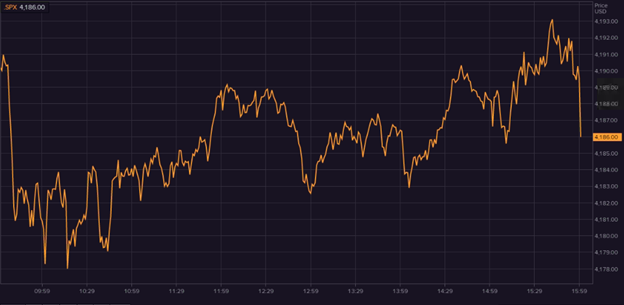 Image Source: Refinitiv, S&P 500 chart on April 27
Futures & Commodities
Gold futures were down 0.22 percent to US$1,776.15 per ounce on Tuesday. Silver was up 0.41 percent to US$26.317 per ounce while copper grew 0.83 percent to US$ 4.4815.
Brent oil futures remained flat US$ 66.03 per barrel. WTI crude rose 1.79 percent to US$ 63.02.
Bond Market
The 30-year Treasury bond yields increased 2.38 percent to 2.297 and the 10-year bond yields grew 3.52 percent to 1.6252.
US Dollar Futures Index was up 0.07 percent to US$ 90.843 on April 27.