Highlights:

Shein put a hold on its plan to be listed in the US market.
This is the second time the company has shelved its IPO plan.
The US is the largest operating market of Shein.
China-based fashion retail firm Shein has reportedly put on hold its plan to debut in the US equities markets.
It appears that due to the escalating geopolitical turmoil and higher volatile market, Shein could delay its public debut plans.
The recent spike in market volatility is due to various macroeconomic factors like Fed's anticipated multiple rate hikes through this year and the Russia-Ukraine crisis.
Meanwhile, various companies have either postponed or cancelled their plans to go public amid the uncertainties in the market.
Also Read: What is Wolf Game Wool (WOOL) crypto?
However, on Thursday, February 24, the investors seemed to have increased their risk appetite following a sharp loss in the equity market. The Nasdaq Composite Index and S&P 500 closed 3.34% and 1.50% higher.
Also Read: Lemonade touches a 52-week low, what's next for LMND stock?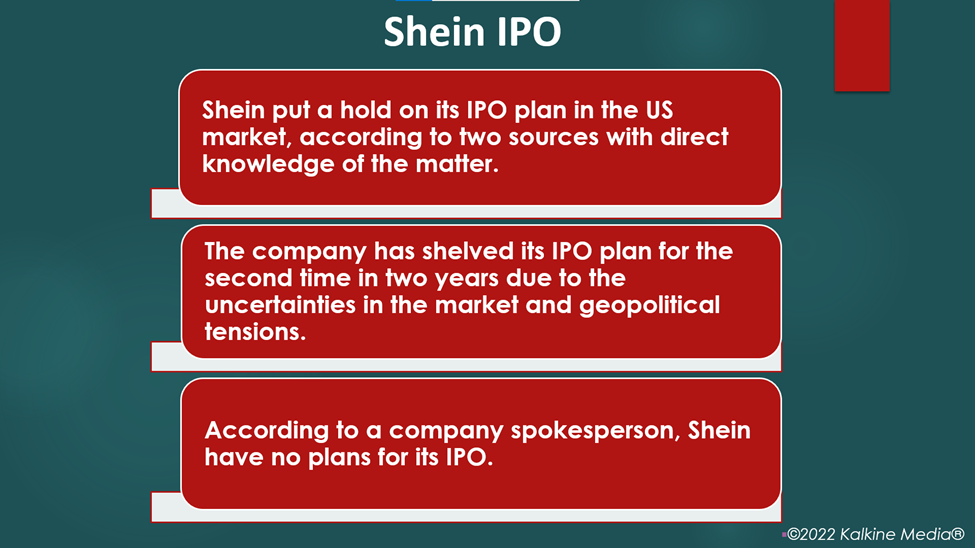 When is Shein going public?
Last month, Shein had reportedly reanimated its plan to go public in the US market in 2022. However, it seems that the potential investors will have to wait for some more time.
Also Read: What is Biconomy (BICO) crypto? Know price and performance
Shein's reported IPO plan could suffer due to the volatility in the capital market this year, which has bumped up recently due to the Russia-Ukraine crisis.
Around two years ago, Shein had reportedly prepared for the first time for its IPO but had backed off with its plan due to the increasing US-China turmoil.
It is important to note that Chinese companies face difficulty getting listed on the US stock exchanges.
Last December, Chinese ride-hailing company DiDi said it would delist from the New York Stock Exchange less than six months after its public debut.
Also Read: Travelport IPO: Is the travel-booking firm going public this year?
Bottom line:
Shein, launched in 2008, has evolved into a global online fashion marketplace that targets overseas customers. The US is believed to be its biggest market, and it also provides its services in the European and Asian markets. However, it does not sell its product in China.
The fashion company was reportedly valued at around US$50 billion in early 2021.
Also Read: Akanda Corp IPO: When will the cannabis firm debut? Know details