Highlights

TPG Partners, LLC is gearing up for a Nasdaq listing through an IPO.
It plans to trade under the ticker symbol TPG.
The expected price range of the IPO is between US$28 and US$31 per share.
Global investment firm TPG Partners, LLC is finally coming out with an IPO after it remained in the pipeline for a long time. It is aiming for a valuation of US$9.3 billion in the IPO.
TPG is planning to sell around 33.9 million shares of Class A common stock for US$28 and US$31 per share, according to its filing with the Security and Exchange Commission on Tuesday.
The existing investors will sell around 5.59 million shares, but the proceeds will not go to TPG.
The Fort Worth, Texas-based company firm would raise around US$877.6 million at the top end of the IPO price range.
It plans to get listed in Nasdaq Global Select Market under the ticker symbol TPG.
The lead underwriters for the offering are J.P. Morgan, Goldman Sachs, BofA Securities, Morgan Stanley, and TPG Capital BD LLC.
Also Read: Top technology and gaming stocks to explore in 2022
TPG has US$109 billion in assets under management across sectors ranging from retail to healthcare as of Sept 30, 2021. It has invested in companies like Uber and Spotify.
TPG was founded by David Bonderman and Jim Coulter as Texas Pacific Group in 1992. Its first investment was in bankrupt company Continental Airlines in 1993.
The company has 912 employees and has a presence in over 30 countries. It has over 280 companies in its portfolio and 320 investment professionals, as per the filing.
Also Read: Top EV stocks to explore after robust vehicle deliveries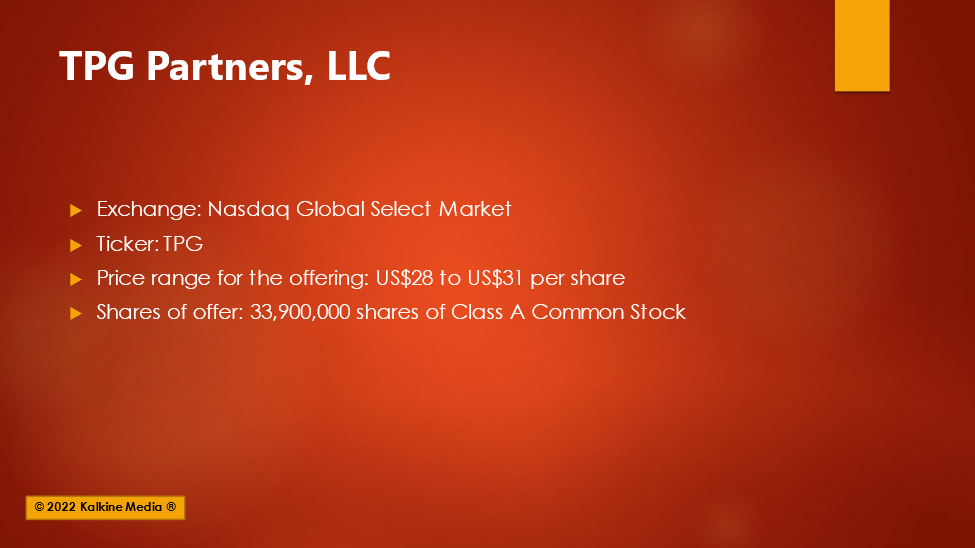 Also Read: Why is PancakeSwap (CAKE) token up today?
Financials
TPG booked a net income attributable to controlling interest of US$1.7 billion for the nine months ended Sept 30, 2021, compared to US$0.319 billion in the same period in 2020.
Its revenue increased to US$3.89 billion in the first nine months of 2021 against US$0.564 billion in the previous year.
Also Read: Top biotechnology stocks to explore in 2022
The US market saw many IPOs in 2021. There also had been a massive number of SPACs and direct listings. The success of companies like Blackstone Inc (BX), KKR & Co Inc (KKR), and Carlyle Group Inc (CG) that went public recently, may have prompted TPG to bring its own IPO.
Also Read: 2 dividend ETFs to consider in January 2022
Bottomline
Analysts expect a similar response in the IPO market this year. However, investors must carefully evaluate the companies and the broader market before investing in stocks.