Highlights

Instacart has privately filed for an initial public offering (IPO) on May 11.
The company did not disclose the IPO or the timing of the debut.
In March, it reduced its valuation by 40% to US$24 billion from US$39 billion last year.
Grocery delivery app Instacart confidentially filed for an initial public offering late on Wednesday. In March, the firm cut its value by 40% to US$24 billion amid a turbulent market.
The IPO size or the time of its debut was not immediately known.
It was reported on Wednesday that the company submitted a draft registration with the Securities and Exchange Commission (SEC) for the public offer.
Goldman Sachs (GS) and JP Morgan (JPM) may have been hired for the offering. Bloomberg added that the San Francisco-based company may still choose to remain private.
There have been several changes in the management team over the past one and a half years.
Some new hires include Fidji Simo, a former executive at Meta platform Inc. (FB), who has joined as chief executive officer. Nick Giovanni, a former Goldman Sachs banker, joined as a chief financial officer, and Asha Sharma, a former Meta employee, joined as the chief operating officer. Instacart's former president, Carolyn Everson, stepped down in December 2021.
Also Read: UNP to MANH: Top supply chain stocks to watch amid global concerns
Instacart CEO Fidji Simo and co-founder Apoorva Mehta have been exploring possible deals with DoorDash Inc. and Uber Technologies Inc., according to Wall Street Journal.
Also Read: WM to CWST: 5 recycling stocks to watch as climate takes center stage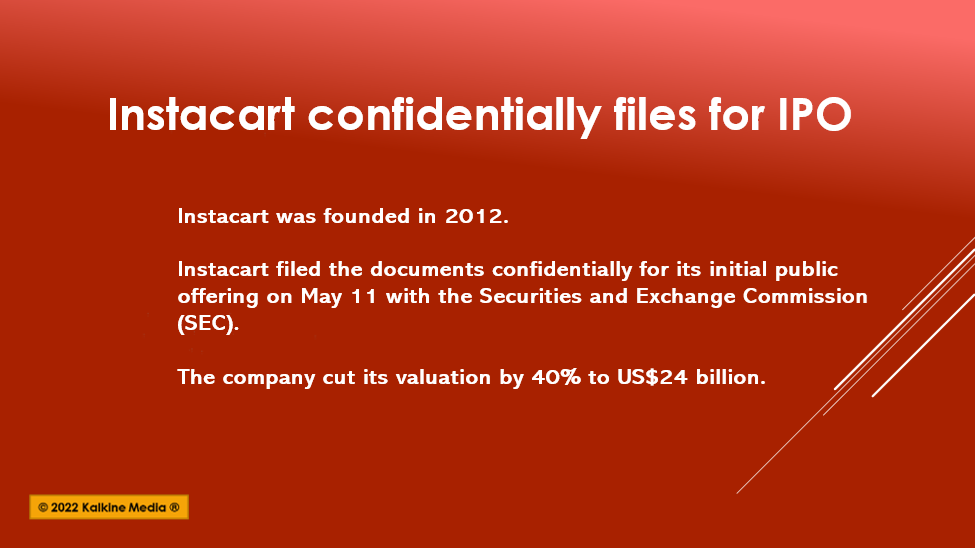 Also Read: PLUG to FCEL: 5 climate-friendly hydrogen stocks to watch in Q2
Instacart raised over US$265 million in a funding round in March 2021, bringing its valuation to US$39 billion. Others who participated include Andreessen Horowitz, Sequoia Capital, D1 Capital Partners, Fidelity Management & Research Co., and T. Rowe Price Associates Inc.
Instacart, founded in 2012, transformed itself into one of the biggest grocery delivery companies with Walmart Inc. (WMT), Kroger Company (KR), and Best Buy Co., Inc. (BBY) as its customers. It saw rapid growth during the pandemic as app grocery orders grew.
Also Read: TLRY, CRON among top 5 cannabis stocks to explore in May
However, the growth has slowed down post the pandemic restrictions. The share prices of food delivery companies have also fallen amid selling pressure in the stock market. Additionally, US IPO listings were down this year compared to the previous year.
Also Read: Top 5 paper stocks to watch in Q2: ITP, MERC, PKG, GPK & WRK
Bottom line:
Bloomberg reports that this year, the US IPO market raised US$4.4 billion from 52 listings, compared to US$71 billion from over 200 listings in the same period last year. The market has been volatile this year. Shares of most companies that went public were trading in the red. Thus, investors should carefully evaluate the stocks or the IPOs before investing.