Highlights

Flux (FLUX) is a new generation scalable decentralized Web3 cloud infrastructure.
Its ecosystem consists of FluxOS, Apps, FluxNodes, Flux, Parallel Mining, Zelcore, Dashboard, and XDAO.
Its native coin, FLUX, is used to provide incentives, governance, staking, etc.
The Flux (FLUX) crypto gained attention after it announced its strategic partnership with Lumen Technologies, an enterprise technology platform.
They both plan to work together to enhance Web3 adoption. Flux and Lumen plan to create a hybrid platform to help enterprise clients decentralize their cloud computing.
It also announced to partner with the University of Applied Sciences, Geneva, Switzerland, to develop Proof of useful work (PoUW), a novel blockchain consensus protocol. Flux is undertaking this project to create new use cases of PoUW and Minimum Viable Product (MVP).
Also Read: Crypto exchange FTX set to launch commission-free stock trading service
After the Lumen partnership, Flux, a Web3 decentralized cloud infrastructure, would be able to offer enterprise-level infrastructure. Node operators could share nodes and create new ways for users to participate and build Web3.
Flux (FLUX) was up 5.65% to US$0.7039 at 12:45 pm ET on Thursday in the wake of these announcements.
What is Flux, and how does it work?
Flux is a new generation scalable decentralized Web3 cloud infrastructure enabling users to develop, manage, and create applications on multiple servers at once.
Its ecosystem comprises decentralized computing services and blockchain-as-a-service solutions. The ecosystem offers an interoperable and decentralized development environment for globally distributed computational nodes.
Its ecosystem consists of FluxOS, Apps, FluxNodes, Flux, Parallel Mining, Zelcore, Dashboard, and XDAO.
Also Read: Astar (ASTR) crypto firm joins Microsoft's (MSFT) startup program
FluxOS is a second-layer operating system or application that allows hardened dockerized apps to run on the Flux network. FluxNodes is the node network geographically spaced worldwide to power FluxOS.
Flux is the next generation, decentralized Web 3.0 computational network. Through parallel assets, the Flux network provides access to multiple blockchains.
Another component of its ecosystem is Zelcore. It is a DeFi hub that allows users to buy, store, trade, and swap cryptos across protocols and exchanges.
Also Read: Why Beefy Finance (BIFI) crypto volume surged 3000%?
And finally, there is XDAO, the decentralized autonomous organization to govern Flux. The decentralized community votes on proposals for Flux to determine its future direction.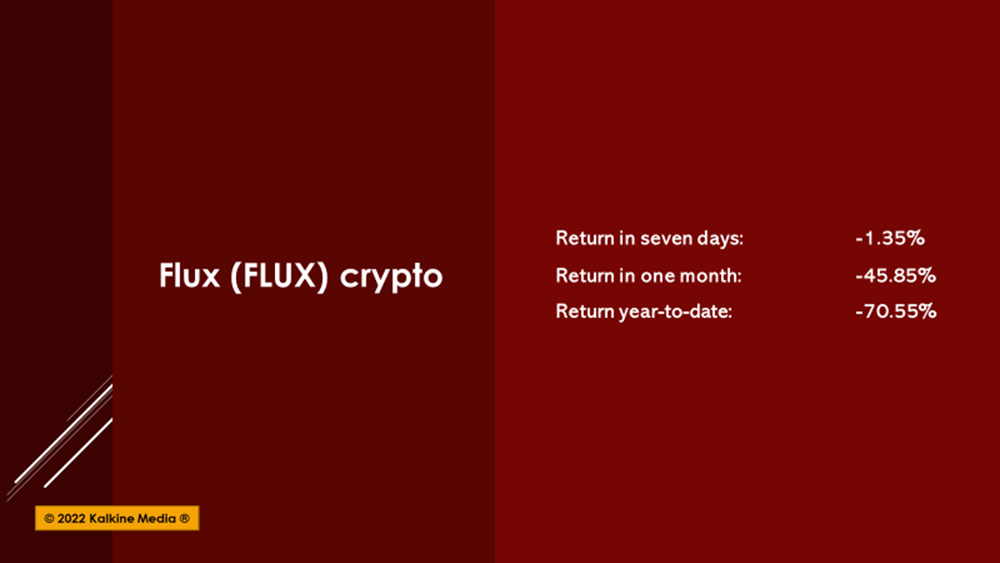 Data Source: coinmarketcap.com
Also Read: What is Luffy (LUFFY) crypto and why is it gaining attention?
FLUX token:
Its native coin, FLUX, is used to provide incentives to hardware hosters, on-chain DAO governance, staking, and others.
The token has a market capitalization of US$165.18 million. It saw a rise of 50.87% in trading volume to US$14.89 million.
Also Read: Why Elongate (ELONGATE) crypto volume surged 40,000%?
FLUX tokens' maximum supply is 440 million, the total supply is 220.35 million, and the circulating supply is 234.67 million.
The token is available for purchase on crypto exchanges such as Binance, MEXC, DigiFinex, Bitget, etc.
Also Read: Is DFI.Money (YFII) crypto price dropping on Binance news?
Bottom line:
Flux is a completely self-funded, community-driven project sans venture capital or outside investors. However, investors must carefully analyze the crypto projects before investing in them, considering that the space is not regulated.
Risk Disclosure: Trading in cryptocurrencies involves high risks including the risk of losing some, or all, of your investment amount, and may not be suitable for all investors. Prices of cryptocurrencies are extremely volatile and may be affected by external factors such as financial, regulatory, or political events. The laws that apply to crypto products (and how a particular crypto product is regulated) may change. Before deciding to trade in financial instruments or cryptocurrencies you should be fully informed of the risks and costs associated with trading in the financial markets, carefully consider your investment objectives, level of experience, and risk appetite, and seek professional advice where needed. Kalkine Media cannot and does not represent or guarantee that any of the information/data available here is accurate, reliable, current, complete or appropriate for your needs. Kalkine Media will not accept liability for any loss or damage as a result of your trading or your reliance on the information shared on this website.