Highlights:

Storj (STORJ) is a decentralized cloud storage company.
It provides a network of nodes to host user data secured with advanced encryption.
Storj has a global network of more than 13,000 active nodes.
Storj (STORJ) token was trending on Thursday after announcing three new customers - Europa Labs, Ultimate Division and AMUZED - for its NFT storage services.
Europa Labs seeks to enhance customers' computing capability on their preferred data platforms. Ultimate offers players a soccer metaverse game to earn Ultimate Division Tokens (TKDS). On the other hand, AMUZED is a blockchain-based music game platform where one can listen to music from favorite artists through NFTs.
On Thursday, the STORJ token surged 10.76% to US$0.715 at 4:45 am ET, a day after the announcements. Storj also plans to hold a webinar titled "Storj DCS Webinar" at 12:00 pm ET on Thursday, which could also be one of the reasons for gaining traction. DCS stands for Decentralized Cloud Storage.
Also Read: Why is Trust Wallet token (TWT) rising?
Storj tech experts are expected to discuss a range of internet-related subjects such as 'bridging the gap between Web 2 and Web 3', tools for Web3 integration, and what role Web3 technologies can play in areas like security, sustainability, and economics.
Let's delve deeper to understand more about Storj.
Also Read: Why is WOO Network (WOO) crypto generating interest?
What is Storj?
Storj is a decentralized cloud storage company. Storj offers enterprise-grade security, durability, and performance to Web3 and is used for storing digital assets like NFTs.
It recently announced a beta for its Inter Planetary File System or IPFS pinning service for minting platforms and NFT marketplaces.
Also Read: Why is layer-1 Stacks (STX) crypto grabbing attention?
The NFT minters, marketplaces, and platforms can upload NFTs to IPFS, create a content address, or use Storj HTTP for the IPFS upload endpoint.
The cloud storage platform provides a network of nodes to host user data secured by advanced encryption for instant access to NFTs.
Storj claims to offer NFT brands and minting platforms robust platform security to provide customers instant, uninterrupted access to their NFTs. According to its website, Storj has a global network of more than 13,000 active nodes and 39 billion objects.
Also Read: Why is Marlin (POND) crypto gaining attention?
Background:
Storj was launched by Shawn Wilkinson and John Quinn in 2014 to provide crypto platforms with an earning avenue through cloud storage services. It also offers nodes to space providers.
Storj rewards the storage space providers with STORJ tokens.
However, Storj recalibrated the project with the Storj V3 version launched in 2019.
Currently, Wilkinson serves as Storj's chief strategy officer (CSO), Quinn is the chief revenue officer (CSO), and Ben Golub is the CEO.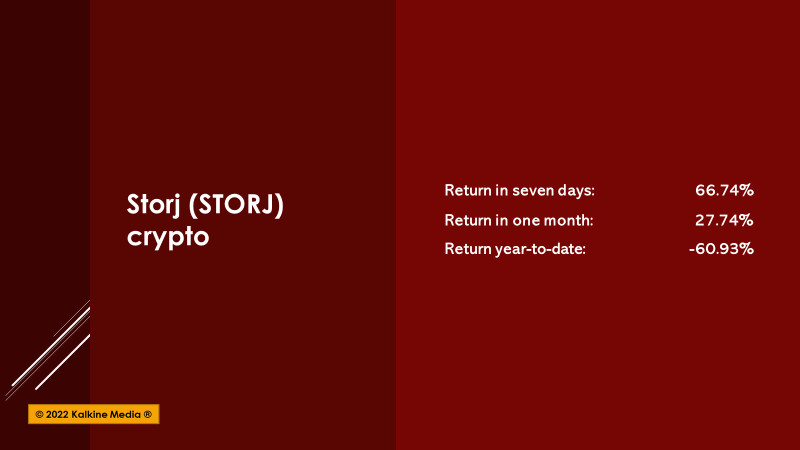 Also Read: What is Tellor (TRB) crypto and how does it work?
STORJ token:
STORJ is an ERC-20 token. Its current market capitalization is US$284 million, the circulating supply is US$397.4 million STORJ, and the total supply is 424.99 million.
It can be purchased from crypto exchanges, such as Binance, OKX, Bybit, MEXC., etc.
Also Read: What is Bluzelle (BLZ) crypto and why did it rise 40%?
Bottom line:
The token's trading volume increased by 6.7% to US$188.5 million, suggesting its growing traction. However, investors should apply due diligence before investing in digital assets.
Risk Disclosure: Trading in cryptocurrencies involves high risks including the risk of losing some, or all, of your investment amount, and may not be suitable for all investors. Prices of cryptocurrencies are extremely volatile and may be affected by external factors such as financial, regulatory, or political events. The laws that apply to crypto products (and how a particular crypto product is regulated) may change. Before deciding to trade in financial instruments or cryptocurrencies you should be fully informed of the risks and costs associated with trading in the financial markets, carefully consider your investment objectives, level of experience, and risk appetite, and seek professional advice where needed. Kalkine Media cannot and does not represent or guarantee that any of the information/data available here is accurate, reliable, current, complete or appropriate for your needs. Kalkine Media will not accept liability for any loss or damage as a result of your trading or your reliance on the information shared on this website.