Summary

Lucyd Ltd has been allowed the IoT Utility Patent from the United States Patent and Trademark Office
Besides, the company has also been granted 13 smartglass design patents, which cover a range of smart eyewear styles
Tekcapital Plc's (LON: TEK), portfolio company Lucyd Ltd, has been allowed utility patent #16/022,097 and 13 design patents from The United States Patent and Trademark Office (USPTO), the nodal agency for granting US patents and registering trademarks. The IoT Utility Patent is called "Smartglasses and Methods and Systems for Using AI (Artificial Intelligence) to Control Mobile Devices Used for Displaying and Presenting Tasks and Applications and Augmenting Presentation and Display of Augmented Reality Information."
A Patent to Support Werable Ecosystem
The new Link patent has strengthened the company's intellectual property position and covers the functionality of a mobile app being developed to support its wearable biome. The app, which is slated to be launched in Q1 2021, will provide the ranking of various Bluetooth devices, allowing for finer user control of connections to their main device.
The app is likely to have a host of features and will provide a user control panel for controlling the flow of information across all the connected devices, especially the command to control it and the data being transmitted when doing some specific tasks or using specific apps.
Additionally, the app will hand over the whole control to the user over the major functions of wearables connected to their core device. It will allow features such as changing the function of the action buttons on Lucyd eyewear while using certain apps.
13 Design Patents
Lucyd Ltd, the E-glasses developer and operator of an eShop for advanced eyewear, has also been granted 13 smartglass design patents (D899,493, D899,494, D899,495, D899,496,D899,497, D899,498, D899,499 and D899,500, D900,204, D900,205, D900,920, D900,206, D900,203,).
These design patents cover a range of smart eyewear styles and are a big boon for the company which has already established an IP niche in the E-glass space.
Lucyd – poised to Upgrade your Eyewear®
Founded in 2017, Lucyd Ltd is committed to upgrading the eyewear of the people across the globe and is developing E-glasses with new tech features, which not only look beautiful but are affordable as well. The company's first beta products were introduced, mid-year 2018 and were embraced by early adopters. It has developed designer, prescription-ready, tech-enhanced glasses that help you to remain connected to your digital life while correcting vision.
Lucyd is set to launch in Q4 the first pairs of smart prescription eyewear named "Lucyd Lyte" with the ergonomic features which will enable mass-market adoption and all-day comfort. The E-glasses combine prescription eyewear with an added advantage of useful electronic features.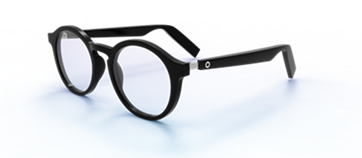 (Lucyd Lyte E-glasses, Image Source: Company)
Eyewear is a 700-year-old industry that has had only four major upgrades: bifocals, progressive lenses, contact lenses and transition lenses. Lucyd is providing the fifth­ upgrade, seamless Bluetooth eyewear frames, outfitted with any lens type, delivered in a wide variety of fashion-forward styles.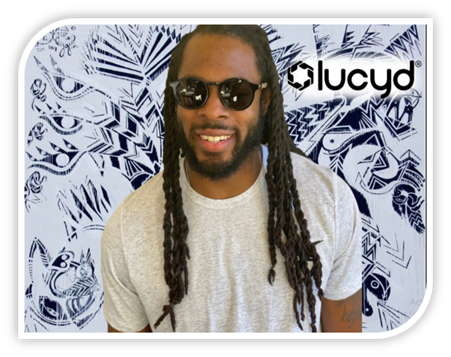 (Richard Sherman, American football star and Lucyd brand ambassador.
sporting the new Lucyd Lyte E-glasses, Image Source: Company)
Lucyd Ltd is a portfolio company of Tekcapital Plc, an AIM quoted company. Tekcapital, generates value from investing in novel, university-developed IPs (intellectual properties) and offers an array of IP investment services to make it smooth for organisations to commercialise university-developed technology and builds companies around specific platform technologies that it believes can improve the quality of life for its customers.
Company shares were trading at GBX 9.66 on the LSE at 12:15 PM GMT+1 on 2 November 2020. The stocks of the company have handed over a handsome return of more than 84 per cent on a year-to-date basis.
Daily Stock price performance on LSE

(Source: Refinitiv, Thomson Reuters)