Summary

As the UK government has eased curbs on non-essential retail store opening, consumers swarm physical outlets.
The British Retail Consortium reports a sharp spike in consumer footfalls across retail segments.
X5 food retailer reported revenue growth while Mulberry luxury fashion lured environment-conscious customers.
A few days ago, non-essential retail was allowed to resume operations in England. Now, Scotland and Northern Ireland are also following the same by April end. There has been a 200 per cent rise in retail store footfalls in the last week, as per the data of the British Retail Consortium (BRC).
The sharp rise in footfalls depicts the consumers' desire to return to outdoor shopping destinations like shopping centres, retail parks and hypermarkets after the lockdown. The numbers are expected to jump further when government allows pubs and restaurants to reopen indoor business next month. While certain analysts believe, unemployment problem will escalate with the end of Government's layoff scheme; retailers are hopefully eyeing to sustain the shopping spree.
As case numbers persistently drop, retailers (essentials and non-essentials) have expressed confidence in shoppers returning to high streets. The pent-up demand coupled with a rise in savings, owing to working from home, shall accelerate spending, which could add up to UK's GDP numbers.
Let us discuss the latest developments at two retail stocks listed on LSE:
Mulberry Group Plc
Mulberry Group Plc (LON: MUL), the luxury fashion company famous for its handbags, is showing signs of recovery with reduced losses in the previous quarters. With the restriction easing and improved consumer spending in non-essentials, the possibility of a comeback has improved further.
All the past losses to this UK brand were due to store closures on sustained COVID-19 lockdown and dependency on sales via other channels. In a recently released Global GCC Personal Luxury Goods Market analysis study by Infinity Business Insights, it ranked amongst the top 10 Key players in 2021. Thierry Andretta, CEO, MUL, at the launch of its' 'The Mulberry Made to the Last Manifesto', said, that MUL has constantly taken noteworthy steps to implant sustainability across businesses. It is now looking to embed restoration and circularity in the supply chain management.
Mulberry's new collection expected by the year-end will characterise the future of business and its' promise to attain net zero carbon emissions by 2035. Mulberry's transformative method of sourcing and innovation across the business is reducing the environmental impression of its packing, making it more eye-catching to the new breed of environmentally conscious consumers.
The stocks of the company were not much buoyant with the plan and remained unchanged at GBX 238.00 at 13:45 PM GMT +1. The stocks have, however, given a return of over 9 per cent on a YTD basis.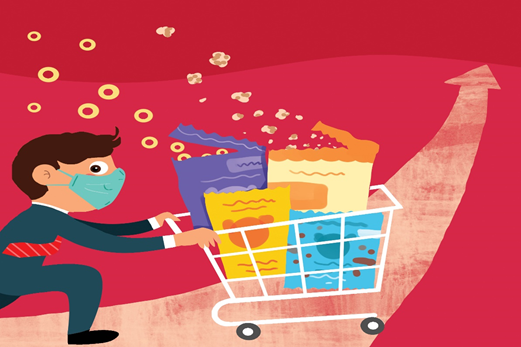 Copyright © 2021 Kalkine Media Pty Ltd.
X5 Retail Group
X5 Retail Group (LON: FIVE), the Russian food retailer that operates in Moscow, St Petersburg, and the European part of Russia, recently announced Q1-2021 numbers. X5 Retail Group is not just a big name in brick mortar set-ups across Russia and Europe, but it is also the largest online grocery platform in Russia. Even during Covid-19 induced limitations, it posted 8.1 per cent y-o-y growth in sales, majorly on account of offline sales.
For X5 repeated customer visits to stores and bigger basket size continued in trend. Its loyalty card penetration, as reported, was around 83 per cent at its proximity stores, 80 per cent at supermarkets and 93 per cent in hypermarkets. The company even announced extension of logistical operations and inauguration of new distribution centres in Russia.
Due to its strong presence and resilient profits, Fitch Ratings – Moscow has also considered it as a BB+ Stable business. Though the European taxation conflict with Russia is a threat to its business, it is still positive on sales growth based on restriction removals and the opening of the European consumer market.
The GDRs of FIVE traded at US$30.87, down by 1.31 per cent on 20 April 2021 and have given a return of over 8 per cent in the last one year.
Tags: Non-essential retail, COVID-19, British Retail Consortium (BRC), England, Scotland, Northern Ireland, Government's layoff scheme, high streets, GDP numbers, X5 Retail Group, food retailer, Fitch Ratings, Mulberry Group Plc, luxury fashion, Global GCC Personal Luxury Goods Market analysis study, ESG