Summary

TKO had reported total copper production of around 22 million pounds during Q1 FY21.
The Molybdenum production also remained lower at 530 thousand pounds during Q1 FY21.
TKO had a cash balance of USD 197.0 million as of 31 March 2021.
Taseko Mines Limited (LON: TKO) is the LSE listed mining stock. TKO's shares have generated a return of around 446.25% in the last 12 months.
Company Overview
Taseko Mines Limited is a growing mining company engaged in the operation and development of copper mines in North America. Moreover, on an annual basis, TKO produces around 140 million pounds of copper and 2.5 million pounds of molybdenum per year. Currently, the Company's operating facility is Gibraltar Mine, located in Columbia.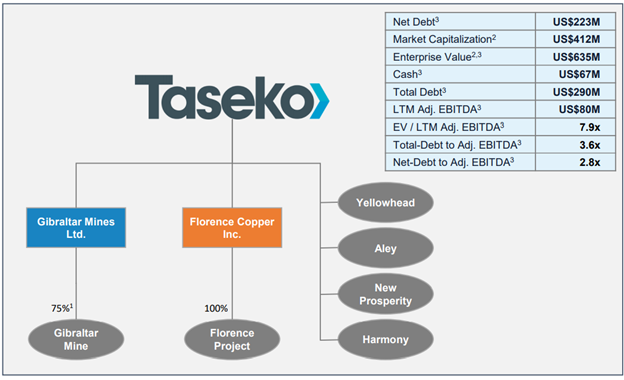 (Source: Company presentation)
Q1 FY21 Results Review (as of 06 May 2021)
Production remained below expectations - TKO had reported total copper production of around 22.2 million pounds from Gibraltar mine during Q1 FY21 as it was adversely impacted by the lower mined ore grades from the Pollyanna pit. It was around 32.4 million pounds during an equivalent period of the prior year. The Copper recoveries remained around 81.5%, and copper head grades were 0.19% during the quarter. Furthermore, the Molybdenum production also remained lower at 530 thousand pounds during Q1 FY21. Moreover, the Molybdenum prices had strengthened during the quarter, and it came out to be USD 11.32 per pound during Q1 FY21, while it was USD 9.01 per pound during Q4 FY20.
Improvement in profitability levels - TKO had shown significant improvement of approximately 412% in the reported earnings from mining operations before depletion and amortization of around USD 30.3 million during Q1 FY21 as compared to Q1 FY20. The adjusted EBITDA had shown an increase of 344% from USD 5.34 million for Q1 FY20 to USD 23.72 million during Q1 FY21, driven by higher copper prices during the period. Also, the Company narrowed down the net loss, and it remained USD 5.53 million for Q1 FY21.
Long Term Growth strategy – TKO had plans to accelerate the growth trajectory by making the lucrative acquisition of projects focused on copper in stable mining jurisdictions. Some of the ongoing projects are Yellowhead Copper Project, New Prosperity Gold-Copper Project, and Aley Niobium Project.
Share Price Performance Analysis of Taseko Mines Limited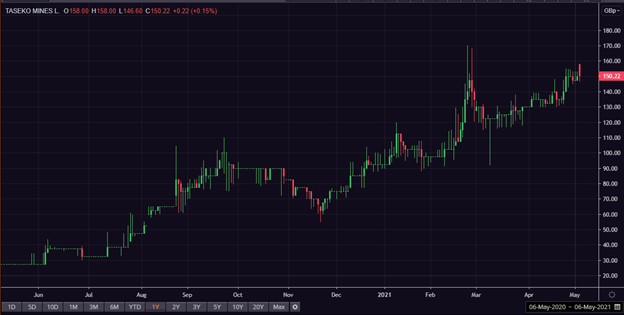 (Source: Refinitiv, Thomson Reuters)
TKO shares were trading at GBX 150.22 and were down by close to 0.15% as of 06 May 2021 at 02:42 PM GMT. TKO's 52-week Low and High were GBX 27.50 and GBX 170.00, respectively. Taseko Mines Limited had a market capitalization of around £418.81 million.
Business Outlook
The Company would focus on mining through the Pollyanna pit as it would be the main source of ore in 2021. On an encouraging note, the management had expected improvements in the copper production and grades for the second quarter of 2021 and much higher production levels during H2 FY21 as higher-grade areas in Pollyanna would be opened for processing. The Gibraltar mine had produced around 123 million pounds during FY20, and it would be expected to show a slight increase in production to 125 million pounds during 2021.