Summary

Wishbone Gold Plc reported a 44% year-on-year decline in revenue during H1 FY20.
The Company has identified four magnetic targets for the exploration of gold in Western Australia.
Legal and Technical due diligence of Patersons Range project is now completed.
Cash balance stood at US$0.849 million as of 30 September 2020.
Wishbone Gold Plc (LON: WSBN) is the LSE listed metals & mining stock. Shares of WSBN were down by close to 5.41% from the last closing price (as on 6 November 2020, before the market close at 9:40 AM GMT).
Why would Wishbone Gold Plc shift their focus from trading to exploration?
Wishbone Gold Plc is the FTSE AIM All-Share listed Company, which is engaged mainly into trading of precious metals in the United Arab Emirates and Australia. The Company operates through various business segments like gold exploration, gold bullion trading, the supply of equipment and expertise to artisanal miners.
Recent Developments
4 November 2020: Identification of four magnetic targets for gold exploration
On 4 November 2020, the Company has provided an update on its Patersons Range project. Terra Search Pty Ltd, which is the geological consultant for the Company, has identified four magnetic targets of considerable size in the Havieron and Telfer region of Western Australia. Further to the announcements made by the Company on 5 October 2020, the technical and legal due diligence of the project has now been completed and the acquisition will be made as per the agreed terms.
As per Terra Search, the prospects of Patersons Range project are very encouraging. The Company has identified an untested 2,400m long by 400m broad set of magnetic targets at depths starting at only 150m.
H1 FY20 results (ended 30 June 2020) as reported on 16 October 2020
The sales of the Company have declined by 44% year-on-year and stood at US$ 3.64 million during H1 FY20 as zero trading happened since the emergence of Covid-19 pandemic and grounding of Emirates Airlines. The net loss of the Company declined to US$ 0.34 million in H1 FY20 from US$ 0.53 million a year ago.
The Company has strengthened its balance sheet during the period by increasing the cash balance from US$ 0.036 million as of 30 June 2019 to US$ 0.163 million as of 30 June 2020.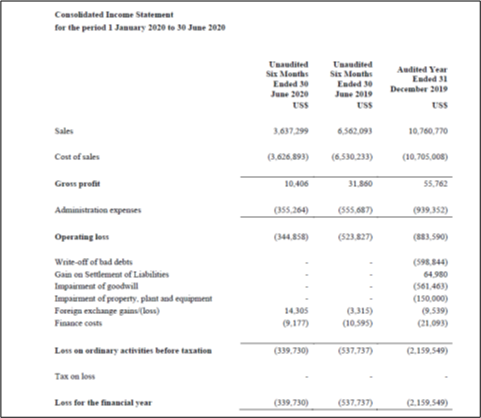 (Source: Company result)
5 October 2020: Acquisition of Patersons Range project
On 5 October 2020, the Company announced the acquisition of Patersons Range project. The Company will acquire 100% ownership of 67 square kilometres of granted mineral exploration in the Patersons Range region of Western Australia and subsequently, signed a 45-days option regarding the deal. The Company is going to complete all required due diligence within that stipulated 45 days option period. Wishbone has decided the terms of the agreement and, they will issue the vendors an additional £183,333 in cash, and issue 11.11 million new shares at an issue price of 3.3 pence totalling to £366,667.
24 September 2020: Exercise of Conversion Warrants
The Company has announced on 24 September 2020 that 94% of the warrants had been exercised, resulting in raising £283,200 at 3 pence per share. The key objective of this restructuring activity is to leave the Company in a strong position to complete its exploration programs. The Company is now debt-free and seeking lucrative expansion opportunities in exploring gold by penetrating Australia and other geographies.
7 September 2020: Approval of Drilling in Australian Gold Assets
Gold trading business has been kept on hold since March 2020 due to Covid-19 pandemic as it restricts international travel. Hence the focus of the Company has shifted towards the exploration of high-grade gold assets in Australia so that it can meet the gold market demand. Wishbone has appointed Terra Search Pty Ltd as the specialist mineral exploration consultant and, since Terra Search is a Townsville based company, hence they can effectively manage the exploration work on behalf of the Company during Covid-19 pandemic in Australia.
According to the announcement made on 20 August 2020, Wishbone Gold Plc updated that Terra Search Pty Ltd has kick-started exploring the potential of the gold and copper prospects at White Mountain and Wishbone II held by Wishbone Gold Plc in Queensland, Australia.
Terra Search has identified several high priority gold and copper potential opportunities in the White Mountains and Wishbone. The White Mountains consist of 4,491 hectares and, it is 100% owned exploration permit located about 155 km east of Charters Towers in Queensland. The Wishbone II project is located between two producing gold projects, Charters Towers Gold Project to the west and Ravenswood to the east.
20 August 2020: Fundraising to expand exploration program in Australia
On 20 August 2020, the Company raised £400,000 through the placement of 20 million new shares at 0.1 pence each. The funds will be used for the expansion of the exploration programs in Australia.
Share Price Performance Analysis of Wishbone Gold Plc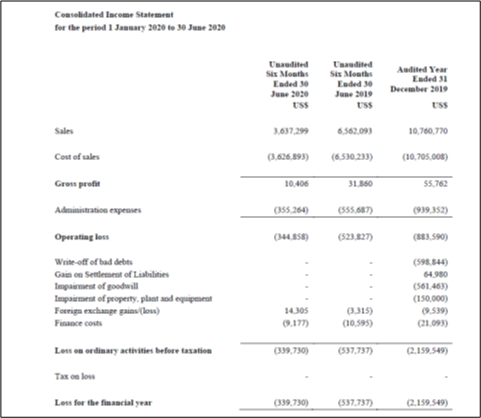 (Source: Refinitiv, chart created by Kalkine group)
Shares of Wishbone Gold Plc were trading at GBX 10.64 and were down by close to 5.41% against the previous closing price as on 6 November 2020, (before the market close at 9:40 AM GMT). WSBN's 52-week High and Low were GBX 13.50 and GBX 1.06, respectively. Wishbone Gold Plc had a market capitalization of around £7.60 million.
Business Outlook
Wishbone Gold Plc has reformulated its strategy considering the uncertainty of the outcome due to Covid-19 pandemic during the first half of 2020. From the trading perspective, the Company is not generating any sales since March 2020.
The Company was involved in several restructuring and fundraising activities since the start of FY20, ensuring that they have sufficient funds for carrying out and implementing their exploration development programme, focusing mainly on Australia. The Company has also collaborated with Australia-based mining exploration consultant, Terra Search Pty Ltd to work hassle-free and with utmost efficiency.
The Company has acquired the Patersons Range project for seeking out gold exploration opportunities and successfully identified four new targets for gold mining in Western Australia. Wishbone Gold Plc is willing to close out this transaction earlier than they have anticipated.