Summary

Positive trial results from Pfizer and BioNTech's vaccine candidate lifted the mood of equity markets across the globe

The mRNA-based vaccine candidate has demonstrated evidence of efficacy against Covid-19 SARS-CoV-2 virus in phase 3 clinical studies
Stock markets across the world witnessed a sharp uptick on Monday after initial data of a clinical trial showed that Pfizer and BioNTech's vaccine candidate was more than 90 per cent effective in preventing COVID-19.
Shares of both the pharmaceutical giants, Pfizer Inc. (NYSE: PFE) and Germany-based biotechnology firm BioNTech SE (NASDAQ: BNTX), rallied up to 25 per cent during the day after the trials of the vaccine showed a worthwhile outcome. Pfizer said that later this month the company could file an emergency use application with US regulators.
Investors across the world have been eyeing a pragmatic development with regard to the invention of potential and clinically-approved Covid-19 vaccine. A breakthrough in the clinical trials provides distinctive forward-looking guidance for the markets and also for the economies across the world.
Pfizer and BioNTech shares rally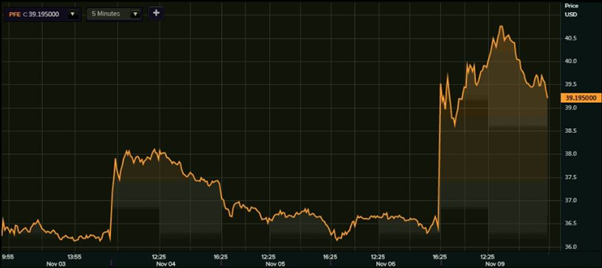 Shares of the New York Stock Exchange-listed Pfizer soared as much as 15.35 per cent to hit an intraday high of $41.99 before closing at $39.20, up 7.69 per cent. The stock of Pfizer had ended at $36.40 on 6 November, the previous trading day to Monday. Shares of Pfizer have been rolling ahead on the back of significant progress in the development of Covid-19 vaccine.
Pfizer shares (NYSE 1-week performance)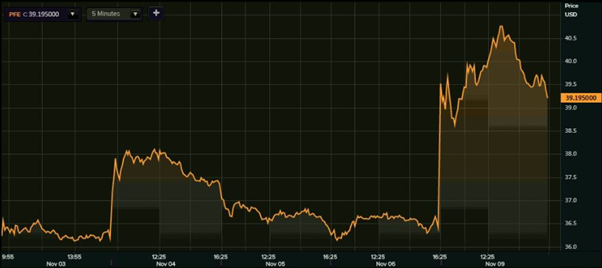 Pfizer scrip listed on Germany's Frankfurt Stock Exchange also soared 10.68 per cent to close at €34.20 on Monday, while the shares listed on India's National Stock Exchange gained 19.84 per cent to hit an all-time high of INR 5,900. This is a clear sign of marketwide hike in Pfizer shares as regional investors, traders and foreign institutional investors cashing on the optimism around the news.
On the other hand, shares of the Nasdaq-listed BioNTech skyrocketed exactly 25 per cent to multi-week high of $115 before concluding 13.91 per cent higher at $104.80 a piece on Monday. The previous closing price of the BioNTech shares was $92.
BioNTech shares (Nasdaq 1-week performance)
(Source: Thomson Reuters)
With the restored confidence, the DJIA amassed a gain of 834.57 points or 2.95 per cent to finish at 29,157.97, Germany's DAX 30 rallied 615.95 points or 4.94 per cent to 13,095.97, France's CAC 40 climbed 375.44 points or 7.57 per cent to 5,336.32, while FTSE 100 advanced as much as 276.27 points or 4.67 per cent to 6,186.29 on 9 November.
Optimism recouped
Earlier on 8 November, the mRNA-based vaccine candidate has demonstrated evidence of efficacy against Covid-19 SARS-CoV-2 virus in phase 3 clinical studies, Pfizer and BioNTech informed in a joint press release. According to the official statement, the vaccine candidate has been found over 90 per cent effective in preventing Covid-19 in the participants who don't have prior evidence of SARS-CoV-2 infection.
Pfizer Chairman and CEO Dr. Albert Bourla termed 9 November as a "great day" for humanity and science as the Phase 3 Covid-19 vaccine trials have shown initial evidence of the vaccine's ability to prevent coronavirus disease.
About 94 confirmed cases of coronavirus have been evaluated in the analysis, Pfizer said. No serious safety concerns have been observed following the study on more than 43,000 participants, of which 42 per cent are from diverse backgrounds. To adhere with the safety protocols, the participants involved in the trials will be continuously monitored for long-term safety for an additional stretch of two years after providing them with the second dose.