Overview
NetScientific PLC has a presence on both sides of the Atlantic, typically Britain and the US. The company is into sourcing, developing and managing early/ middle phase healthcare technologies and companies that have the expertise to treat chronic diseases and provide a significant contribution to the health and well-being of the people and touch the lives of millions. Their primary focus is on the timely detection of chronic disease, which is a challenging task in the healthcare industry.
According to the company's website, $1.7 trillion is spent every year countering chronic conditions in the US. In Europe, the spend on chronic conditions amounts to €700 billion per year. They use insights from data to provide early-stage diagnosis, precise monitoring of disease progression and have the potential to provide personalized therapy based on an individual's response to treatment.
Financial Highlights – Financial Year 2018 (£,000's)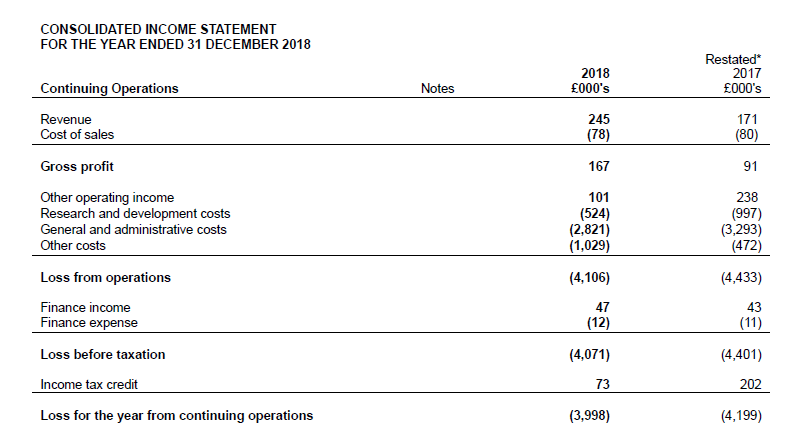 (Source: Annual Report, Company Website)
For the Financial year ending December 31st, 2018; the revenue has been recorded at £245,000 and was up by 43.27 per cent from FY2017 data. The gross profit stood at £167,000 in FY2018, up by 83.52 per cent against the last year and the other costs have risen twice from the previous year. Other costs were £472,000 in FY2017 and rose to £1,029,000 in FY2018. The Cash and cash equivalents significantly went down by 57.6 per cent from £6,868,000 in FY2017 to £2,911,000 in FY2018. The total loss recorded for the FY2018 period was £9,403,000, which was approximately 0.26 per cent more than the previous year. The basic and diluted loss per share stood at 11 pence for FY2018 against a loss of 13.6 pence in FY2017. 
ProAxsis update
ProAxsis is headquartered in Belfast and is a diagnostics company. It has products related to early diagnosis and intensity of active protease biomarkers. NEATstik, a test developed by ProAxis Limited is to be used majorly for the detection of lung diseases. The BRIDGE, a study in bronchiectasis co-sponsored by the British Lung Foundation and the European Respiratory Society has published early data and successfully demonstrated the potential for NEATstik in the latest edition of European Respiratory Journal.
 In the published journal, the NEATstik® result is strongly related to the severity of lung disease, the presence of bacterial infection and the possible risk of disease/ infection progression. In addition, it is also believed that NEATstik® can assist clinicians in identifying lung diseases and patients with a higher risk of clinical exacerbation over the subsequent 12 months.
Dr David Ribeiro, CEO of ProAxsis said that NEATstik is a very effective test and the company looks forward to partner with clinicians to make this test available at centres.
Share Price performance

Daily Chart as at June-04-19, before the market close (Source: Thomson Reuters)
On June 4, 2019, at the time of writing (before the market closed, at 01:14 PM GMT), NetScientific PLC shares were trading at GBX 9.55, down by 9.04 per cent against the previous day closing price. Stock's 52 weeks High and Low is GBX 47.66/GBX 1.
At the time of writing, the share was trading 79.96 per cent lower than the 52w High and 855 per cent higher than the 52w low. Stock's average traded volume for 5 days was 581,359.00; 30 days – 286,632.43 and 90 days – 829,652.57.
The average traded volume for 5 days was up by 102.82 per cent as compared to the 30 days average traded volume. The company's stock beta was 0.53, reflecting lower volatility as compared to the benchmark index. The outstanding market capitalisation was around £8.23 million.
With Bank of England reducing the interest rates to a historic low level, the spotlight is back on diverse investment opportunities.
Amidst this, are you getting worried about these falling interest rates and wondering where to put your money?
Well! Team Kalkine has a solution for you. You still can earn a relatively stable income by putting money in the dividend-paying stocks.
We think it is the perfect time when you should start accumulating selective dividend stocks to beat the low-interest rates, while we provide a tailored offering in view of valuable stock opportunities and any dividend cut backs to be considered amid scenarios including a prolonged market meltdown.


CLICK HERE FOR YOUR FREE REPORT!