Overview
Metal Tiger PLC (MTR) looks for opportunities to invest in precious and strategic metals that are yet to discover their real value. The group provides financial and business acumen to companies to maximise the value of their natural resource and discover their true potential. The group aims to generate wealth for Metal Tiger shareholders.
Financial Highlights for the Financial Year 2018 (£, thousand)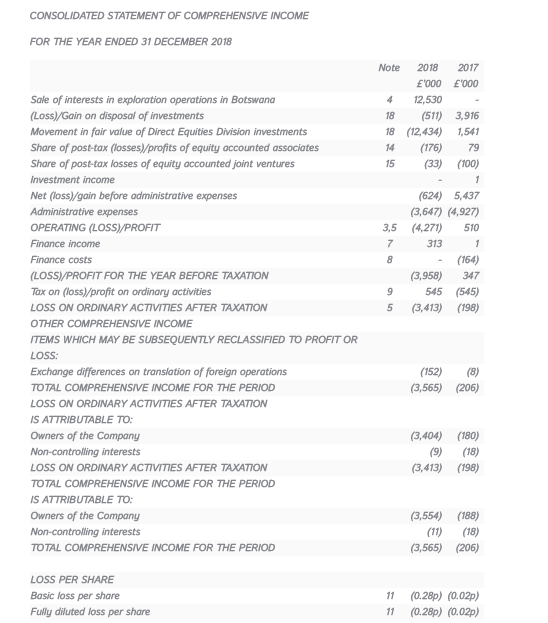 (Source: Annual Report, Company's website)
The group recorded a revenue (from sale of stake in exploration operations) of £12,530,000 for FY2018. The group divested and fine-tuned its existing portfolio and posted a loss of £511,000 on disposal of investments. Although the group did well in the previous year, this year it ran into a significant operating loss of £4,271,000 in FY2018. The basic loss per share stood at 0.28 pence in FY2018 against 0.02 pence in FY2017. The loans and borrowings have increased from £49,000 in FY2017 to £52,000 in FY2018.
Regular investment is done into projects directly. Exposure to various asset classes such as equities, commodity classes, strong leadership helps in finding the right balance of the portfolio to create the potential for significant returns.
Recent News
The Botswana focused explorer is planning to make a further equity investment of US$ 1.1 million in Kalahari Metals Limited. Metal Tiger PLC owns 50 per cent of the share capital in Kalahari Metals Limited (KML). KML is expected to execute its first phase of drilling at the Ngami Copper Project and at the Okavango Copper Project as planned earlier. The group has immense faith in the Kalahari Copper belt and believed that continued exploration will lead to new discoveries.
The company managed to raise funds amounting to £1million by exercising private placement facilitated by SI Capital Limited. The company also raised funds worth £2million by exercising private placement facilitated by Sprott Capital Partners LP and Sprott Global Resource Investments Limited. There is a considerable amount of success achieved at Okavanago and Ngami Copper projects. Several potential sites are identified for drilling of diamonds and it should commence shortly as per the plan.
Share Price Performance
Daily Chart as at June-06-19, before the market close (Source: Thomson Reuters)
On June 6, 2019, at the time of writing (before the market closed, at 10:47 AM GMT), Metal Tiger PLC shares were trading at GBX 1.47, up by 5 per cent against the previous day closing price. Stock's 52 weeks High and Low is GBX 3.44/GBX 1.00. At the time of writing, the share was trading 57.26 per cent lower than the 52w High and 47 per cent higher than the 52w low.
Stock's average traded volume for 5 days was 4,101,243.80; 30 days – 3,484,652.37 and 90 days – 3,417,059.59. The average traded volume for 5 days was up by 17.69 per cent as compared to the 30 days average traded volume.
The company's stock beta was 0.52, reflecting lower volatility as compared to the benchmark index. The outstanding market capitalisation was around £21.83 million.
Â