Highlights:
Rising inflation have forced the Bank of England to increase the interest rates recently.
However, lenders are raising their mortgage rates faster than the central bank is hiking the interest rates.
The Bank of England (BoE) has been forced to raise the interest rates to keep inflation in check. After five consecutive 25 bps hikes, the central bank decided to opt for a bigger hike of 50 bps, which took the interest rates to 1.75%. Following the hikes, lenders also raised the mortgage rates.
According to financial data provider Moneyfacts, a key mortgage rate has now exceeded 4% for the first time since 2013. Since August, the average new two-year fixed rate has reached 4.09% -- indicating a rise by 0.14%. It stood at 2.34% in December 2021, meaning it has risen by 1.75 percentage points since then. In the same time period, the BoE too had During the same period, the Bank of England raised the interest rates by 1.65 percentage points. This indicates that lenders are increasing their interest rates faster than the country's interest rates, which adds to the problems of those planning to buy a new home.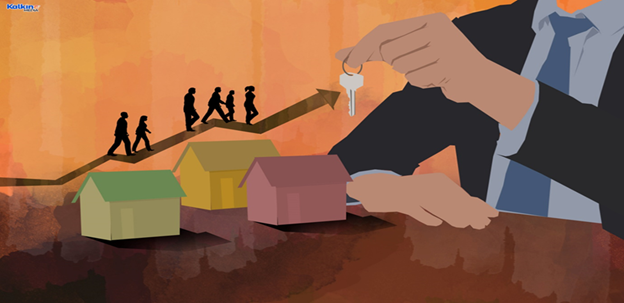 © 2022 Kalkine Media®
Besides, the average new five-year fixed rate has now touched 4.24%, a 1.6 percentage points hike since December last year.
Following BoE's latest hike in interest rates, several lenders are repricing their offerings and also pulling deals off sales. There have also been instances where lenders withdraw entire product ranges due to high demand, said a mortgage expert at Moneyfacts.
In the wake of this information, investors can check out the below stocks selected by Kalkine Media®.
Barclays Plc (LON: BARC)
Britain's leading banking and financial services provider, BARC, holds a market cap of £26,340.48 million and is a constituent of the FTSE 100 index. Over the past 52 weeks, the stock has slumped over 9% and currently has an EPS of 0.38. As of 8:29 am GMT+1 on 23 August, the stock was trading at GBX 163.42, up 0.21%. Its Relative Strength Indicator (RSI) stood at 71.73.
NatWest Group Plc (LON: NWG)
Another financial giant in UK, NatWest enjoyed a market cap of £27,014.34 million. The NWG's stock was trading at GBX 259.00, down 0.23% as of 8:22 am GMT+1 on Tuesday. The NWG stock has however, provided investors with a return of 21.71% over the past 12 months, while the year-to-date or YTD return is 14.71%. The stock holds an EPS of 0.25, and its RSI stood at 47.27.
OSB Group Plc (LON: OSB)
The specialist mortgage lender is a constituent of the mid-cap-focused FTSE 250 index. OSB Group's lending business is supported by a strong retail savings franchise, which includes Charter Saving Bank and Kent Reliance. The stock value has appreciated by 10.52% over the past 12 months, and the YTD return is 0.86%. With an RSI value of 55.75, the stock was trading 0.36% lower at GBX 558.00 as of 8:26 am GMT+1 on Tuesday.
Note: The above content constitutes a very preliminary observation or view based on market trends and is of limited scope without any in-depth fundamental valuation or technical analysis. Any interest in stocks or sectors should be thoroughly evaluated taking into consideration the associated risks.