Caledonia Investments Plc (CLDN) is an investment trust company. It makes investments across a range of assets such as funds, listed equities, and private companies. It maintains an international investment and fund portfolio of companies with exceptional long-term shareholder value. The company primarily invests across various sectors such as medical technology, property investment, broadcasting services, packaged foods, infrastructure, steam and industrial engineering, soft drinks, tobacco, pubs and restaurants, investment management, and biotechnology in Asia-Pacific, Europe, and North America.
Financial Highlights (FY 2019, £ million)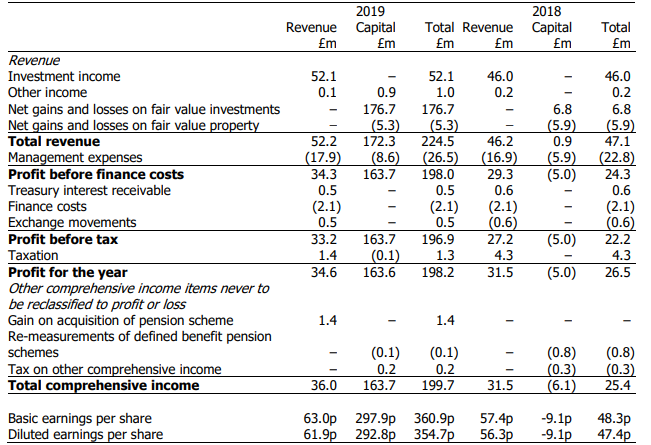 (Source: Annual Report, Company Website)
The company's total reported revenue surged from £47.1 million in 2018 to £224.5 million in 2019. Total profit before tax stood at £196.9 million, an increase from the £22.2 million in FY2018. The company's total profit for the year 2019 rose to £198.2 million as compared with last year data. Basic and diluted earnings per share climbed significantly to 360.9 pence and 354.7 pence respectively against the previous year data.
NAV (Net asset value) total return for the year 2019 stood at 10.9 per cent, an increase from the previous year data, due to the favourable returns generated from the Quoted, Unquoted and Funds pools, strengthening of the US dollar and a small positive return from the income pool. Annual dividend per share surged by 4 per cent to 59.3 pence, reflecting persistent growth in the dividend policy (52nd consecutive year of the dividend growth). NAV surged by 9 per cent to 3,582 pence as compared with the financial year 2018 data of 3,285 pence.
Significant capacity to capitalise on the market opportunities with unutilised facilities stood at £250 million and available cash balance in FY2019 reported at £112 million. About £491 million was realised from the portfolio including £92 million from the sale of Choice Care Company.
Share Price Performance

 Daily Chart as at May-31-19, after the market closed (Source: Thomson Reuters)
On May 31, 2019, CLDN shares closed at GBX 2,945, down by 0.51 per cent against the previous day closing price. Stock's 52 weeks High and Low is GBX 3,060/GBX 2,635. At the time of writing, the share was quoting 3.76 per cent lower than the 52w High and 11.76 per cent higher than the 52w low. The group's stock beta was 0.47, reflecting lower volatility of the stock as compared with the benchmark index.
Stock's average traded volume for 5 days was 27,427.60; 30 days - 26,308.60 and 90 days - 31,696.34. The average traded volume for 5 days increased by 4.25 per cent against the 30 days average traded volume. The outstanding market capitalisation was around £1.63 billion with a dividend yield of 2.01 per cent.
Conclusion
There is an inevitable sense of 'fin de siècle' with this bull equity market, now in its 10th year. The influence on the investor self-confidence seems to be the path of interest rates, particularly in the United States. The Federal Reserve, having been gradually rising interest rates to their present 2.5 per cent, means that it would not increase rates further soon. With US tax cuts in the past and trade talks with China show no signs of resolve.
The portfolio of fund assets and high-quality listed businesses offers prospects for future growth, while the company anticipate continued periods of disorder, especially in the quoted markets, across the medium term and they are also confident that the portfolio provides the long term growth to achieve the aims set by the company's board.
With Bank of England reducing the interest rates to a historic low level, the spotlight is back on diverse investment opportunities.
Amidst this, are you getting worried about these falling interest rates and wondering where to put your money?
Well! Team Kalkine has a solution for you. You still can earn a relatively stable income by putting money in the dividend-paying stocks.
We think it is the perfect time when you should start accumulating selective dividend stocks to beat the low-interest rates, while we provide a tailored offering in view of valuable stock opportunities and any dividend cut backs to be considered amid scenarios including a prolonged market meltdown.


CLICK HERE FOR YOUR FREE REPORT!