Highlights

Irish low-cost airline Ryanair confirmed its plans to delist from the LSE.
The last day of trading is expected to be on 17 December and the listing will be cancelled effective from 8 AM BST, on 20 December
Irish low-cost airline Ryanair Holdings PLC (LON: RYA) confirmed its plans to delist from the London Stock Exchange (LSE) on Friday.
The airline cited the volume of trading did not justify the costs associated with its LSE listing as the key reason for its delisting plan.
The move also comes as a response to EU rules surrounding airline ownership, after the UK left the EU officially earlier this year. EU based nationals should hold majority ownership of airlines, according to the EU's regulations.
Ryanair Holdings PLC's (LON: RYA) share price performance
The main market listed Ryanair's shares were trading at EUR 15.90, down by 2.40 per cent on 19 November at 09:55 AM BST.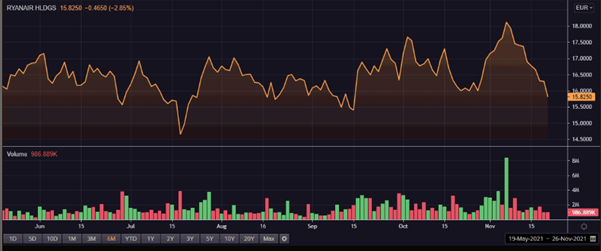 (Image source: Refinitiv)
The company's market cap stands at £15,627.83 million as of Friday. It netted shareholders a one-year return of 2.19 per cent as of 19 November.
Ryanair's delisting plans
The Irish airline issued a request to the UK's financial regulatory body, the Financial Conduct Authority (FCA) to cancel its standard listing on the FCA's official list.
Ryanair also requested the LSE to cancel its admission on the main market for the trading of its shares.
The company's delisting will help consolidate its trading liquidity to one regulated market and is also expected to benefit Ryanair's shareholders. The airline had indicated its plans to delist earlier this month.
The cancellation of its listing is expected to become effective from 8 AM BST on 20 December, and the last day of trading on the LSE is expected to be on 17 December.
Ryanair will continue to have a primary listing on Ireland's main stock exchange, the Euronext Dublin after its LSE listing is cancelled.
It will also continue to have an American depositary receipt (ADR) listing on the US exchange, the NASDAQ.
Ryanair's H1 2021 results
The airline's H1 2021 revenue, for the period ended on 30 September, was up by 83 per cent to EUR 2.15 billion, from EUR 1.18 billion in H1 2020.
The group also narrowed its net loss in the period, with its H1 2021 net loss at EUR 48 million, compared to EUR 411 million in H1 2020.
October traffic and load factor details
Ryanair's traffic in October, increased to 11.3 million passengers, from 4.1 million in October 2020. Also, its October load factor improved to 84 per cent, compared to 73 per cent in the year before.