Highlights

During the trading period, the company's total revenue from continued operation grew by 19% to £5,569 million.
The company plans to balance the impact of inflation through operational cost savings and price rises.
Associated British Foods Plc (LON: ABF), an FTSE 100 listed diversified food retail company, has announced its business update for 16 weeks to 8 January 2022, where the company's total revenue from continued operation grew by 19% to £5,569 million. Retail segment revenue, which makes up half of the total revenue, was up by 36% as most of its stores remained open. Also, consumer footfall improved during the period. As a result, operating profit margins were ahead of the company's previous guidance and could be up by at least 10% when the half-yearly result is announced.
Primark retail store operator has a business presence in the UK and the European markets. It operates and manages its business through five key segments: Retail, Sugar, Agriculture, Grocery, and Ingredients.
The group's retail chains located in town centres and retail parks continued to outperform compared to city centres stores. Also, the company increased its retail selling space by 7% to 17 million sq. ft of retail space. However, the adverse impact of the Omicron variant, inflationary pressure on raw materials, and supply chain bottlenecks continue to impact the company's retail operations. As a result, the company plans to cut down around 400 jobs in its UK operations fashion business of Primark to save operating costs and simplify its UK retail management structure.
The other key business segment, the Food division, delivered revenue growth of 6% on a constant currency basis. Revenue from the sugar segment grew by 12%, driven by the rise in sugar and bioethanol prices in European and other markets. Overall, all business units witnessed inflationary pressures leading to margin pressure in specific segments like Grocery and Ingredients.
What to expect from ABF in the new year?
Although the company faces inflationary pressure, it plans to balance the impact through operational cost savings and price rises. Also, most of the company's retail outlets are now open, resulting in increased consumer footfall in the last few months. As a result, the company expects an improvement in operating profit in upcoming quarters.
The company's share price currently is showing a downward trend and is down by nearly 10%. However, the company possesses strong fundamentals and has a history of paying a consistent dividend to its shareholders. Its current dividend yield stands at 2.2% as of 20 January 2022.
Recent stock performance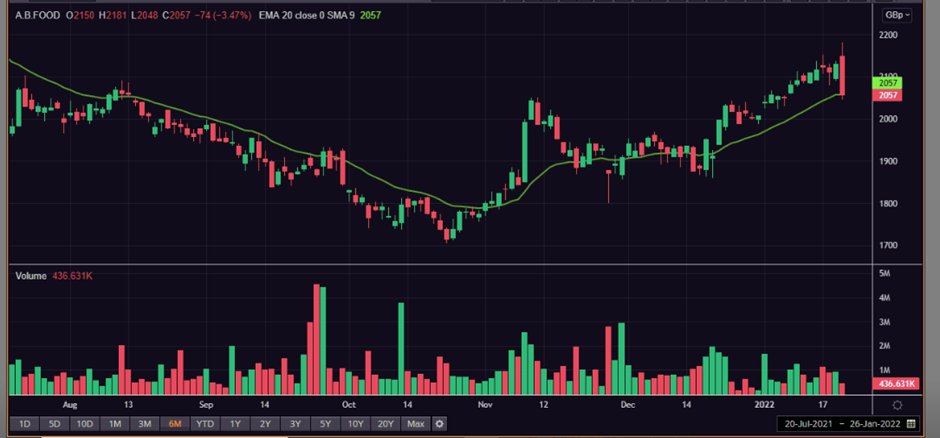 (Image Source: Refinitiv)
After announcement of its business update, the stock price turned lower were trading at GBX 2,059, down by 3.38% to trade on 20 January 2022 at 10:30 am GMT+1, with a market cap of £16,870 million.