Highlights

Amazon founder, Jeff Bezos, pledged up to US$ 2 billion in tackling global food systems and in restoring landscapes during the COP26 conference.
Over 50 per cent of FTSE 100 listed UK companies have also led the charge and made climate commitments.
E-commerce giant Amazon's founder and second richest person in the world, Jeff Bezos, made a US$ 2 billion climate pledge on Wednesday, aimed towards overhauling global food systems and for land restoration, at the ongoing COP26 climate summit being held in Glasgow.
Bezos, who had been criticised earlier for his environmental practices, said he understood how thin the earth's atmosphere was and how fragile nature is after his space flight earlier this year.
As per the US Securities and Exchange Commission (SEC) filings, Bezos, after the pledge, sold 608,450 shares of Amazon.com Inc., worth around US$ 2 billion under a pre-arranged trading plan. The latest share sale has taken his total offloading of Amazon's shares to about $8.6 billion this year.
Amazon's Jeff Bezos makes $2 bn climate pledge
The latest pledge will add to US $1 billion announced in September to focus on conservation efforts through Bezos Earth Fund. It's a $10 billion philanthropic initiative launched by Bezos in February 2020 that aims to conserve wild spaces, food transformation and restoration of natural landscapes.
How are UK companies planning to tackle climate change?
COP26 has seen some major investment commitments lately, with several UK companies leading the charge. As per recent data from Gov.uk, up to 60 out of all FTSE 100 index listed companies have now committed to becoming net-zero by 2050.
These businesses have a total market capital of over £1.2 trillion and a combined annual turnover of £700 billion.
Also, former Bank of England governor Mark Carney announced the Glasgow Financial Alliance for Net Zero (Gfanz) on Wednesday, which includes around global 450 financial companies having a control of around 40 per cent of all global assets on their books.
In view of this, let us take a look at 2 FTSE 100 stocks that are part of the Gfanz coalition and how they intend to tackle climate change:
Natwest Group PLC (LON: NWG)
Natwest is a majority state-owned UK based banking and insurance group.
The group's CEO Alison Rose said on Thursday that Natwest plans to stop lending any new capital to coal projects and intends to phase out its current loans in the coal sector by 2024.
The group's oil and gas exposure stand at 0.8 per cent, while its coal exposure forms 0.5 per cent of its balance sheet, respectively.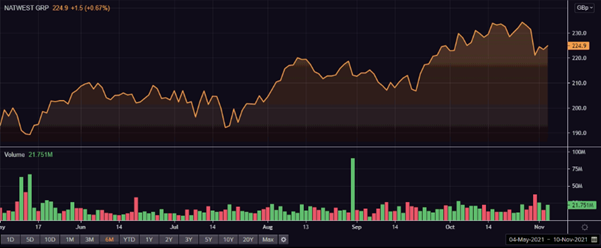 (Image source: Refinitiv)
Natwest's shares closed at GBX 224.90, up by 0.67 per cent on 3 November, while the FTSE 100 index ended at 7,248.89, down by 0.36 per cent.
The company's market cap stands at £25,441.25 million, and its one-year return is at 74.61 per cent as of Wednesday.
Aviva PLC (LON: AV.)
Aviva is a British multinational insurance company. The group became one of the signatories to pledge to end deforestation by 2030.
It was the first major deal at the COP26 summit, and it includes a £14 billion commitment from public and private funds.
As per the agreement, 12 countries, including the UK, pledged up to £8.75 billion, while a further £5.3 billion was pledged by Aviva and some other private companies, including Schroders and AXA.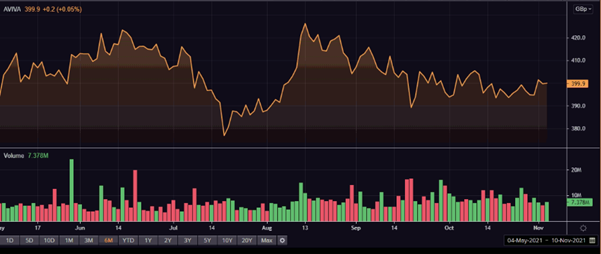 (Image source: Refinitiv)
Aviva's shares closed at GBX 399.90, up by 0.05 per cent on 3 November.
The company's market cap stands at £15,317.08 million, and its one-year return is at 48.99 per cent as of Wednesday.