4D Pharma PLC
4D pharma plc (DDDD) is a Leeds, the United Kingdom-based pharmaceutical company. Earlier known as Schosween 18 Limited, the company is mainly into developing several projects targeting new therapeutic areas. The main exercise of the group is the development and research of pharmaceutical products in LBPs (live biotherapeutic products). The group has developed a proprietary discovery platform, MicroRx®, which is a discovery bacteria-based methodology that has an evolved and precise therapeutic effect. Its MicroRx® practise provides a pipeline of around ten therapeutic programs containing CNS (central nervous system), autoimmune diseases, cancer and disorders. The group uses MicroRx® to grow its plans into the clinical study and has around two programs in patient trials. The Company emphases on immune conditions, such as irritable bowel syndrome, paediatric Crohn's, and paediatric colitis.
4D has core programmes, covering disease areas such as cancer, Irritable bowel syndrome (IBS), Inflammatory bowel disease, respiratory and CNS disease.  The company is currently conducting clinical studies in cancer and IBS.
Recent News
On 8 July 2019, the company had released an update on its prime Live Biotherapeutic applicant - MRx-4DP0004- for asthma patient. A multi-centre Phase I/II double-blind, placebo-controlled research has now begun in the applicant. The clinical study will register ninety asthma patients not effectively controlled on their present inhaler maintenance therapy. The patients in addition to their prevailing maintenance therapy will take MRx-4DP0004. This is the international initial clinical research of a Live Biotherapeutic in patients with unwell controlled asthma. In 2020, the company expects the results of this study to be available in 2020.
The main endpoints of this study are tolerability and safety of MRx-4DP0004 when further added to upcoming maintenance therapy, with secondary endpoints containing the achievement of improved asthma control, exacerbations, reduction of asthma symptoms, and hospitalisations. The main investigator for this study is Prof. Chris Brightling from the University of Leicester.
Financial Highlights (FY2018, £'000)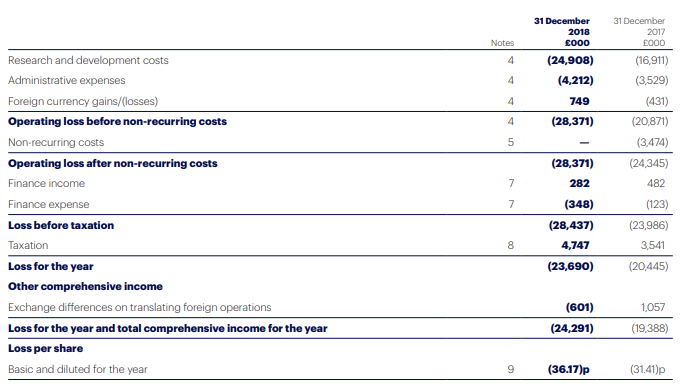 (Source: Annual Report, Company Website)
Total research and development spend in the year to 31 December 2018 increased to £24.9 million as compared with the financial year 2017 of £16.9 million. No development expenditure was capitalised in the current year. Short-term deposits along with the cash and cash equivalents declined from £50.0 million in FY17 to £26.2 million in FY18, with a loss before tax surging to £28.4 million as compared with £24.0 million in FY17. Tax credit claim for the research and development stood at £4.7 million, an increase from the previous year data. The loss for the year 2018 rose to £23.7 million as compared with the financial year 2017 of £20.4 million. Comprehensive loss after tax was £24.3 million, an increase from the financial year 2017 of £19.4 million. Basic and diluted loss per share stood at 36.17 pence (2017: 31.41 pence). Total equity reduced to £45.8 million as compared with the financial year 2017 of £69.8 million. Similar to last year the Board has not recommended payment of any dividend this year too.
The cash burn for the year remained in line with expectation, showing the increased costs of taking existing and new clinical programmes forward and preparing for upcoming Phase I and II trials. The Board has continued to operate a robust set of financial controls, including rolling short-term and long-term forecasts to assist in the control and ranking of resources.
In the financial year 2018, the company made substantial move towards its goal of producing Live Biotherapeutics as effective and safe therapies. The company, at the forefront of this innovatory field, is well-positioned to deliver positive clinical results to establish assurance in the potential of this innovative class of medicines. Over the next 1-2 years, the company will chart the way in generating strong clinical data to support the use of this new class of drugs which will include indications like gastrointestinal, oncology and respiratory disease. The research plan and the development of the MicroRx® platform continue to advance the understanding as the company continue developing the novel Live Biotherapeutics at the forefront of this revolutionary field.
Share Price Performance

Daily Chart as at July-18-19, before the market closed (Source: Thomson Reuters)
On July 18, 2019, at the time of writing (before the market close, GMT 12:51 PM), DDDD shares were quoting at GBX 95, and remain the same against the previous day closing price. Stock's 52 weeks High and Low are GBX 197/GBX 75. At the time of writing, the share was trading 51.78 per cent lower than the 52w High and 26.67 per cent higher than the 52w low. Stock's average traded volume for 5 days was 4,262.40; 30 days – 5,944.03 and 90 days – 36,468.39. The average traded volume for 5 days was down by 28.29 per cent as compared to 30 days average traded volume. The company's stock beta was 1.46, reflecting high volatility as compared to the benchmark index. The outstanding market capitalisation was around £62.08 million.
Menarini Diagnostics Ltd
Menarini Diagnostics Ltd. develops diabetes diagnostics systems for HbA1c, blood glucose, and continuous glucose monitoring. The company provides hematology and biochemistry diagnostics, and data management software for animal health; hematology sedimentation rate and cell counters; products for the prevention and diagnosis of autoimmune diseases; hemoglobin analyzers; home blood glucose testing meters; cell pathology products, including immunohistochemistry and histology, digital slide, and ImPat solutions; and point of care testing products. The group also provides urine sediment analyzers and wet chemistry products. The company provides its products through marketing partners in the United Kingdom and internationally. The group was founded in 1987 and is based in Wokingham, the United Kingdom with subsidiaries in Eastern and Western Europe. The research facilities of the company are located in Pomezia, Italy. A. Menarini Diagnostics Ltd. operates as a subsidiary of A. Menarini Industrie Farmaceutiche Riunite Srl.
In the United Kingdom, the group is one of the fastest-growing diagnostics companies. According to the latest data, the company has now placed more than 700 analysers of several types in the United Kingdom market. The company is growing fast in the areas of Autoimmune Disease, Urine Sediment Analysis, and Cellular Pathology. Menarini UK presently employs across 80 staff in marketing, customer support, and sales. During 2016, the group turnover was more than £3 billion, and a planned expansion over the world during 2017 and 2018.
During 2004, the company along with all the other Menarini associates received certification to the International Quality Standard ISO 9000:2000. In 2008 the company also achieved ISO 13485. Menarini Diagnostics UK is committed to continuous development in quality in all its activities.
Diabetes Care Products
Meters: Glucomen Areo, available in Austria, Belgium, Denmark, Finland, Germany, Greece, Norway, Sweden, Switzerland and the UK; Glucomen Areo 2K, available in Austria, Belgium, Denmark, Finland, Greece, Italy, Norway, Portugal, Spain, Sweden, Switzerland and the UK; Glucomen LX2, available in Italy, UK, Belgium, Portugal, Sweden and Norway; and Glucomen LX PLUS, Available in Austria, Belgium, Germany, Greece, Italy, Netherlands, Norway, Portugal, Spain, Sweden, Switzerland, and the UK.
Lancing Devices: Glucoject Lancets PLUS 33G, Securject Pro, and Glucoject Dual PLUS.
Data Management Software and Apps
Laboratory Products: Animal Health, Autoimmunity, Cell Pathology, Urine Sediment, Haemoglobin Analyser, and Hematology.
A1 Pharmaceuticals Plc
A1 Pharmaceuticals PLC is a Rainham, Essex, the United Kingdom-based company and engaged in drugs wholesale. The company's key areas of interest are Pharmaceutical Importers, Pharmaceutical Exports/Exporter, Insulin Syringes, Diabetic Care, Test Stips, Nutritional Drinks, Novofines, Botoxes, Bandages, Latex Gloves, Cigarette Filters, Parallel Imports, Night Drainage Bags, Discount Pharmaceuticals, Woundcares, Dressings, Aesthetics, Tennis Sponsorships, Generics, Pregnancy Tests, Vaccines, Thermometers, Award-Winning Companies, Pharmaceutical Wholesalers, Baby Milk, Ensure Plus, Hyalgans, Expopharms, Medicas, Freestyle Lites, One Touch Ultras, Lyricas, Clickfines, Pharmas, Healthcare. The company was founded in 1986 and A1 Pharmaceuticals Hldg Ltd is its ultimate parent.
The company's merchandise range comprises the main branded surgical dressings made by big international companies and also the successful A1 own-label range. Other product types contain diagnostics, ostomy, aesthetics & dermal fillers, branded EU parallel imported pharmaceuticals, nutritional drinks, colostomy, and syringes.
Financial Highlights
(Source: Company Website)
In 2018, the company's turnover stood at £52 million, a decrease from the financial year 2017 of £55.6 million. Profits for the year 2018 surged to £3.9 million as compared to the last year. Net Assets stood at £14.4 million in 2018, an increase of 110 per cent in just four years. This significant increase in liquidity and the associated decline in debt risk to the suppliers has resulted in a record rise from a safe credit rating to a new record 95/100 from 81/100. Although the recommended credit limit has risen by 35 per cent to £1.55 million.
A sustained global economic slowdown may further accentuate pressure from governments and regulators on prices, leading to a decline in some markets, which may result in a reduction of revenue, profits and cash flow. The uncertainty regarding Brexit is expected to increase volatility and may have an economic impact on some major markets.
In the Q1 FY2019, the company is expecting strong profit growth of approximately 5 per cent. The company can also improve on this expected progress and in 2018 results, if the group can agree for a free trade deal with the European Union that would likely increase sterling and favour revenues on imports and decrease the risks to the British and global economy.
With Bank of England reducing the interest rates to a historic low level, the spotlight is back on diverse investment opportunities.
Amidst this, are you getting worried about these falling interest rates and wondering where to put your money?
Well! Team Kalkine has a solution for you. You still can earn a relatively stable income by putting money in the dividend-paying stocks.
We think it is the perfect time when you should start accumulating selective dividend stocks to beat the low-interest rates, while we provide a tailored offering in view of valuable stock opportunities and any dividend cut backs to be considered amid scenarios including a prolonged market meltdown.


CLICK HERE FOR YOUR FREE REPORT!