The pharmaceutical sector is still finding it difficult to return to its pink of health era. Numerous risks posing the sector's future growth in the year 2019 and beyond includes the major one of higher drug prices. R&D productivity has just started to rise again following a pause in 2017, and the pharmaceutical sector landscape is continuously changing with the disruptions of health technology and fast growth of biosimilars. The vital part of the international economy is that the accomplishment of the pharmaceutical sector should be spread to all sectors.
Some key risks in the Pharmaceutical industry
The United States has been leading the global pharmaceutical market for the last several years, as the country spends almost double on health care as compared to many of its industrialized counterparts. The industry across the globe is facing pressures from politicians, patients, and regulatory bodies regarding reimbursement and drug pricing and introduction of an 'international pricing index' through Medicare. The uncertainty regarding Brexit is also expected to increase volatility and may have an economic impact on potential outcomes of the pharmaceutical industry, both in the United Kingdom and across the globe. 2019 remains a crucial year for the pharmaceutical sector, because of Brexit implications, inflated drug prices, and slow market growth being the critical areas of concern. But the industry had witnessed these changes previously too, where the market adapted to change and bounced back.
Focus on Four Pharmaceutical Companies
AAH Pharmaceuticals Ltd
AAH Pharmaceuticals Ltd (AAH) is part of McKesson Europe and McKesson UK. The company had a strong brand and circa 38 thousand employees. McKesson Europe has its presence in around 13 European countries. The group serves across 2 million customers – more than 7,000 participants in the brand partnership schemes and approximately 2,300 McKesson-owned pharmacies. The UK's leading wholesaler and distributor of pharmaceutical and healthcare products and services to pharmacy, hospitals and doctors. Operating out of 20 distribution locations across the country with headquarters in Coventry, UK. The vision of the company is to be recognised as the best providers of pharmacy supply chain management solutions in the UK. A part of the Celesio AG, the healthcare group, is listed in Frankfurt and is a sister company to LloydsPharmacy.
The company has 118 wholesale branches in Europe, with more than 100,000 pharmaceutical products and McKesson Europe supplies to more than 50,000 hospitals and pharmacies daily. McKesson Corporation, San Francisco, the United States, is the major stockholder in McKesson Europe AG. McKesson Corporation is an international leader in retail pharmacy, healthcare information technology, healthcare supply chain management solutions, and community oncology and speciality care. McKesson Corporation is presently ranked sixth on the FORTUNE 500.
In the United Kingdom, the company is a part of McKesson UK and the largest community pharmacy network. The company is an essential national pharmaceutical distribution operation provider, and employ approximately 21,000 people, providing services to pharma manufacturers and patients.
Financial Highlights (FY2018, € million)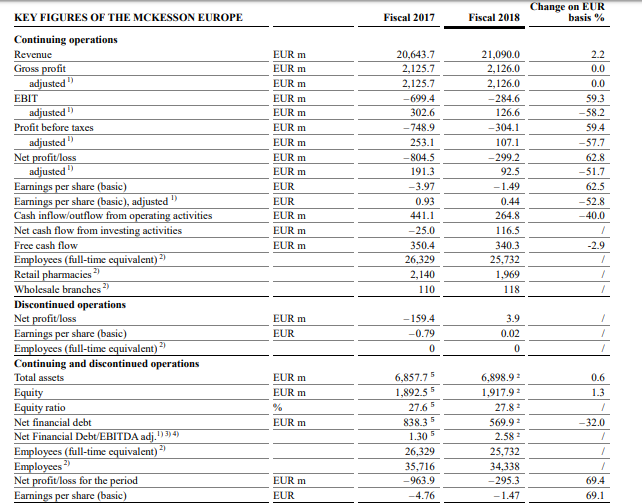 (Source: McKesson Europe AG Annual Report, Company Website)
McKesson Europe's revenue from continuing operations increased by 2.2 per cent to EUR 21,090 million in the fiscal year 2018 as compared with the fiscal year 2017 EUR 20,643.7 million, mainly due to the acquisitions. Overall revenue in the fiscal year 2018 got adversely impacted by exchange rate effects of EUR 317.8 million related mostly to the British pound. Net loss from continuing operations at McKesson Europe decreased by 62.8 per cent to EUR 299.2 million as compared with the previous year data. Basic loss per share from continuing operations reduced by 62.5 per cent to EUR 1.49 against a loss of EUR 3.97 in the fiscal year 2017.
Net loss from continuing and discontinued operations declined by 69.4 per cent to EUR 295.3 million in the fiscal year 2018 as compared with the prior year data. Basic loss per share from continuing and discontinued operations stood at EUR 1.47, a decrease from the previous year data.
The company recorded adjusted EBIT lower than the original outlook as the pressure in the main markets such as the UK and France could not be offset by strong performance across other geographies, including Italy and Austria. As a result of these pressures, the company have engaged in restructuring programmes to enhance the cost basis and business growth.
The production is growing since five consecutive quarters at rates above 0.5%, improving from the moderate growth as seen since 2015. The economic expansion will drive increasing inflation of 1.6% in 2019, coming closer to the goal set up by the European Central Bank.
The agreement of the United Kingdom with the European Commission on 19 March 2018, that the rules of the European Union will apply until 2020 reduces the risk of an uncontrollable exit. However, it remains at a low rate of 1.4% in 2018 and 0.9% in 2019 as compared to overall Europe where the growth is expected to be higher than 2%.
Abbott Laboratories
Abbott Laboratories is an Abbott Park, Illinois-based company. The company is involved in the development, sale, discovery and manufacturing of variety of healthcare products. The company's packaging business is differentiated in four segments: Nutritional Products, Vascular Products, Established Pharmaceutical Products, and Diagnostic Products.
The Nutritional Products business consist of a range of adult and pediatric nutritional products. The group's Vascular Products segment engaged in vessel closure, endovascular, structural heart, and coronary devices for the cure of vascular disease. The company's Established Pharmaceutical Products segment provides exclusive generic pharmaceuticals manufactured goods. The Diagnostic Products segment contain a range of diagnostic tests and systems.
The group through St. Jude Medical, Inc., provides products, such as electrophysiology products, structural heart products, heart failure related products, neuromodulation products, vascular products, and rhythm management products.
Q1 FY2019 Trading Update
(Source: Trading Update. Company Website)
The company's reported sales increased by 2 per cent to $7.5 billion in Q1 FY19, as compared with the corresponding period of the last year, while on an organic basis, sales surged by 7.1 per cent. Operating earnings rose by 21.6 per cent to $739 million as compared to $608 million in Q1 FY2018. Net earnings increased by 60.8 per cent to $672 million as compared with the previous year same period data. Diluted earnings per common share from continuing operations stood at $0.38, an increase of 65.2 per cent against the $0.23 in Q1 FY18. Adjusted diluted EPS from continuing operations, excluding Specified Items, increased by 6.8 per cent to $0.63 as compared with the corresponding period of the last year. The board declared a quarterly dividend per share of $0.32.
In first quarter of the financial year 2019, the company received United States Food and Drug Administration approval for a new, prolonged indication for its market leading device MitraClip® to treat clinically substantial secondary mitral regurgitation, a leaky heart valve resulting from progressive heart failure. 
The company has issued Q2 FY19 diluted EPS guidance from continuing operations under GAAP of $0.47-$0.49. In Q2 FY19, the company estimates specified items of $0.32 per share, mainly related to cost reduction initiatives, acquisition-related expenses, intangible amortisation, and other expenses. In second quarter of the financial year 2019, excluding stated items, projected adjusted diluted earnings per share (continuing operations) would be $0.79- $0.81.
AbbVie Inc
AbbVie Inc. is a North Chicago, Illinois-headquartered, a research-driven biopharmaceutical company. The group is engaged in the manufacture, sale, development, and discovery of a range of pharmaceutical products.
The company's products are targeted on treating conditions such as oncology, including blood cancers; neurological disorders, such as Parkinson's disease and multiple sclerosis; chronic autoimmune diseases in rheumatology, gastroenterology and dermatology; metabolic diseases, including thyroid disease and complications associated with cystic fibrosis; virology, including hepatitis C virus (HCV) and human immunodeficiency virus (HIV); and other severe health conditions.
The company provides products in several categories, including Virology, Metabolics/Hormones, Oncology, Endocrinology, HUMIRA (adalimumab), Additional Virology, and other products, which comprise Anesthesia products, Duopa and Duodopa (carbidopa and levodopa), and ZINBRYTA (daclizumab).
Q1 FY2019 Trading Update
(Source: Trading Update, Company Website)
On an operational basis, excluding a 1.7 per cent unfavourable effect from foreign exchange, the company's net revenue increased by 0.4 per cent to $7.828 billion in Q1FY19, as compared with the corresponding period of the last year, due to biosimilar competition. Global Net Revenues from the Hematologic Oncology Portfolio, excluding a 0.4 per cent unfavourable impact of foreign exchange, increased to 43.2 per cent to $1.173 billion; Global IMBRUVICA net revenues surged by 34 per cent to $1.022 Billion, and global VENCLEXTA net revenues stood at $151 Million.
Operating earnings increased to $3,010 million as compared to $2,903 million in Q1 FY18. Net Earnings stood at $2,456 million, an increase from the previous year same period data. On a GAAP basis, reported diluted EPS was $1.65 and adjusted diluted EPS stood at $2.14.
The company raised its GAAP diluted earnings per share guidance for the financial year 2019 to $7.26-$7.36. The company's 2019 GAAP guidance does not include a non-cash charge for contingent consideration like the approval of SKYRIZI and planned to be communicated on the Q2 FY19 earnings call. The company raised its earlier announced adjusted earnings per share guidance range for the financial year 2019 from $8.65-$8.75 to $8.73-$8.83, representing an increase of 11 per cent at the mid-point. The company's FY19 adjusted diluted earnings per share guidance excludes $1.47 per share of non-cash charges for contingent consideration adjustments, intangible asset amortisation expense, and other specified items.
Accord Healthcare
Accord Healthcare is a Middlesex, United Kingdom-based wholesale pharmaceutical products company. It is an award-winning pharmaceutical company driven to think differently so that more patients around the world can have access to the essential and affordable medicines that they need.
With operations in several countries worldwide and a pan-European footprint of more than 45 countries, Accord Healthcare develops, manufactures and distributes affordable medicines, and has one of the most active launch programmes in the European pharmaceutical sector.
An offshore identity of Intas, it works as a marketing arm of Intas and is involved in all the pharmaceutical product trading and licensing related activities in the regulatory markets. The group leverages industrial care from Intas. The company has its global matrix spread to France, Canada, South Africa, Vietnam, Mexico, Italy, Australia, Spain, the USA, New Zealand, Brazil, Peru, and the UK.
On 24th June 2019, Clinigen Group plc (CLIN), the international pharmaceutical and amenities group, announced that its Commercial Medicines business had signed an agreement with Accord (Accord Healthcare) to distribute and supply Clinigen's speciality medicines, Savene® and Cardioxane® in Poland. The commercial medicines agreement is in line with its plan to form partnerships to increase the commercial presence and the geographical reach of its product to accelerate progress.
With Bank of England reducing the interest rates to a historic low level, the spotlight is back on diverse investment opportunities.
Amidst this, are you getting worried about these falling interest rates and wondering where to put your money?
Well! Team Kalkine has a solution for you. You still can earn a relatively stable income by putting money in the dividend-paying stocks.
We think it is the perfect time when you should start accumulating selective dividend stocks to beat the low-interest rates, while we provide a tailored offering in view of valuable stock opportunities and any dividend cut backs to be considered amid scenarios including a prolonged market meltdown.


CLICK HERE FOR YOUR FREE REPORT!