UK Market: The UK stock market extended the recovery on Tuesday, though once again, there was weakness in the early morning session. The blue-chip FTSE 100 index was marginally down by 0.06%. The index was supported by stocks like ITV Plc (7.90%) and Evraz Plc (7.43%), which witnessed some buying interest after a significant decline in the recent market selloff. The mid-cap focused FTSE250 index is up by 0.94%.
M&G Plc (LON: MNG): The savings and investment company was up by over 13%, with a day's high of GBX 205.70 after the company announced its results for the year ended 31 December 2021. The company reported operating profit before tax of £721 million and announced a £500 million share buyback program.
Greggs Plc (LON: GRG): The food retail chain operator was down by over 5.2%, with a day's low of GBX 2,029 following the announcement of preliminary results for the 52 weeks ended 1 January 2022. The total sales were up by 5.3% to £1,229.7 million.
URU Metals Limited (LON: URU): The metal and mining company was up by over 97%, with a day's high of GBX 400. The stock price moved up, tracking the Nickel prices in the international market. The prices of Nickel more than doubled and were trading above the USD 100,000 a ton mark, leading to a trading halt on the London Metal Exchange. The price rise is mainly due to falling inventories and supply concerns because of the Russia-Ukraine war.
US Markets: The US market is likely to make a start in positive territory, as indicated by the futures indices. S&P 500 future was up by 7 points or 0.18% at 4,205, while the Dow Jones 30 future was up by 0.20% or 65 points at 32,860. The technology-heavy index Nasdaq Composite future was marginally down by 0.03% at 13,308 (At the time of writing – 8:50 AM ET).
US Market News:
Sporting goods retailer DICK'S Sporting Goods (DKS) was up by over 4% in premarket trading after the company released its fourth-quarter results. Its total revenue was above the market forecast, while the same-store sales grew by 5.9%.
The alternative energy source company, Enphase Energy (ENPH), was up by over 4%. The company's stock saw buying as investors anticipate a positive business outlook in upcoming quarters amid the rise in oil prices in international markets. The company supplies systems that help people harness and use solar energy.
European Indices Performance (at the time of writing):

Image- Description-
FTSE 100 Index One Year Performance (as on 08 March 2022)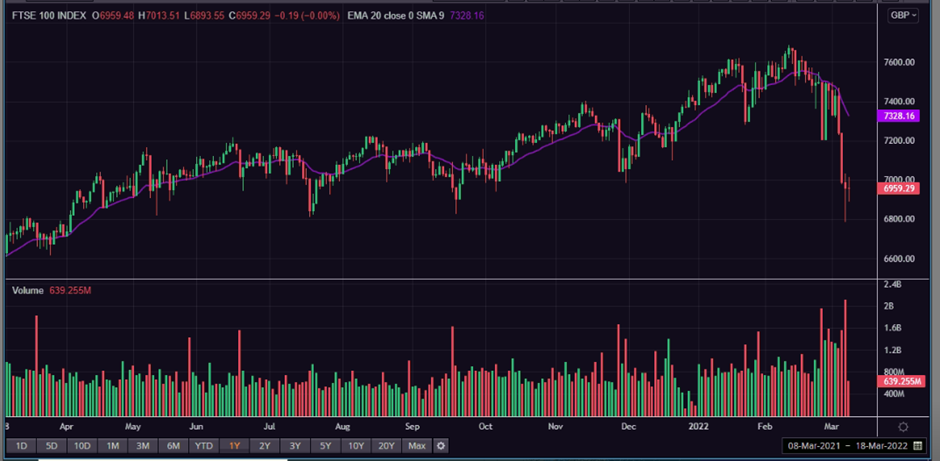 (Source: Refinitiv)
Top 3 Volume Stocks in FTSE 100*: Lloyds Banking Group plc (LLOY), Vodafone Group Plc (VOD), Barclays (BARC)
Top 3 Sectors traded in green*: Financials (1.77%), Energy (1.43%), Real Estate (0.29).
Top 3 Sectors traded in red*: Technology (-1.83%), Industrials (-1.39%), Basic Materials (-1.15%).
London Stock Exchange: Stocks Performance (at the time of writing)
Crude Oil Future Prices*: Brent future crude oil (future) price and WTI crude oil (future) price were hovering at $129.94/barrel and $125.69/barrel, respectively.
Gold Price*: Gold price quoted at US$ 2,023 per ounce, up by 1.41% against the prior day's closing.
Currency Rates*: GBP to USD: 1.3091; EUR to USD: 1.0898.
Bond Yields*: US 10-Year Treasury yield: 1.837%; UK 10-Year Government Bond yield: 1.3810%.
*At the time of writing