UK Market: The UK market reversed its gains from the previous session and slipped into red on Wednesday. The negative mood of the market came as investors analysed PM Liz Truss' speech at the Conservative Party conference in Birmingham. Defending her policies, the PM said they will lead to growth, adding that the disruption they have caused recently is worth it. Notably, UK's financial markets slipped into chaos after Chancellor Kwasi Kwarteng announced £45 billion worth of tax cuts in his mini-budget.
BAE Systems PLC (LON: BA.): Shares of defence contractor rose about 0.80% in the day after Truss mentioned that the country's defence spending will be raised to 3% of the GDP by the end of this decade.
Tesco Plc (LON: TSCO): Shares of the supermarket chain fell over 3% after it announced its interim results. The company has kept its full-year profit outlook at the lower end of its expectations citing inflationary pressures and the cost-of-living crisis.
Vertu Motors Plc (LON: VTU): Shares of the car dealership rallied over 6% on the back of its half-year results. The company made £28 million in profits during the period as the price of new cars continued to rise.
US Markets: The US market is likely to get an upbeat start, as indicated by the futures indices. S&P 500 future was up by 112.50 points or 3.06% at 3,790.93, while the Dow Jones 30 future was up by 2.80% or 825.43 points at 30,316.32. The technology-heavy index Nasdaq Composite future was also up by 3.34% or 360.97 points, at 11,176.41. (At the time of writing – 8:22 am ET).
US Market news:
Shares of the electric vehicle maker Tesla (TSLA) slipped 1.5% in the premarket trading session after its CEO Elon Musk reversed the course on his Twitter deal. Musk has proposed going ahead with the deal.
Shares of the microblogging website Twitter (TWTR) witnessed a decline in the premarket trading session after it confirmed Musk wanted to buy the company again.
European Indices Performance (at the time of writing):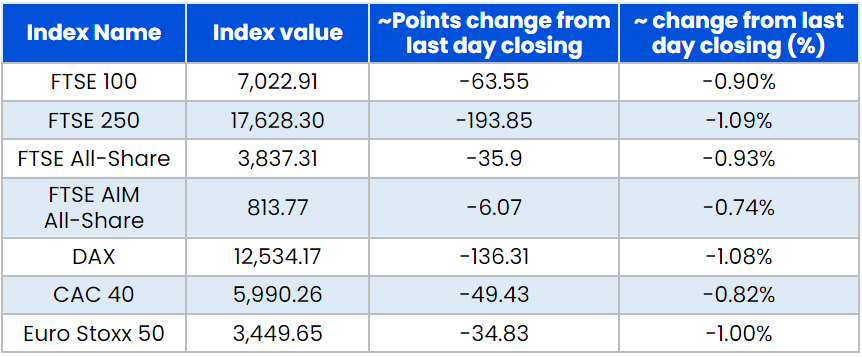 FTSE 100 Index One Year Performance (as on 5 October)

(Source: Refinitiv)
Top 3 Volume Stocks in FTSE 100*: Vodafone Group Plc (VOD), Lloyds Banking Group Plc (LLOY), HSBC Holdings Plc (HSBA)
Top 3 sectors traded in green*: Industrials (0.04%)
Top 3 sectors traded in red*: Real Estate (-2.49%), Technology (-1.68%), Consumer Cyclicals (-1.67%)
London Stock Exchange: Stocks Performance (at the time of writing):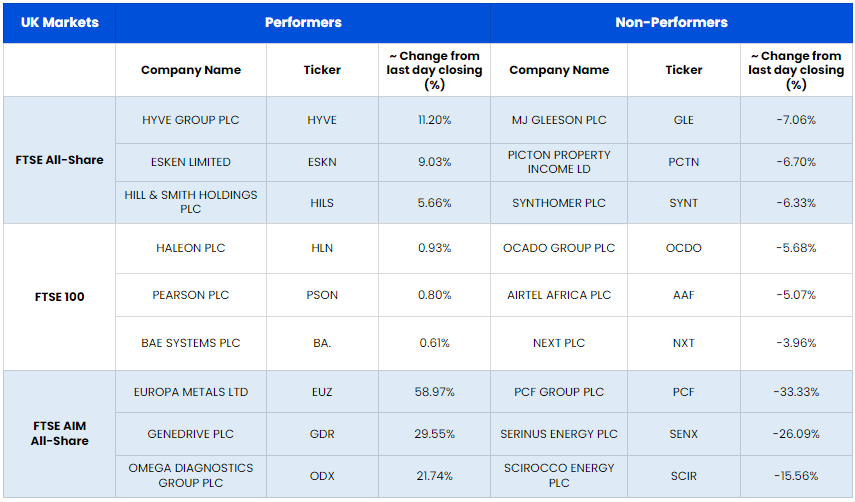 Crude Oil Future Prices*: Brent future crude oil (future) price and WTI crude oil (future) price were hovering at $91.99/barrel and $86.45/barrel, respectively.
Gold Price*: Gold price was quoting at US$1,716.15 per ounce, down 0.83% against the prior day's closing.
Currency Rates*: GBP to USD: 1.135; EUR to USD: 0.9915.
Bond Yields*: US 10-Year Treasury yield: 3.699%; UK 10-Year Government Bond yield: 4.0205%.
*At the time of writing