US Markets: Broader indices in the United States traded in green - particularly, the S&P 500 index traded 5.03 points or 0.12 per cent higher at 4,295.64, Dow Jones Industrial Average Index surged by 78.28 points or 0.23 per cent higher at 34,361.55, and the technology benchmark index Nasdaq Composite traded higher at 14,501.80, up by 1.30 points or 0.01 per cent against the previous day close (at the time of writing – 12:00 PM ET).
US Market News: The major indices of Wall Street traded in a green zone driven by technology and banking stocks. Among the gaining stocks, Jefferies Financial Group (JEF) shares surged by about 8.42% after the Company's quarterly revenue and earnings came out to be more than the estimates. Textron (TXT) shares grew by about 2.54% after the Company was upgraded to "overweight" by Morgan Stanley. Boeing (BA) shares went up by about 0.32% after the Company had won a 200 jet order from United Airlines. Among the declining stocks, Factset Research Systems (FDS) shares went down by around 1.29% after the third-quarter earnings per share had missed the estimates.
UK Market News: The London markets traded in a green zone boosted by the housebuilding stocks. Moreover, the Bank of England had reported a rise in the UK mortgage approvals to 87,500 during May 2021, while it was 86,000 during April 2021. According to the Nationwide survey, the annual house growth rose to around 13.4% for June 2021, increasing from approximately 10.9% achieved during May 2021.
D4T4 Solutions shares plunged by about 12.03% after the Company had posted a drop in profitability during FY21. However, the Company managed to show growth in the top-line revenue and subsequently raised the final dividend.
UDG Healthcare stated that it received an increased takeover bid from Clayton, Dubilier & Rice of around 1,080 pence per share. Moreover, the shares went up by approximately 0.47%.
IWG shares rose by around 3.17% after the recent press speculation that the Company was in discussion with the US private equity player CC Capital Partners for a potential takeover offer.
United Utilities Group shares dropped by around 0.97% after Morgan Stanley had downgraded the Company to "underweight".
European Indices Performance (at the time of writing):
FTSE 100 Index One Year Performance (as on 29 June 2021)
1 Year FTSE 100 Chart (Source: Refinitiv)
Top 3 Volume Stocks in FTSE 100*: Rolls-Royce Holdings Plc. (RR.); Lloyds Banking Group Plc (LLOY); Vodafone Group Plc (VOD).
Top 3 Sectors traded in green*: Healthcare (+0.49%), Basic Materials (+0.44%) and Consumer Cyclicals (+0.43%).
Top 3 Sectors traded in red*: Real Estate (-0.64%), Utilities (-0.29%) and Industrials (-0.02%).
London Stock Exchange: Stocks Performance (at the time of writing)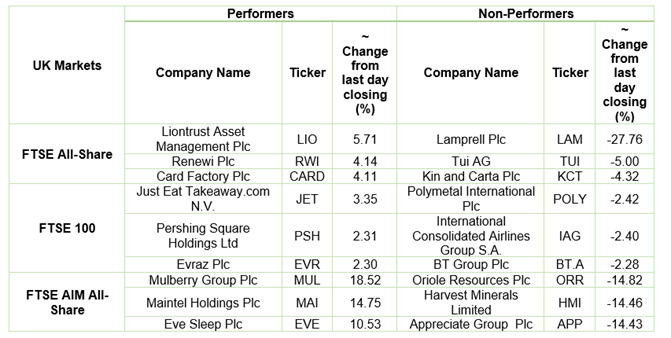 Crude Oil Future Prices*: Brent future crude oil (future) price and WTI crude oil (future) price were hovering at $74.06/barrel and $72.78/barrel, respectively.
Gold Price*: Gold price was quoting at US$ 1,763.55 per ounce, down by 0.96% against the prior day closing.
Currency Rates*: GBP to USD: 1.3848; EUR to GBP: 0.8594.
Bond Yields*: US 10-Year Treasury yield: 1.482%; UK 10-Year Government Bond yield: 0.7385%.
*At the time of writing