Highlights

US-based indie video game publisher Devolver Digital made a strong debut on LSE's AIM, with its shares ending higher by over 6 per cent.
The company raised £190.9 million from its floatation on the market, from an oversubscribed placing, at a placing price of 157 pence per share.
It became the second-largest company trading on AIM by market cap upon its admission.
American indie videogame publisher Devolver Digital debuted on the London Stock Exchange's (LSE) junior market, the Alternative Investment Market (AIM), on Thursday.
The company's shares under the ticker symbol DEVO jumped over 14 per cent in its early morning debut, thus giving it a market cap of £791.6 million (US$ 1.08 billion). It also became the second-largest AIM-listed company ever by market cap.
The company's shares ended at GBX 185.00, up by 6.32 per cent on Thursday, which was its day's high, and it touched a low of GBX 167.00.
Devolver Digital IPO gets a warm welcome on AIM
The company's IPO gave it a market valuation of almost US$ 1 billion, thus making Devolver the largest US-based firm to gain admission into the LSE, based on market cap.
Devolver's IPO
The videogame publisher raised £190.9 million (US $261 million) from its IPO from an oversubscribed placing of new and existing shares. The placing price was at 157 pence per share.
About £36.5 million of the £190.9 million gross proceeds was new money for Devolver Digital. Additionally, existing shareholders sold about 98.29 million shares at the placing prices, which totalled about £154.4 million.
Devolver had a market valuation of £694.3 million (US$ 950 million) and issued a total of 442.46 million outstanding shares.
UK based investment banking firm Zeus Capital was the nominated adviser and sole bookrunner to Devolver for the IPO.
Devolver plans to use the proceeds from its IPO for its expansion strategy, including organic and inorganic growth.
The AIM listing is expected to further boost Devolver's reputation as an ethical publisher and thus aid in its acquisition plans.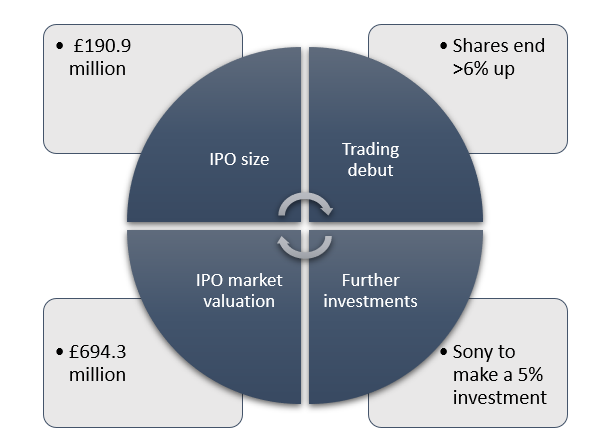 © 2021 Kalkine Media
About Devolver digital
The company was founded in 2009 and presently owns five development studios, of which two are located in the UK in partnership with UK based videogame publisher Good Shepherd.
Devolver has around 200 employees in 22 countries. It has operations across several regions, including the UK North America, South America, Europe, Asia-Pacific and more.
The company has published around 90 videogame titles so far, and about 30 more titles are in the pipeline, with expected release dates within the next two years and beyond.
Multinational video game and digital entertainment company Sony Interactive Entertainment disclosed its plans of making a 5 per cent investment in the company.
Meanwhile, Chinese technology company NetEase already holds an 8 per cent stake in Devolver Digital.