Highlights

Having a market cap of fewer than two billion dollars, small-cap companies have great growth potential.
Vital urges its shareholders to send the director nominations latest by 28 September.
Savor wants to hold its ASM as a physical meeting, hence decides to postpone it, considering the prevailing uncertainties associated with the COVID-19 pandemic.
Small-cap stocks are those companies that have a market capitalisation of fewer than two billion dollars. Though small, these companies contain huge growth potential and sometimes offer life-changing growth unmatched even to large-cap companies.
Moreover, since these are low priced, these companies are quite popular among investors.
That said, let us now look at the five NZX-listed small-cap stocks.
Source: Copyright © 2021 Kalkine Media
General Capital Limited (NZX:GEN)
Functioning as a financial services group, General Capital Limited has two subsidiaries, namely General Finance Limited and Investment Research Group Limited.
In its Annual Meeting held earlier this month, resolutions were passed for the re-election of Brent Douglas King as a director of the company along with authorising the directors to fix the auditor's remuneration.
Another resolution related to the issuance of new shares up to NZ$5,000,000 to persons not related to the Company was also passed.
On 17 September, at the closing bell, General Capital was flat at NZ$0.059.
Related Read: Do penny stocks ever go big? A glance at 10 related NZX stocks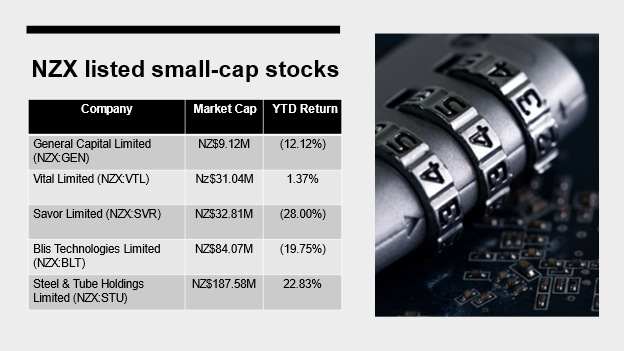 Image source: © 2021 Kalkine Media New Zealand Ltd, data source- Refinitiv
Vital Limited (NZX:VTL)
Operating for over 25 years, Vital Limited provides critical communication across New Zealand, along with offering services like digital radio, WiFi, and fibre.
The Company has advised its shareholders that 28 September is the last date for sending the director nominations.
Also, its Annual Shareholder Meeting will be organised on 19 October.
At the market close, on 17 September, Vital remained unchanged at NZ$0.710.
Must Read: How to diversify portfolio with NZX small-cap stocks?
Savor Limited (NZX:SVR)
Working in the hospitality space, Savor Limited is a big name in New Zealand's food and beverage segment. Earlier this week, the Company had informed its shareholders of adjourning its Annual Shareholders Meeting, which otherwise was scheduled to be organised as a physical meeting on 23 September.
Considering the prevailing condition in the country, Savor has postponed its meeting until restrictions would allow to organise a meeting in person, which is most likely to be held in November this year.
Details of the same would be intimated later.
On 17 September, at the end of the market session, Savor remained unchanged at NZ$0.480.
Related Read: Did these 6 NZX stocks make the biggest price movement?
Blis Technologies Limited (NZX:BLT)
Headquartered in Dunedin, Blis Technologies Limited produces advanced oral probiotics. On the approval of its directors recently, the Company has announced issuing of performance share rights with no consideration to the select few senior management team members.
It is pointed out that the vesting period of the above is three years from the date the performance rights are being granted.
At the closing bell, Blis Technologies traded flat at NZ$0.066, on 17 September.
Interesting Read: Are these the 5 most active stocks on NZX?
Steel & Tube Holdings Limited (NZX:STU)
Famous manufacturer and supplier of steel throughout NZ is Steel & Tube Holdings Limited. Recently, the Company revealed to hold its ASM virtually on 30 September, owing to the uncertainties related to COVID-19-related lockdowns and restrictions.
At the end of the trading session, Steel & Tube Holdings was down by 0.95% at NZ$1.040, on 17 September.
Related Read: Which are the five popular NZX-listed material stocks?
Bottom Line
Small-cap stocks often generate outsized returns, with careful business planning and conduct of their operations. They help in diversifying one's portfolio, thereby cashing in on the growth opportunities presented by them.