Highlights

Financial stocks play a significant role in regulating the money flow within the country.
Heartland Group Holdings announces to organise a physical Annual Meeting next month in Auckland.
Australia and New Zealand Banking Group reveals to switch its customers to a CMC markets-based platform.
Financial companies, like banking, insurance, brokerage, and investment companies play a vital role in every economy. They channelise as well as regulate the money supply within the economy, thereby bridging the gap between idle savings and investments.
Moreover, they act as government agents to regulate liquidity in the economy. Hence, the importance of financial stocks can never be undermined.
That said, this article covers five popular NZX financial stocks with healthy YTD returns.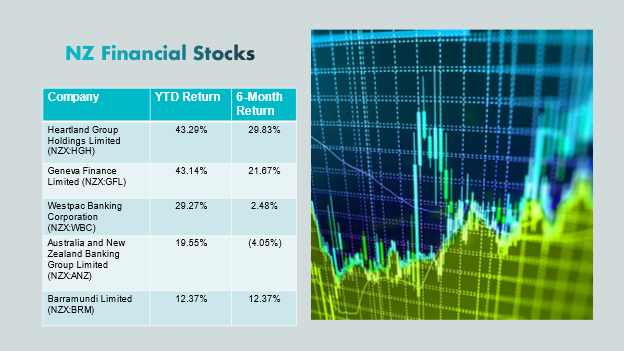 Image source: © 2021 Kalkine Media New Zealand Ltd, data source- Refinitiv
Heartland Group Holdings Limited (NZX:HGH)
First, we would talk about Heartland Group Holdings Limited, a leading reverse mortgage provider across Australasia. As per the latest update from the Company, HGH will organise an in-person Annual Meeting in Auckland on 28 October.
Also, the company would continue to hold an online meeting at the same date and time.
However, in case of any potential risk to hold the meeting in person, the Company would intimate its shareholders on the same, well in time.
At the closing bell, on 21 September, Heartland Group Holdings traded flat at NZ$2.330.
Related Read: 5 NZX stocks with a healthy dividend yield
Geneva Finance Limited (NZX:GFL)
We would now look at Geneva Finance Limited, which offers consumer credit as well as financial services to small and medium businesses.
The Company recently published the results of its Annual Meeting, wherein resolutions were passed to re-elect the Company's director as well as to authorise the Board to fix the fees and expenses of auditors for FY22.
At the closing bell, on 21 September, Geneva Finance fell by 1.32% at NZ$0.750.
Also Read: Look at the 5 attractive financial stocks listed with NZX
Westpac Banking Corporation (NZX:WBC)
Westpac Banking Corporation is one of the largest banks operating in Kiwiland. The Company has released its ESG update, wherein climate change is given a strategic priority.
Moreover, WBC aims to strengthen its risk management, governance, and accountability, along with improving control over its processes.
Further, the bank is focused on working closely with its regulators to speed up the closure of its outstanding investigations.
At the closing bell, on 21 September, Westpac Banking gained by 0.12% at NZ$26.080.
Related Read: What are the top 10 NZX-listed financial companies?
Australia and New Zealand Banking Group Limited (NZX:ANZ)
Coming up next is Australia and New Zealand Banking Group Limited, which is headquartered in Melbourne and is the largest banking group across New Zealand and the Pacific.
Recently, the Company revealed that it had reached an agreement to switch its customers to the CMC Markets-branded platform from the earlier ANZ Share Investing platform, which is in line with its strategy to simplify banking operations.
At the closing bell, on 21 September, Australia and New Zealand Banking Group climbed by 0.57% at NZ$28.130.
Interesting Read: What did ANZ (NZX:ANZ) reveal in ESG investor briefing?
Barramundi Limited (NZX:BRM)
Topping off the list is Barramundi Limited, which invests in the Australian equity market. The Company recently revealed that in order to calculate entitlements under DRP, i.e., Dividend Reinvestment Plan, BRM has set its share price at NZ$1.0188.
It is noted that the Company would pay an interim dividend on 24 September.
At the closing bell, on 21 September, Barramundi traded flat at NZ$1.020.
Related Read: How are 5 NZX financial stocks faring after RBNZ held OCR at 0.25%?
Bottom Line
Financial stocks help in mobilising savings and investments, thus driving economic activities in a country and help in its progression.