Highlights

Volvo cars announced its plans to go public this year.
The proposed IPO is anticipated to raise nearly US$2.9 billion in Stockholm listing.
Volvo will use its IPO proceeds to help the company make its entire lineup fully electric by 2030.
Chinese multinational automotive company, Volvo Cars, announced on Monday that it had planned to raise US$2.9 billion through an IPO, marking the biggest listings of Europe in 2021.
The Group plans to list on the NASDAQ Stockholm stock exchange in 2021 with Chinese conglomerate Geely remaining as its biggest shareholder.
The Swedish car maker wants to transition to an entirely electric car firm by 2030.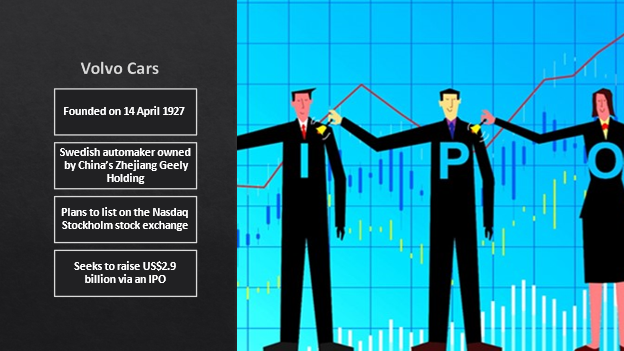 Image source: © 2021 Kalkine Media New Zealand Ltd
Image Description: Volvo Cars and its IPO details
It plans to phase out all petrol, diesel and hybrid options, and subsequently contributing to lower global carbon emissions while addressing restrictions imposed by governments on the production of gas cars.
ALSO READ: 7 Roadblocks every EV customer is facing
Volvo underwent major expansion since its acquisition by Geely. The Swedish company constructed 2 vehicle assembling establishments in China and a plant in South Carolina with plans to invest an additional $118 million into the plant.
RELATED READ: 10 global IPOs to watch out for this year
Volvo stated that the company's board of Directors and Gelly Sweden Holdings, Volvo's main shareholder, agreed for the listing to help in the company's transformation and persistent growth. The listing will also help Volvo in accessing the Swedish and international capital markets and expand Volvo Cars possession base.
Volvo's IPO news comes after Polestar announced SPAC merger
The IPO news has come after Polestar, a JV between Volvo and Greely, announced its IPO plans last week by merging with a special purpose acquisition company (SPAC). It will become the latest EV firm to go public via a reverse merger.
RELATED READ: GitLab moves ahead with its plan of going public
Polestar has been branched out from Volvo as its performance sub-brand in 2016. After launching Polestar 1 and Polestar 2, the Company plans to launch the electric crossover SUV Polestar 3 in late 2021.
The deal would give Polestar a valuation of roughly US$20 billion.
Outlook
Volvo has a target of acheiving 8-10% operating margin by 2025. It has also aimed at a 56% annual car sales increase from the 770K sold in 12 months to 20 June 2021 to a figure of 1.2 million next year.
(NOTE: Currency is reported in NZ Dollar unless stated otherwise)