Highlights

Lukin Resources is planning to list on the ASX on 21 October 2021.
The Company plans to raise capital at AU$0.02 per share.
The Company looks to explore and develop its mineral projects through funds.
Lukin Resources Limited was incorporated on 27 May 2015. The Company has a focus on the resources sector and looks to build shareholder value by assessing, exploring, exploiting and procuring mineral resource projects.
It looks to develop major mineral deposits in Queensland, Australia, and South Africa, within its prospecting/exploration licences.
Lukin Resources is looking to raise AU$5,500,000 to AU$7,500,000 at AU$0.2 per share through IPO. The Company will begin trading publicly on the ASX on 21 October 2021 under the ticker symbol, LKN.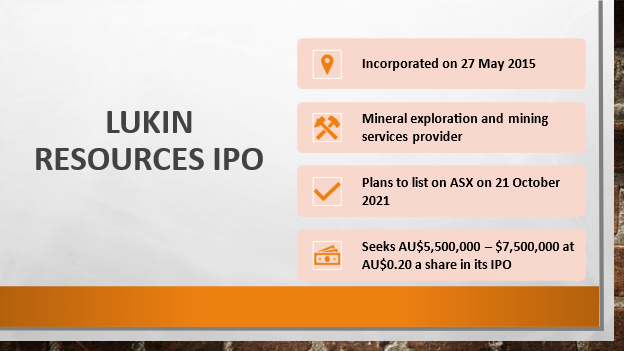 Image source: © 2021 Kalkine Media New Zealand Ltd, Data source- Company Announcement
The retail offer date will close on 1 October 2021.
The funds will be used to focus on mineral exploration of resources opportunities within its projects, explore and conduct evaluation studies on its projects. The offer will also enable Lukin to enhance its public and financial profile while also providing the Company with enhanced access to capital markets for future funding needs.
RELATED READ: 10 global IPOs to watch out for this year
It also has plans to develop mines within the Company's Projects and engage in other purchases that would help the Company in further fulfilling its strategy.
Key advantages and risks associated with investment
The Company has interest in two Australian Projects, which are the Ebagoola South Project, located 62 km south of the town of Coen in Queensland and a 100% interest in the Stratmin Project, located in the Hodgkinson Province of Northeast Queensland. The Company also has interests in three South African Projects, all located in the Northern Cape Province.
RELATED READ: MTC Namibia IPO: Is it on track to raise US$210 million?
Investment in Lukin will provide Kiwi investors with an opportunity to gain an interest in the Projects through the Company and give exposure to the possible advantage of the Projects.
However, there are many risks linked to shares subscription. The Company has a narrow operating record as it was incorporated in 2015. There are many mineral exploration and development risks associated with the projects where exploration can be hampered by circumstances and factors beyond the control of the Company.
ALSO READ: Resilience Mining Mongolia IPO: What is in it for New Zealand investors?
There are also title, labour, commodity, counterparty, liquidity and other risks connected to the investment.
Bottom Line
Lukin Resources has its sight on how IPO turns out for it.