Highlights

Greenfern Industries will list on the NZX on 21 October.
The Company is expected to have a market cap of over $21 million on the NZX listing.
The listing will help Greenfern in attracting new capital when needed to explore growth prospects.
Medicinal cannabis and hemp food company, Greenfern Industries, will debut on the NZ stock exchange on 21 October.
The Taranaki-based Company will issue 84.3 million shares at NZ$0.25 per share and is anticipating a market capitalisation of over NZ$21 million on the listing. Greenfern has raised more than $6.9 million through two crowdfunding rounds and a private placement round.
Greenfern will be the third listed company in the Taranaki province.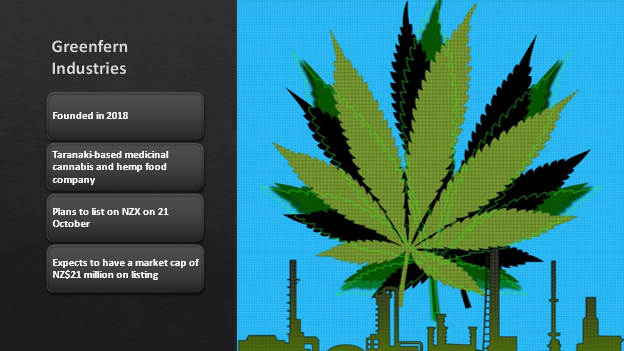 Image source: © 2021 Kalkine Media, Data source- Refinitiv
The listing will allow the Company to raise the cash needed to pursue development possibilities such as creating new goods and building commercial partnerships in NZ and Australia and international wholesale markets.
DO READ: What is Medical Cannabis Industry? Will It Grow In New Zealand?
Hydroelectric power generation
In December 2020, Greenfern purchased the Normanby hydroelectric power station, which runs beside their Taranaki research facility to operate its indoor growing operations and its research and processing facilities.
Managing director Dan Casey stated that two of the biggest overheads for producing medicinal cannabis indoors were the lighting cost and environmental control costs. Renewable energy will help in minimising these costs.
Did you miss reading; Investing in IPOs? 10 things to keep in mind
Greenfern has a substantial advantage in accessing power at a cost rather than wholesale or retail. This is the turning point for the Company in either allowing it to produce at a lower cost or create a larger margin on sale price while growing plants in a more environment-friendly way.
ALSO READ: Vulcan Steel IPO: Why is it opting for dual listing?
Greenfern has also appointed a team of directors to complement business assets and the plans that the company has. It is also setting up a high-tech aeroponic grow room at its Taranaki headquarters to use less water, fewer nutrients and less electricity as compared to traditional hydroponic cannabis grow rooms.
Bottom Line
Greenfern wants to be a major producer and wholesaler of medicinal cannabis, hemp-based health and beauty products, and hemp-based food and consumer items in New Zealand.
The Company wants to be an example of sustainability in the industry and assist in setting the benchmark for environmentally friendly cannabis and hemp production.
(NOTE: Currency is reported in NZ Dollar unless stated otherwise)