Summary

A rise in the number of coronavirus cases in Victoria post June has deteriorated the broader outlook of the Australian economy.
The economy is expected to shrink by 6% in 2020 with a growth of 5% in 2021, while the unemployment rate is expected to peak at 10% in 2020, and be at 8.5% in December 2021, as per RBA.
RBA has outlined 3 separate scenarios with different assumptions about restrictions, and the virus outbreak given the high degree of uncertainty for the economic outlook of Australia.
The reinstated shutdown and night-time curfew in Melbourne might wipe away a turnaround that was underway and threatens wider collapse in Australia, which is already confronting a "globally coordinated deep recession" caused by COVID-19.
Victoria recorded 394 new cases of coronavirus, as on 9 August despite having re-imposed a lockdown in Melbourne 4 weeks ago, taking total cases to 14,659 resulting in deaths of 210 people in the region.
On 7 August, RBA cautioned that there is a long and bumpy road to recovery from recession, with household and government spending powering the national economy in the coming years.
Australia's economic growth would be slower than anticipated, and unemployment would stay high for many years even though COVID-19 induced recession is less extreme than projected, as stated by RBA Assistant Governor Luci Ellis during a webcast. She also added that a spike in the number of cases of coronavirus in the second most populated state of Victoria in Australia after June had deteriorated the wider economic future condition of the nation.
The economic outlook of Australia in 3 scenarios
Different countries have had different experiences with the pandemic that would form the initial contractions and subsequent recoveries in them.
RBA has described the economic outlook of Australia by creating 3 scenarios due to massive uncertainty in the economy. In the baseline scenario, it is assumed that infection rates in Australia subside. The recent strengthening of curbs in Victoria is effective, and no new lockdowns are being placed elsewhere in the country. The curbs are believed to be gradually lessened throughout the rest of the year.
In the upside scenario, it is assumed that contamination rates drop rapidly and remain low. The pace of decay in case numbers is accepted to be a bit quicker than in the baseline, so the restrictions are lessened a bit quicker.
At the same time, the downside scenario believes that the infection rates continue to intensify globally in 2020 and 2021. Australia also faces a series of outbreaks and Stage 3 or 4 restrictions in few states. The other big difference between all three parameters is how long the international borders of Australia remain shut. The current scenarios are based on the premise that the borders are more likely to stay closed to most travellers for at least the middle of next year.
The outlook as per RBA's August Monetary policy statement has made projections in 3 scenarios as depicted in the image below-
It is also assumed that borders would reopen in the middle of 2021 in the baseline and upside scenarios, while an assumption of closing borders for all of 2021 is made in the downside scenario.
There still remains a possibility to construct other scenarios. The Bank expects that the near term will be stronger if there is a major medical breakthrough on treatments soon. The efficacious vaccination will take a little longer to be dispensed, thereby impacting the results more in 2021 and 2022. Although, it could also lead to a stronger recovery than assumed in the upside scenario.
Signs of bleak economic indicators
In Australia, activity shrunk severely in the June quarter, but started to recover late in the quarter. The condition in Victoria would decrease growth in September quarter and push out the recovery beyond that implying that economic activity is likely to continue to recover in much of the country over rest of the year and next. The recovery is likely to be slow and uneven, and GDP is likely to take some years to go back to the trend path anticipated before the virus outbreak.
Ms Ellis stated that employment and total hours worked are likely to fall in the next few months partially due to further activity restrictions in Victoria. Recovery in employment and hours should persist elsewhere, but there can be few obstacles.
RBA retained its prediction for the economy to contract by 6% in 2020 in its quarterly monetary policy statement issued on 7 August but had cut its forecast for 2021 by 1 percentage point to 5% growth. GDP is not forecasted to rebound to its 2019 level before early 2022.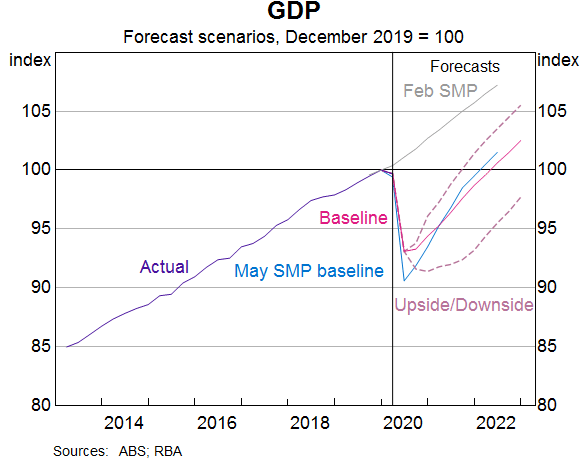 The unemployment rate is likely to reach 10% by the end of 2020 and be at 8.5% in December 2021. A high unemployment rate like this will weigh on wages which are anticipated to increase at 1.25% for next 2 years.
Bill Evans, Westpac expects the Australian economy to contract by 4.7% in 2020 with a 3% recovery in 2021 and an unemployment rate of 8.8% in 2020.
The business investment is projected to go down by 17% in 2020, and recovery in investment will be backed by the mining sector through 2021. The reason behind the bleak investment outlook is that many businesses have put their plans on hold amid weak demand and increased uncertainty.
Households lifted by JobKeeper wage subsidy, early superannuation access and coronavirus supplement would be vital to the economy's fate in coming 2 years, with borders expected to be closed until mid-2021. While, Dr Ellis also added that population growth would be significantly lower with poor jobs market, the closing of international borders and near halting of immigration. She noted that weak labour conditions would discourage some people, especially youngsters, from building new households.
RBA stated that main factors that will decide the pace and form of recovery would be continued fiscal stimulus including investment in recovery measures such as job training, spending incentives, wage subsidies and tax cuts.