If taking the big leap and jumping off a plane has been one of the favorite items on your bucket-list; but somehow you haven?t been able to muster the courage to get up there just yet, or the daily routines of work-life hasn?t given you the window to take a break to your favorite holiday destination that has been sitting in your planner- to bring to life your skydiving dream? Well, there shouldn?t be a reason to hold you back any further from not unleashing that desire of experiencing the thrill of flying! You could simply do that and do that without having to jump off a plane or taking those days off, off your packed routine. Yes, you read it right! You can now experience the same chills and the adrenaline rush go down your spine with the ?Indoor Skydive Australia?.
(Image Source: http://www.indoorskydiveaustralia.com.au/)
The company ?Indoor Skydive Australia Group Limited (ISA Group)? was co-created by two former SAS soldiers- Wayne Jones and Daniel Hogan to introduce people to the joy of computer-controlled and simulated human flight in Australia, New Zealand and South East Asian regions.. With the use of world-class and state-of-the-art technology, the Indoor Skydive Australia Group has specially designed an indoor skydiving facility that provides you with hands-on and life-like experience of a free fall; the kind normally felt during an actual skydiving jump. An intelligently designed and constructed vertical wind tunnel comes in equipped with a flight chamber that facilitates the individual diver or a group of divers to experience the sky diving flight within the tunnel. The vertical wind tunnel furnishes close and similar environmental characteristics conducive to perform aerobatic maneuvers within the controlled environment and whilst ensuring the safety of the individual. The indoor skydiving facilities are actively thoroughly enjoyed by the tourists and used by enthusiasts and even the military personnel (including the Australian Army) and many active skydivers.
(Image Source: http://www.indoorskydiveaustralia.com.au/)
The Indoor Skydive Australia?s business model is based on flexible hours of operation- to suit one and all and invite maximum number of people to experience the service at the convenience of their availability and the company?s operational hours; relatively kept lower overheads; and the state-of-the-art proven technology that underpins strong return margins. To offer you the best of their services at the location of your choice and closest to you, the Indoor Skydive Australia operates in multiple locations with its indoor skydiving facility centers spread across some of the major cities of Australia in locations such as- Brisbane, Gold Coast, Sydney, Melbourne and Perth.
(Image Source: http://www.indoorskydiveaustralia.com.au/)
With the trending expansion observed worldwide on the spending capacities of individuals on leisure activities, coupled with the advent of superior technological advancements to support and take the recreational activities and virtual reality gaming and sporting- to the next levels, pushing the boundaries and changing the rules of the games- it is estimated that the global market for indoor skydiving is set to a steady pace of growth and shall exceed a whooping USD 1.6 billion in its annual revenue by the year 2025. Indoor Skydive Australia Group limited is listed on the Australian Stock Exchange (ASX; Ticker: IDZ) and was identified as the best performing IPO in 2013 by Deloitte. The company culture places high value on attributes such as transparency, a focus on results, teamwork and delivery on promises; besides being personally engaging, direct, honest, and straight up- valuing its shareholders, staff and clients.
Indoor Skydive Australia is currently working at developing and expanding its portfolio of indoor skydiving facilities. The flagship facility of the group had commenced its operations in Sydney in the year 2014, under the brand name- iFLY Downunder.
ISA Flight Club
The ISA flight club was put together with an aim to organize events for groups, not only just making attractive great deals to the members, but most of all trying to ignite a sense of belongingness and a community together to take the fun of tunnel flying to the next level of excitement and fun. The ISA runs a loyalty and rewards program for its members. With each flight you take with the ISA, their systems record the flying duration time as it accumulates and build up over the span of time. The greater number of flights you take, the more you progress through and reach higher levels- making yourself eligible for enjoying a host of rewards as you accrue loyalty points. A Free flight time can also be earned for every 04 hours flown at any of the ISA tunnels within the duration span of the membership year. Your free flight times gets applied to the guest record once you have exceeded the required time. The free flight time is then valid for a period of 12 months from the date of receipt.
Indoor skydiving also offers you packages for special occasions to gift to your loved ones and have them live this experience that shall sure be cherished for a lifetime. They also do packages for parties, educational groups, family and friends, and other active skydiving enthusiasts.
Membership levels of the ISA Flight Club
Bronze member: By flying for a min. of 60 minutes (01 Hour) in your membership year.
Silver member: By flying for a min. of 240 minutes (04 Hours) in your membership year.
Gold member: By flying for a min. of 480 minutes (08 Hours) in your membership year.
Platinum member: By flying for a min. of 720 minutes (12 Hours) in your membership year.
You sure do not need to hold any prior experience as such, as the indoor skydiving professionals shall walk you through everything that will be there for you to know before you start your flight.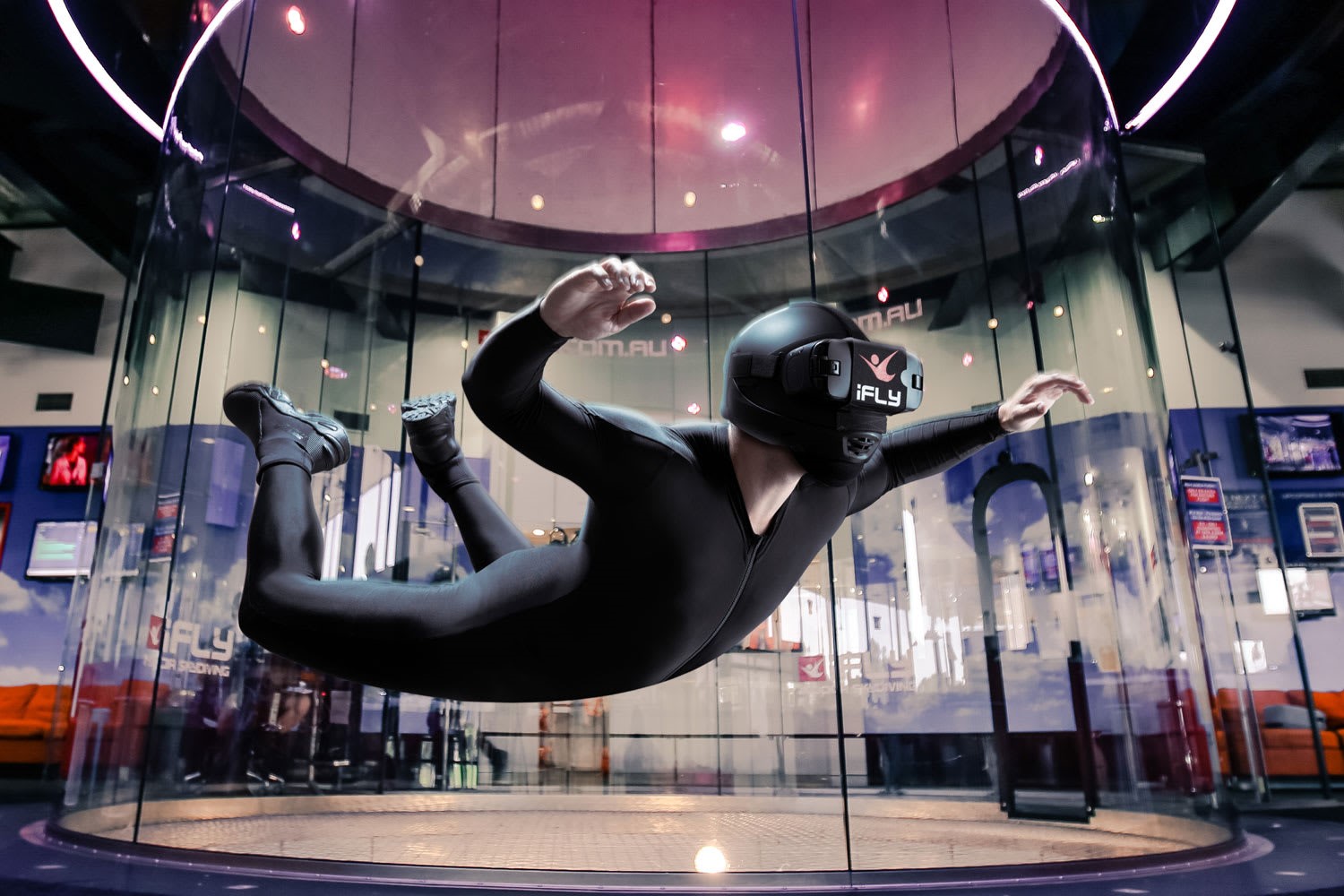 (Image Source: www.adrenaline.com.au/sydney/indoor-skydiving/ifly-virtual-reality)
What?s more you can even combine the thrill of the flight with a complete 360-degree virtual reality experience to get as close as you can to the real skydiving experience. Simply combine the fun of indoor skydiving with the excitement and thrill of a simulated ?real? skydive just as it is when jumping out of the place, and fly through some of the most exotic places such as Dubai, Hawaii, Southern California and the Swiss Alps- be ready and immerse yourself- skydiving in VR!