Highlights

COVID-19 has changed a lot of things, including insurance, specifically travel insurance.
In 2022 travel insurance has become a vital element of domestic or international tours.
To find a suitable travel cover, knowing a few things can save your search time.
If you are thinking of booking for travel now, travel insurance is the most important thing to get. Since 2022 has begun with new COVID-19 and Omicron cases soaring all around the globe, travel insurance has become the most vital element of travel. It can protect from the most unwarranted and unexpected situations, including medical costs due to COVID-19 exposure.
However, not all policies offer the same covers and often come with conditions, especially related to coronavirus. So, let us tell you why and how to buy travel insurance in 2022?
Why buy travel insurance?
If you travel abroad or within Australia, the government won't pay any medical bills if you get infected from COVID-19. And if you are stuck abroad, hospital bills and the cost of flying back home can become an added burden.
Over and above medical expenses, other reasons to get travel insurance include delayed trips or cancellations due to lockdown, lost luggage or even not thought of events like a natural disaster or a terrorist attack.
Another add on reason is that many countries won't allow you to board flights without an insurance cover. Well, even in Australia, travel insurance is beneficial.
Few things to consider before buying travel insurance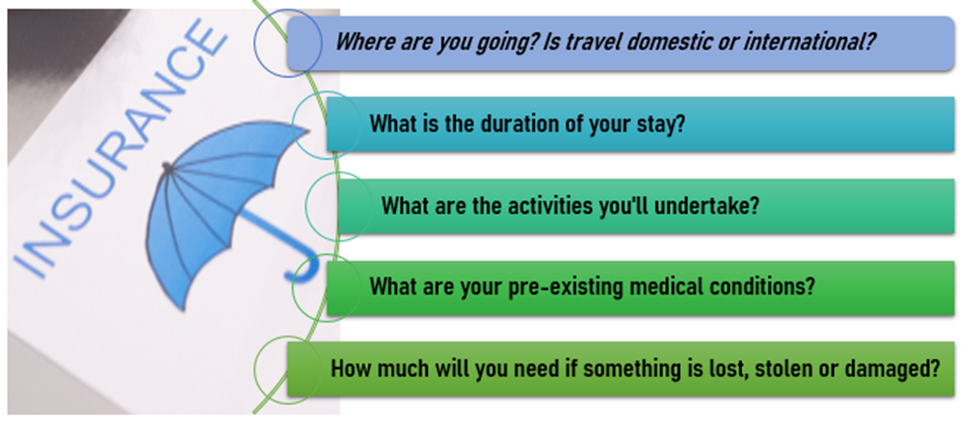 Image Source- ©2022 Kalkine Media®
The travel covers and cost of insurance vary depending on the travel destination.
Next, the duration of stay can help choose the type of insurance cover, including annual or multi-trip policies.
Also, the kind of activities you undertake in your tri trip, things skiing, paragliding, or even visiting an ill or old family member, can be helpful for choosing the right travel insurance policy. It is because a list of activities is included in insurance covers already.
Also, the assets that need an insurance cover, like an expensive tablet or laptop, can often change the premium charged.
Another essential is to identify and explicitly state any existing medical condition to the insurer to check whether or not it is covered.
Lastly, a rough idea about how much you may need from the insurer in case of any damage will help you find the perfect travel policy cover.
Image Source- © Cammeraydave | Megapixl.com
How to choose a suitable travel insurance?
Since no one travel insurance cover can suit everyone, here are a few tips to find the right one for yourself.
Know the types of policy covers available. It is essential as a single trip policy will not cover multi-trips. Also, the travel insurance cover will be different for international and domestic travel.
Next, you should know the level of cover. Check if the insurer offers three levels of cover, including basic (mainly covering medical costs), mid-range and comprehensive ones. It will help you pick a suitable insurance cover according to the plans and activities you wish to undertake.
Going with a reputable insurance brand offering a decent policy is always better as claiming becomes easier.
However, comparing the insurance policies offered is always good. The price and benefits might vary on insurance covers offered by different insurers.
Also, being honest with your insurer will give you better results in your search for a suitable insurance policy.
Also, remember that buying travel insurance early covers you for any pre-paid expenses in case of cancellation or unforeseen delays.
Do read- Will Metaverse change the travel industry in 2022?
Will travel insurance cover COVID-19 expenses?
Travel insurers are not covering any loss due to lockdowns or closures. However, there are a few COVID-19 related travel expenses that are covered. It includes any travel cost if you're diagnosed with COVID-19 during the trip. Suppose your trip got cancelled because of a duty call being an essential healthcare worker. Insurers might also cover a change or trip cancellation if a relative or business partner is affected by COVID-19. Travel insurance will also cover costs if the accommodation you booked is shut down or locked down due to a virus outbreak. Most importantly, death due to a COVID-19 infection is also covered.
Want to know- How to travel on a budget?
Bottom line-
Often travel insurance is bought online or from travel agents, and the premium is calculated based on your trip details and medical conditions. So, comparing travel cover quotes and being aware of a few travel related insurance rules can save your search time and get you a suitable travel cover.
Want to know- A look at different Emergency medical services (EMS) in Australia