Summary






Firms are now accepting cryptocurrencies for the payment of goods and services.


CheapAir.com, Virgin Galactic, GetYourGuide are some of the travel providers accepting the use of digital currencies.


Crypto payments can reduce transaction costs and improve business processes.




                              
With digital trends accelerated by the COVID-19 pandemic and customers demanding much more from payment platforms, the e-commerce world is moving quicker than ever before. The newest add-on to the digital payment sector is cryptocurrency, a medium of exchange devised to swap digital information.
ALSO READ: How did COVID-19 impact cryptocurrency trading?
Cryptocurrency is still not extensively accepted as a payment method globally, but more firms accept Bitcoin and other digital currencies for goods and services both online and offline.
Source: Copyright © 2021 Kalkine Media
Cryptography not only secures and verifies online transactions, but it also makes Bitcoin purchases rapid and easy in foreign nations. Cryptocurrencies are therefore suitable for international travel.
Travel sites are accepting crypto as payments
Recently, a small number of travel firms have begun to accept it as a payment form. For example, CheapAir.com, which offers cheap hotels, flights, and car bookings, allows users to pay with cryptocurrencies like Bitcoin.
In 2014, Latvian airline airBaltic was the first airline to take Bitcoin as payment for its tickets. The firm claimed to have settled over 1,000 Bitcoin transactions since offering the digital payment option.
Read: A look at top 5 cryptocurrencies in New Zealand
In addition, Richard Branson's commercial space flight Virgin Galactic allows customers to pay for space travel with Bitcoins.
GetYourGuide, a leading travel platform for booking tours, attractions, excursions & activities, became the latest to join the league. In June, the travel booking site announced that it would be taking Dogecoin, processed through BitPay, as part of its expansion in the U.S.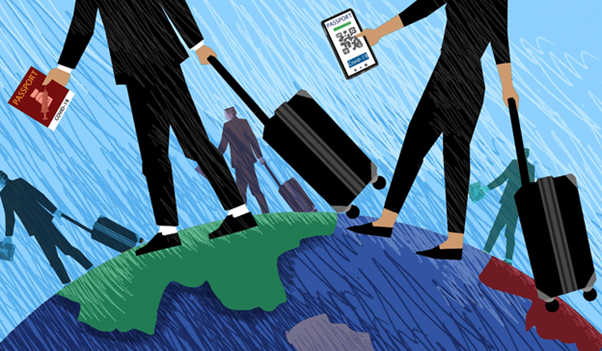 Source: Copyright © 2021 Kalkine Media
Johannes Reck, the CEO, and a co-founder of GetYourGuide, stated that cryptocurrency transactions would be necessary for travel. The company considers accepting other crypto coins in the future. He added that people want to invest their cryptocurrency back into the system and travel is one of the most popular options.
GetYourGuide is the latest tour company to accept Dogecoin and other cryptocurrencies as a mode of payment.
Cryptocurrency as a payment mode in the travel industry
For travellers, the digital payment method has become a mean to avoid currency translation fees, ATM withdrawal fees, transaction fees, and the danger of fraud using an overseas credit card.
RELATED ARTICLE: Elon Musk inspires a cryptocurrency - What's there to know about ELONGATE?
A lengthy chain of middlemen exists in the travel business, leading to information lags, delays, and financial losses. Blockchain technology (used by cryptocurrencies to record and secure transactions) can fix this issue to close the discrepancies created by various payment methods.
RELATED ARTICLE: What are the top 10 advantages of blockchain technology for businesses?
Market analysts consider that blockchain technology has enormous ability to lower transaction costs, assist airlines in tracing suitcases in a better way, and supervise their supply chains, to improve business processes, including developing loyalty programmes and possibly even limiting lines at immigration.