Shopify (TSX: SHOP, NYSE: SHOP) stocks witnessed had a muted reaction on July 28, 2021, the day it released its second quarterly results of 2021. The scrips closed at C$ 1,930.66 apiece, down 1.41 per cent on that day. The drop despite the company posting better quarterly results than some of its peers. The quarterly statement highlighted the upgradation of its digital platform. The ecommerce enabling firm plans to add more features this year.
The world's techtonic shift to digitalisation in the early part of 2020 helped Shopify paved the way for the independent merchant to join the e-commerce platform.
The changing trends of consumer behaviour and increased consumer spending generated higher than expected revenue in the second quarter of 2021, as per management comments.
SHOP Stock Performance and Fundamentals
The e-commerce scrip (SHOP) wrapped up day's trading at C$ 1,899.38 apiece on July 22, 2021, down 1.62 per cent. on this day and reached its 52-week high of C$ 2,014.35 on July 22, 2021.
The stock price spiked up by nearly 52 per cent in the last nine months. However, it only returned nearly 32 per cent in the past year.
The company reached a new milestone by scoring a Gross Merchandise Volume (GMV) revenue of US$ 1 billion in its latest quarter, a record high.
In the second quarter of fiscal 2021, Shopify reported total revenue of US$ 1,119.4 million, up 57 per cent year-over-year (YoY). The subscription business grew 70 per cent YoY while the divisional revenue reached US$ 334.2 million. Moreover, the merchant solutions revenue touched US$ 785.2 million, up 52 per cent year-over-year.
The Monthly Recurring Revenue (MRR) grew 67 per cent year-over-year, resulting from an increase in retail locations and new merchants added to the system.
The net income posted was US$ 879.1 million in Q2 FY2021. The net income accounted for an unrealized gain of US$ 778 million.
By the end of Q2 FY2021, approximately 118 million users registered on the e-commerce platforms, namely Shop Pay and Shop App.
The management plans to upgrade its online platform, Online Store 2.0, with APIs enabling better functionalities and local pickup support. The launch of Shopify checkout, a new payment platform, will handle thousands of purchases each minute, as per the management comments.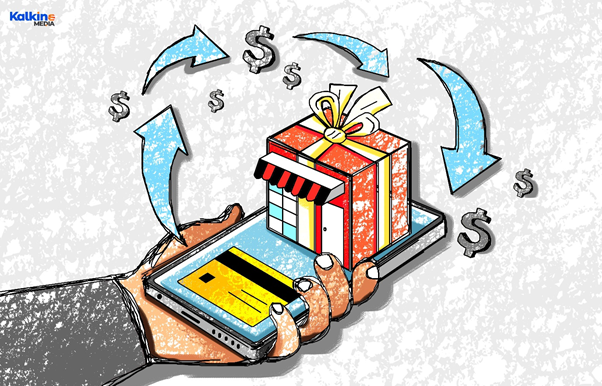 Copyright © 2021 Kalkine Media
SHOP stock valuation and the road ahead
Shopify stock has posted a return of assets (ROA) of 28.29 per cent, return on equity (ROE) of 32.69 per cent, which better than its industry peers, as per Refinitiv details. The company stands on an EPS of 24.90, price-to-earnings (P/E) ratio of 76.30, and the debt-to-equity (D/E) ratio of 0.11.
There may be more room to this ongoing ecommerce boom, as Shopify expands footprints in new territories. The management believes that the subscription revenue will be driven by more merchants joining the platform. The revenue from merchant solutions and subscription solutions will grow parallelly, they added.
However, it is difficult to predict the movements of any stock, particularly in current economic circumstances. Investors must evaluate any decisions before investing.